Better Adherence to the Mediterranean Diet Could Mitigate the Adverse Consequences of Obesity on Cardiovascular Disease: The SUN Prospective Cohort
1
Servicio Navarro de Salud-Osasunbidea-IdiSNA, Navarra Institute for Health Research, 31002 Pamplona, Spain
2
Department of Preventive Medicine and Public Health, Navarra Institute for Health Research, University of Navarra-IdiSNA, 31008 Pamplona, Spain
3
Biomedical Research Center Network on Obesity and Nutrition (CIBERobn) Physiopathology of Obesity and Nutrition, Instituto de Salud Carlos III, 28029 Madrid, Spain
4
Department of Cardiology, Navarra Institute for Health Research, University Clinic of Navarra-IdiSNA, 31008 Pamplona, Spain
5
Department of Radiology, Hospital of Navarra, Servicio Navarro de Salud-Osasunbidea-IdiSNA, Navarra Institute for Health Research, 31008 Pamplona, Spain
*
Author to whom correspondence should be addressed.
Received: 22 August 2015 / Revised: 25 October 2015 / Accepted: 29 October 2015 / Published: 5 November 2015
Abstract
Strong observational evidence supports the association between obesity and cardiovascular events. In elderly high-risk subjects, the Mediterranean diet (MedDiet) was reported to counteract the adverse cardiovascular effects of adiposity. Whether this same attenuation is also present in younger subjects is not known. We prospectively examined the association between obesity and cardiovascular clinical events (myocardial infarction, stroke or cardiovascular death) after 10.9 years follow-up in 19,065 middle-aged men and women (average age 38 year) according to their adherence to the MedDiet (<6 points or ≥6 points in the Trichopoulou's Mediterranean Diet Score). We observed 152 incident cases of cardiovascular disease (CVD). An increased risk of CVD across categories of body mass index (BMI) was apparent if adherence to the MedDiet was low, with multivariable-adjusted hazard ratios (HRs): 1.44 (95% confidence interval: 0.93–2.25) for ≥25 – <30 kg/m
2
of BMI and 2.00 (1.04–3.83) for ≥30 kg/m
2
of BMI, compared to a BMI < 25 kg/m
2
. In contrast, these estimates were 0.77 (0.35–1.67) and 1.15 (0.39–3.43) with good adherence to MedDiet. Better adherence to the MedDiet was associated with reduced CVD events (
p
for trend = 0.029). Our results suggest that the MedDiet could mitigate the harmful cardiovascular effect of overweight/obesity.
View Full-Text
►

▼

Figures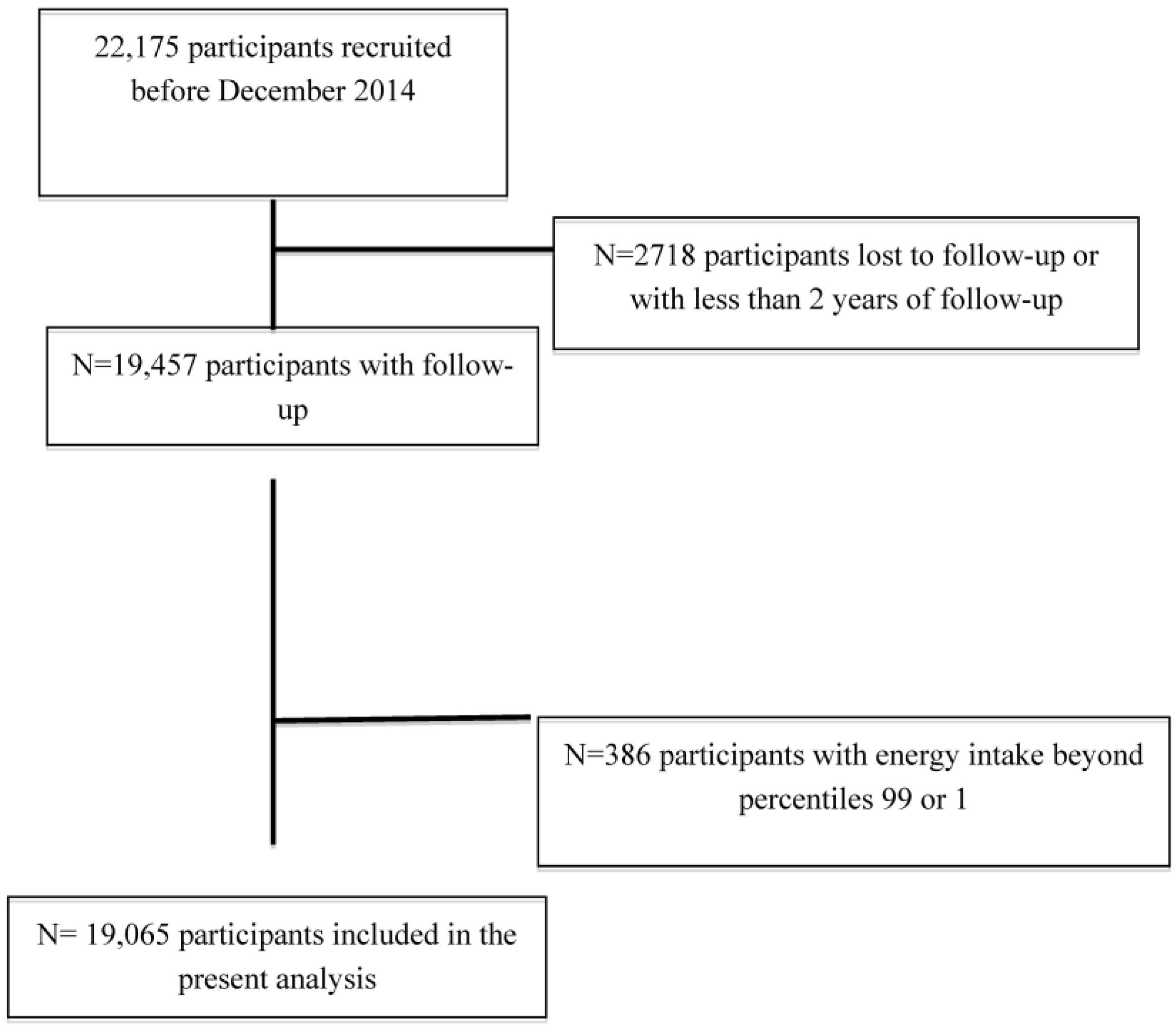 Figure 1
This is an open access article distributed under the
Creative Commons Attribution License
which permits unrestricted use, distribution, and reproduction in any medium, provided the original work is properly cited. (CC BY 4.0).
Share & Cite This Article
MDPI and ACS Style
Eguaras, S.; Toledo, E.; Hernández-Hernández, A.; Cervantes, S.; Martínez-González, M.A. Better Adherence to the Mediterranean Diet Could Mitigate the Adverse Consequences of Obesity on Cardiovascular Disease: The SUN Prospective Cohort. Nutrients 2015, 7, 9154-9162.
Related Articles
Comments
[Return to top]