Gut Function-Enhancing Properties and Metabolic Effects of Dietary Indigestible Sugars in Rodents and Rabbits
1
Department for Farm Animals and Veterinary Public Health, Institute of Animal Nutrition and Functional Plant Compounds, University of Veterinary Medicine Vienna, Vienna 1210, Austria
2
University Clinic for Swine, Department for Farm Animals and Veterinary Public Health, University of Veterinary Medicine Vienna, Vienna 1210, Austria
3
Department for Farm Animals and Veterinary Public Health, Institute of Animal Nutrition and Functional Plant Compounds, University of Veterinary Medicine Vienna, Vienna 1210, Austria
*
Author to whom correspondence should be addressed.
Received: 15 June 2015 / Revised: 15 September 2015 / Accepted: 23 September 2015 / Published: 28 September 2015
Abstract
Indigestible sugars (iS) have received particular interest in food and nutrition research due to their prebiotic properties and other health benefits in humans and animals. The main aim of this review article is to summarize the current knowledge regarding digestive and health-enhancing properties of iS such as sugar alcohols, oligosacharides, and polysaccharides, in rodents and rabbits. Besides ameliorating gut health, iS ingestion also elicits laxative effects and stimulate intestinal permeability and fluid secretions, thereby shortening digesta transit time and increasing stool mass and quality. In rodents and rabbits, as hindgut fermenters, consumption of iS leads to an improved nutrient digestibility, too. Cecal fermentation of iS reduces luminal pH and extends wall tissue facilitating absorption of key dietary minerals across hindgut. The microbial fermentation of iS also enhances excessive blood nitrogen (N) flowing into the cecum to be used as N source for bacterial growth, enhancing N retention in cecotrophic animals. This review also highlights the impact of iS on improving lipid metabolism, mainly by lowering cholesterol and triglycerides levels in the blood. The paper serves as an index of the current knowledge of iS effects in rodents and rabbits and also identifies gaps of knowledge that need to be addressed by future research.
View Full-Text
►

▼

Figures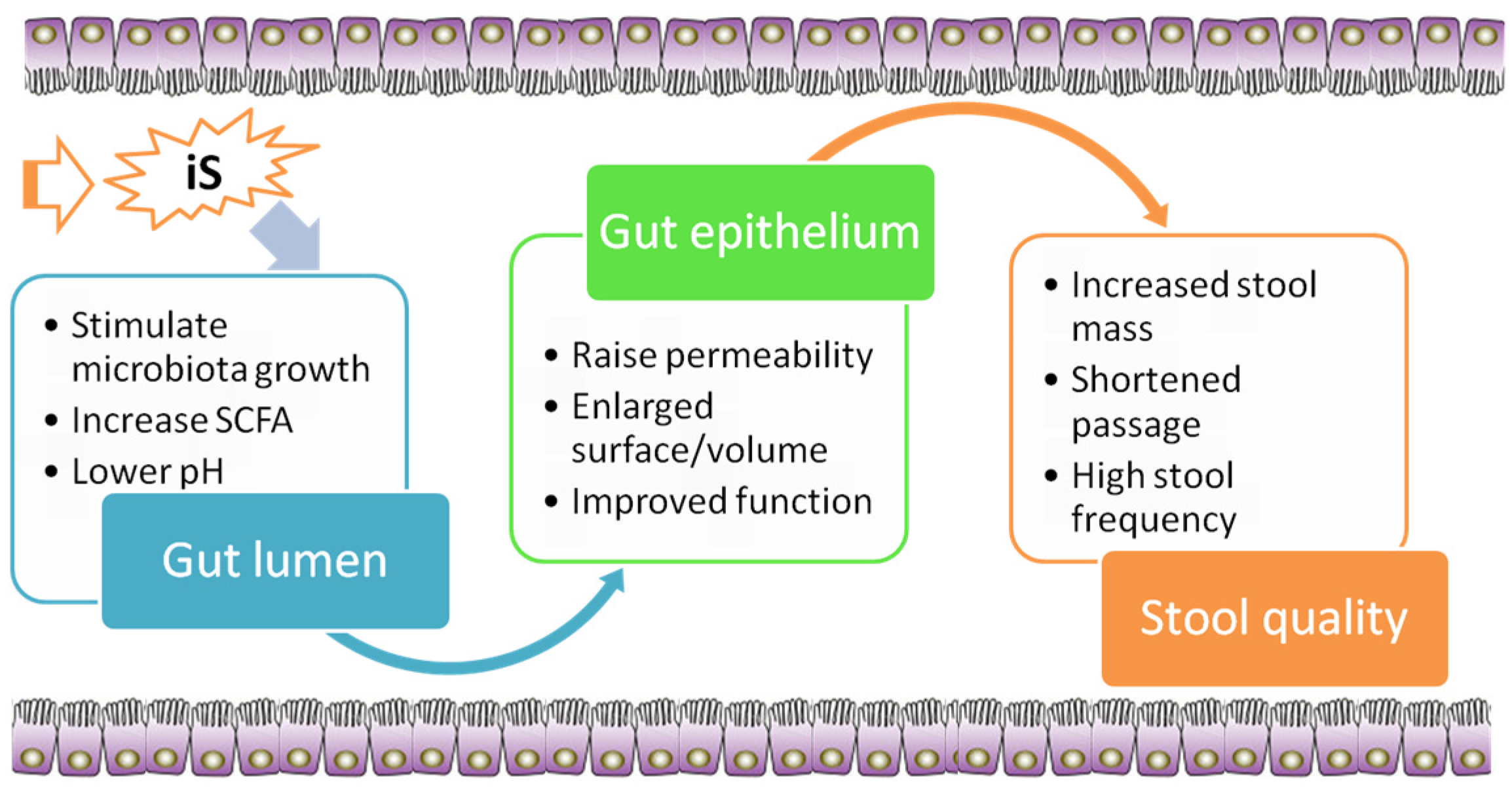 Figure 1
This is an open access article distributed under the
Creative Commons Attribution License
which permits unrestricted use, distribution, and reproduction in any medium, provided the original work is properly cited. (CC BY 4.0).
Share & Cite This Article
MDPI and ACS Style
Xiao, J.; Metzler-Zebeli, B.U.; Zebeli, Q. Gut Function-Enhancing Properties and Metabolic Effects of Dietary Indigestible Sugars in Rodents and Rabbits. Nutrients 2015, 7, 8348-8365.
Related Articles
Comments
[Return to top]