Towards an Operational Use of Geophysics for Archaeology in Henan (China): Methodological Approach and Results in Kaifeng
1
Institute for Archaeological and Architectural Heritage, National Research Council C.da Santa Loja, 85050 Tito Scalo (PZ), Italy
2
Key Laboratory of Digital Earth Science, Institute of Remote Sensing and Digital Earth, Chinese Academy of Sciences, No. 9 Dengzhuang South Road, Haidian District, Beijing 100094, China
3
Institute of Methodologies for Environmental Analysis, National Research Council C.da Santa Loja, 85050 Tito Scalo (PZ), Italy
4
Institute of Geography, Henan Academy of Sciences, Zhengzhou 450052, China
5
International Centre on Space Technologies for Natural and Cultural Heritage under the Auspices of UNESCO, No. 9 Dengzhuang South Road, Haidian District, Beijing 100094, China
6
University of Bari, Department of Geoscience and Geoenvironment 70125 Bari, Italy
7
Kaifeng Institute of Archaeology CASS, Henan 475000, China
*
Authors to whom correspondence should be addressed.
Academic Editors: Francesco Soldovieri, Raffaele Persico, Diofantos Hadjimitsis and Prasad S. Thenkabail
Received: 30 June 2017 / Revised: 21 July 2017 / Accepted: 4 August 2017 / Published: 6 August 2017
Abstract
One of the major issues in buried archeological sites especially if characterized by intense human activity, complex structures, and several constructive phases, is: to what depth conduct the excavation? The answer depends on a number of factors, among these one of the most important is the a priori and reliable knowledge of what the subsoil can preserve. To this end, geophysics (if used in strong synergy with archaeological research) can help in the planning of time, depth, and modes of excavation also when the physical characteristics of the remains and their matrix are not ideal for archaeo-geophysical applications. This is the case of a great part of the archaeological sites in Henan, the cradle of the most important cultures in China and the seat of several capitals for more than two millennia. There, the high depth of buried remains covered by alluvial deposits and the building materials, mainly made by rammed earth, did not favor the use of geophysics. In this paper, we present and discuss the GPR and ERT prospection we conducted in Kaifeng (Henan, China), nearby a gate of the city walls dated to the Northern Song Dynasty. The integration of GPR and ERT provided useful information for the identification and characterization of archaeological remains buried at different depths. Actually, each geophysical technique, GPR frequency (used for the data acquisition) as well as each way to analyze and visualize the results (from radargrams to time slice) only provided partial information of little use if alone. The integration of the diverse techniques, data processing and visualization enabled us to optimize the penetration capability, the resolution for the detection of archaeological features and their interpretation. Finally, the results obtained from the GPR and ERT surveys were correlated with archaeological stratigraphy, available nearby the investigated area. This enabled us to further improve the interpretation of results from GPR and ERT survey and also to date the anthropogenic layers from Qing to Yuan Dynasty.
View Full-Text
►

▼

Figures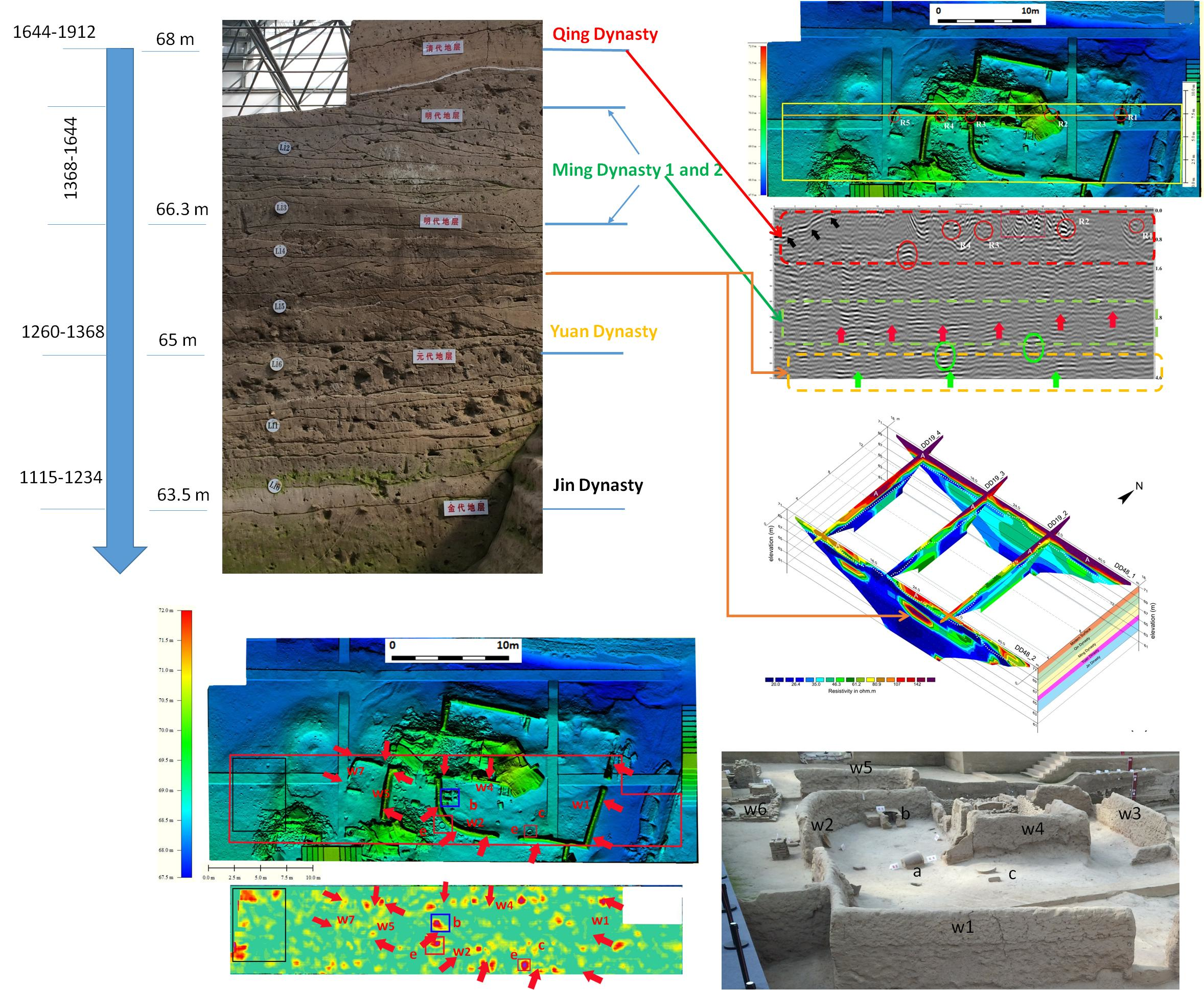 This is an open access article distributed under the
Creative Commons Attribution License
which permits unrestricted use, distribution, and reproduction in any medium, provided the original work is properly cited. (CC BY 4.0).
Share & Cite This Article
MDPI and ACS Style
Masini, N.; Capozzoli, L.; Chen, P.; Chen, F.; Romano, G.; Lu, P.; Tang, P.; Sileo, M.; Ge, Q.; Lasaponara, R. Towards an Operational Use of Geophysics for Archaeology in Henan (China): Methodological Approach and Results in Kaifeng. Remote Sens. 2017, 9, 809.
Note that from the first issue of 2016, MDPI journals use article numbers instead of page numbers. See further details here.
Related Articles
Comments
[Return to top]