Effects of Individual Tree Detection Error Sources on Forest Management Planning Calculations
1
Department of Forest Sciences, University of Helsinki, P.O. Box 27 (Latokartanonkaari 7), FI-00014 Helsinki, Finland
2
Finnish Geodetic Institute, FI-02431 Masala, Finland
3
Simosol Oy, Asema-aukio 2, FI-11130 Riihimäki, Finland
4
Metsäteho Ltd., Helsinki, FI-00170, Finland
5
School of Science and Technology, Aalto University, FI-00076 Aalto, Finland
*
Author to whom correspondence should be addressed.
Received: 12 April 2011 / Revised: 20 May 2011 / Accepted: 8 July 2011 / Published: 25 July 2011
Abstract
The objective was to investigate the error sources of the airborne laser scanning based individual tree detection (ITD), and its effects on forest management planning calculations. The investigated error sources were detection of trees (
e
td
), error in tree height prediction (
e
h
) and error in tree diameter prediction (
e
d
). The effects of errors were analyzed with Monte Carlo simulations.
e
td
was modeled empirically based on a tree's relative size. A total of five different tree detection scenarios were tested. Effect of
e
h
was investigated using 5% and 0% and effect of
e
d
using 20%, 15%, 10%, 5%, 0% error levels, respectively. The research material comprised 15 forest stands located in Southern Finland. Measurements of 5,300 trees and their timber assortments were utilized as a starting point for the Monte Carlo simulated ITD inventories. ITD carried out for the same study area provided a starting point (Scenario 1) for
e
td
. In Scenario 1, 60.2% from stem number and 75.9% from total volume (V
total
) were detected. When the only error source was
e
td
(tree detection varying from 75.9% to 100% of V
total
), root mean square errors (RMSEs) in stand characteristics ranged between the scenarios from 32.4% to 0.6%, 29.0% to 0.5%, 7.8% to 0.2% and 5.4% to 0.1% in stand basal area (BA), V
total
, mean height (Hg) and mean diameter (Dg), respectively. Saw wood volume RMSE varied from 25.1% to 0.2%, as pulp wood volume respective varied from 37.8% to 1.0% when errors stemmed only from
e
td
. The effect of
e
d
was most significant for V
total
and BA and the decrease in RMSE was from 12.0% to 0.6% (BA) and from 10.9% to 0.5% (V
total
) in the most accurate tree detection scenario when
e
d
varied from 20% to 0%. The effect of increased accuracy in tree height prediction was minor for all the stand characteristics. The results show that the most important error source in ITD is tree detection. At stand level, unbiased predictions for tree height and diameter are enough, given the present tree detection accuracy.
View Full-Text
►

▼

Figures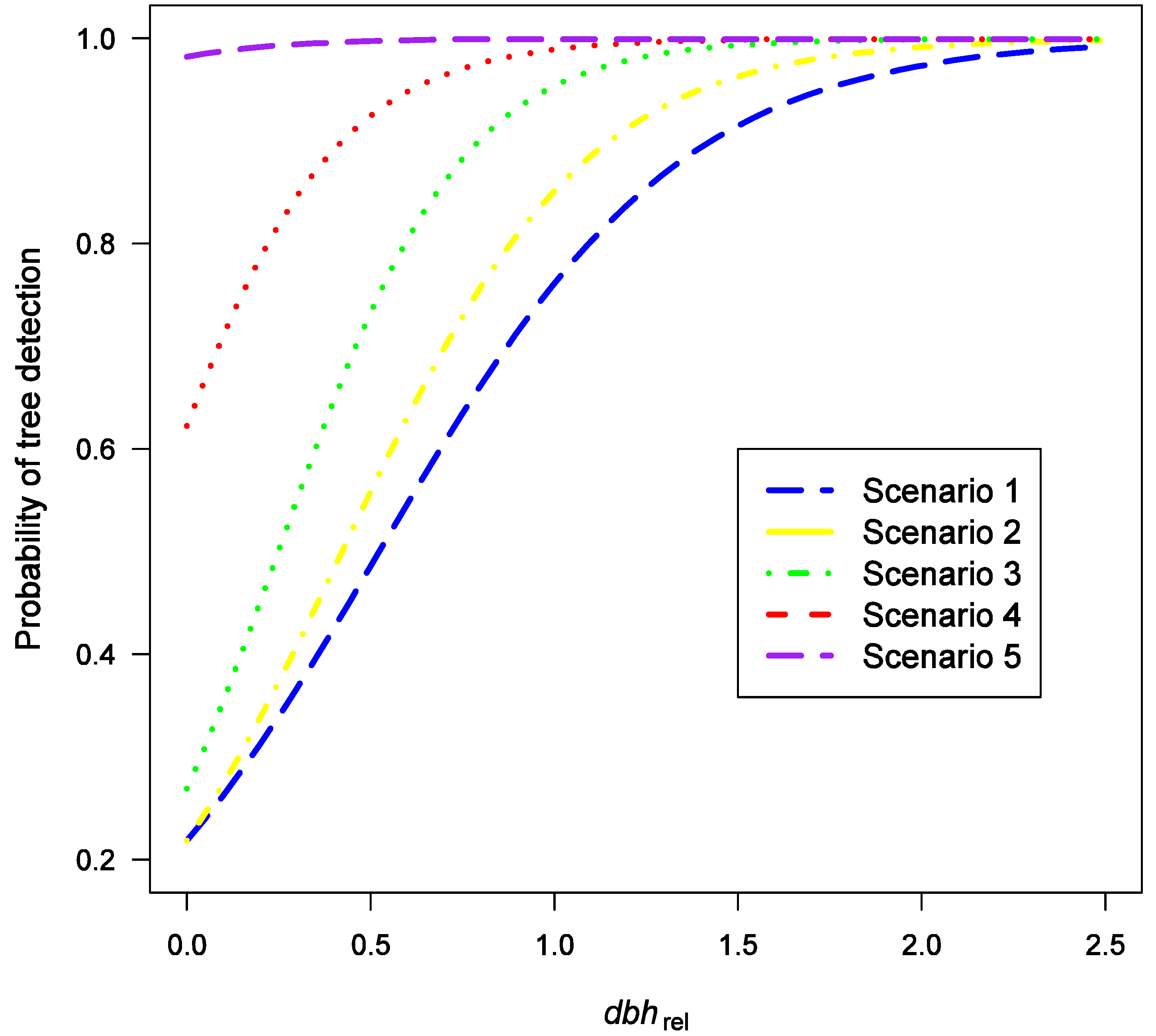 Figure 1
Share & Cite This Article
MDPI and ACS Style
Vastaranta, M.; Holopainen, M.; Yu, X.; Hyyppä, J.; Mäkinen, A.; Rasinmäki, J.; Melkas, T.; Kaartinen, H.; Hyyppä, H. Effects of Individual Tree Detection Error Sources on Forest Management Planning Calculations. Remote Sens. 2011, 3, 1614-1626.
Related Articles
Comments
[Return to top]