Highly Effective Non-Viral Antitumor Gene Therapy System Comprised of Biocompatible Small Plasmid Complex Particles Consisting of pDNA, Anionic Polysaccharide, and Fully Deprotected Linear Polyethylenimine
1
Japan Anti-tuberculosis Association, Shin-Yamanote Hospital, 3-6-1 Suwa-cho, Higashimurayama, Tokyo 189-0021, Japan
2
Graduate School of Life and Environmental Sciences, Osaka Prefecture University 1-58 Rinku-oraikita, Izumisano, Osaka 598-8531, Japan
3
Department of Home Economics, Otsuma Women's University, 12 Sanbancho, Chiyoda-ku, Tokyo 102-8357, Japan
*
Author to whom correspondence should be addressed.
Academic Editor: Keiji Itaka
Received: 31 May 2015 / Revised: 10 July 2015 / Accepted: 17 July 2015 / Published: 23 July 2015
Abstract
We have reported that ternary complexes of plasmid DNA with conventional linear polyethylenimine (l-PEI) and certain polyanions were very stably dispersed, and, with no cryoprotectant, they could be freeze-dried and re-hydrated without the loss of transfection ability. These properties enabled the preparation of a concentrated suspension of very small pDNA complex, by preparing the complexes at highly diluted conditions, followed by condensation via lyophilization-and-rehydration procedure. Recently, a high potency linear polyethylenimine having no residual protective groups,
i.e.
, Polyethylenimine "Max" (PEI "Max"), is available, which has been reported to induce much higher gene expression than conventional l-PEI. We tried to prepare the small DNA/PEI "Max"/polyanion complexes by a similar freeze-drying method. Small complex particles could be obtained without apparent aggregation, but transfection activity of the rehydrated complexes was severely reduced. Complex-preparation conditions were investigated in details to achieve the freeze-dried DNA/PEI "Max"/polyanion small ternary complexes with high transfection efficiency. DNA/PEI "Max"/polyanion complexes containing cytokine-coding plasmids were then prepared, and their anti-tumor therapeutic efficacy was examined in tumor-bearing mice.
View Full-Text
►

▼

Figures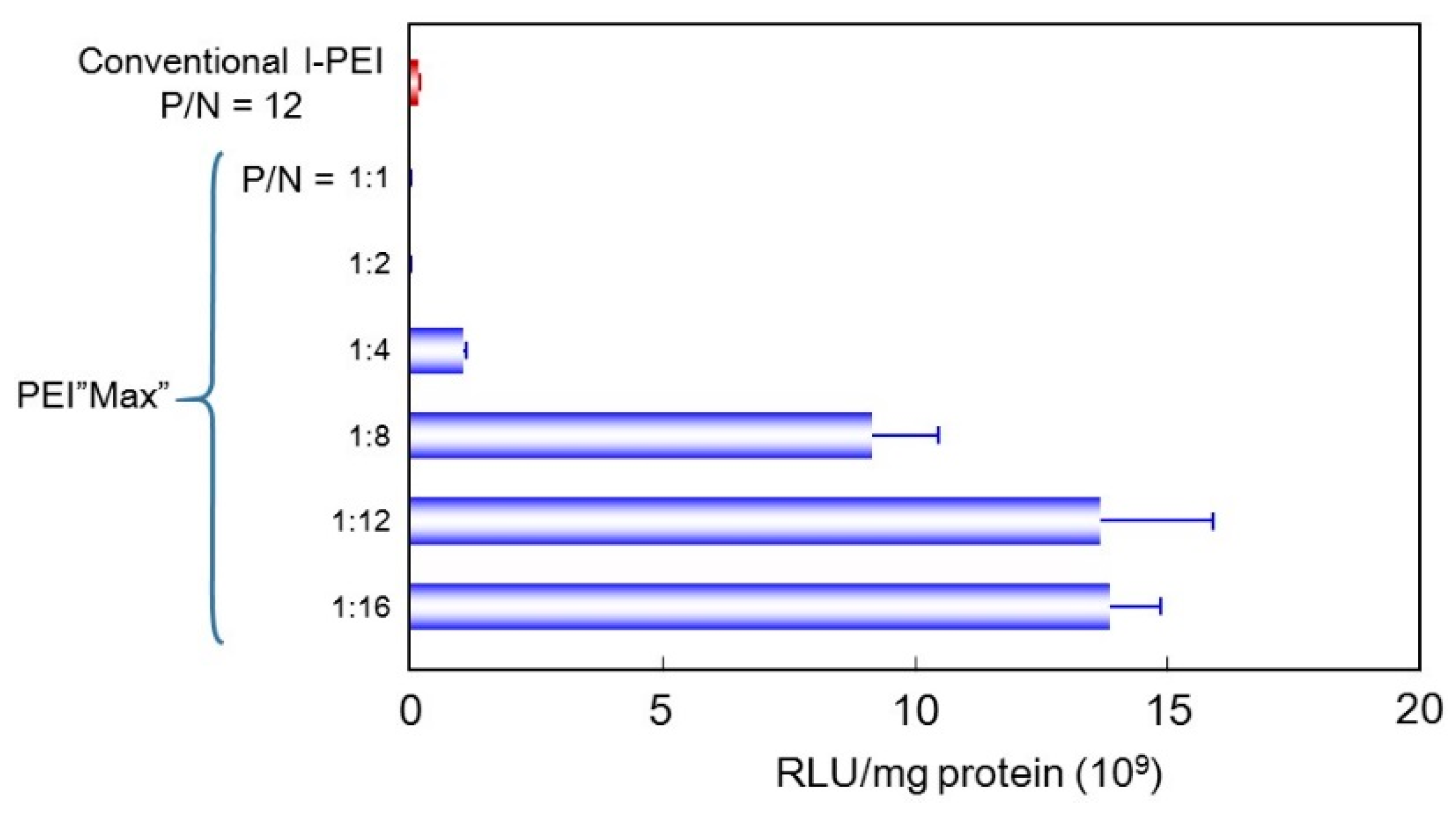 Figure 1
This is an open access article distributed under the
Creative Commons Attribution License
which permits unrestricted use, distribution, and reproduction in any medium, provided the original work is properly cited. (CC BY 4.0).
Share & Cite This Article
MDPI and ACS Style
Koyama, Y.; Sugiura, K.; Yoshihara, C.; Inaba, T.; Ito, T. Highly Effective Non-Viral Antitumor Gene Therapy System Comprised of Biocompatible Small Plasmid Complex Particles Consisting of pDNA, Anionic Polysaccharide, and Fully Deprotected Linear Polyethylenimine. Pharmaceutics 2015, 7, 152-164.
Related Articles
Comments
[Return to top]