Encapsulated Cells Expressing a Chemotherapeutic Activating Enzyme Allow the Targeting of Subtoxic Chemotherapy and Are Safe and Efficacious: Data from Two Clinical Trials in Pancreatic Cancer
1
Gastrocentrum, Karolinska University Hospital, Hälsovägen 1, SE-141 86 Stockholm, Sweden
2
Department of Medicine II, University Hospital Mannheim, University of Heidelberg, Theodor-Kutzer-Ufer, D-68135 Mannheim, Germany
3
Institute of Diagnostic und Interventional Radiology, University Medicine Rostock, Ernst-Heydemann-Strasse 6, D-18057 Rostock, Germany
4
Department of Surgery, Klinikum rechts der Isar der Technischen Universität München, Ismaninger Strasse 22, D-81675 Munich, Germany
5
Abteilung für Gastroenterologie, Klinik und Poliklinik für Innere Medizin, Universität Rostock, Ernst-Heydemann-Strasse 6, D-18057 Rostock, Germany
6
Chirurgische Klinik und Poliklinik, Medizinische Einrichtungen der Heinrich Heine Universität, Moorenstrasse 5, D-40225 Düsseldorf, Germany
7
Medizinische Klinik und Poliklinik, Klinikum Rechts der Isar der Technischen Universität München III, Ismaninger Strasse 22, D-81675 Munich, Germany
8
Medizinische Klinik (Onkologie/Hämatologie) Campus Mitte, Universitätsklinikum Charité II, Schumannstrasse 21/22, D-10098 Berlin, Germany
9
Austrianova Singapore Pte Ltd, Centros, Biopolis, Singapore
10
Institute of Virology, Department of Pathobiology, University of Veterinary Medicine, Veterinaerplatz 1, A-1210 Vienna, Austria
*
Author to whom correspondence should be addressed.
Received: 24 March 2014 / Revised: 2 July 2014 / Accepted: 30 July 2014 / Published: 11 August 2014
Abstract
Despite progress in the treatment of pancreatic cancer, there is still a need for improved therapies. In this manuscript, we report clinical experience with a new therapy for the treatment of pancreatic cancer involving the implantation of encapsulated cells over-expressing a cytochrome P450 enzyme followed by subsequent low-dose ifosfamide administrations as a means to target activated ifosfamide to the tumor. The safety and efficacy of the angiographic instillation of encapsulated allogeneic cells overexpressing cytochrome P450 in combination with low-dose systemic ifosfamide administration has now been evaluated in 27 patients in total. These patients were successfully treated in four centers by three different interventional radiologists, arguing strongly that the treatment can be successfully used in different centers. The safety of the intra-arterial delivery of the capsules and the lack of evidence that the patients developed an inflammatory or immune response to the encapsulated cells or encapsulation material was shown in all 27 patients. The ifosfamide dose of 1 g/m
2
/day used in the first trial was well tolerated by all patients. In contrast, the ifosfamide dose of 2 g/m
2
/day used in the second trial was poorly tolerated in most patients. Since the median survival in the first trial was 40 weeks and only 33 weeks in the second trial, this strongly suggests that there is no survival benefit to increasing the dose of ifosfamide, and indeed, a lower dose is beneficial for quality of life and the lack of side effects. This is supported by the one-year survival rate in the first trial being 38%, whilst that in the second trial was only 23%. However, taking the data from both trials together, a total of nine of the 27 patients were alive after one year, and two of these nine patients were alive for two years or more.
View Full-Text
►

▼

Figures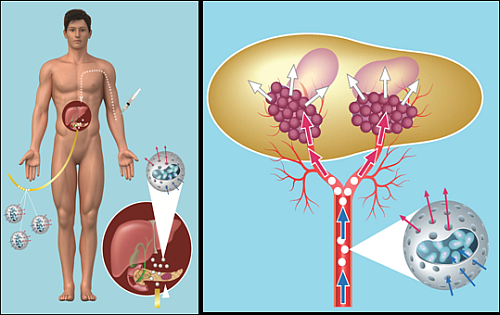 Share & Cite This Article
MDPI and ACS Style
Löhr, J.M.; Haas, S.L.; Kröger, J.C.; Friess, H.M.; Höft, R.; Goretzki, P.E.; Peschel, C.; Schweigert, M.; Salmons, B.; Gunzburg, W.H. Encapsulated Cells Expressing a Chemotherapeutic Activating Enzyme Allow the Targeting of Subtoxic Chemotherapy and Are Safe and Efficacious: Data from Two Clinical Trials in Pancreatic Cancer. Pharmaceutics 2014, 6, 447-466.
Related Articles
Comments
[Return to top]