Rab33B Controls Hepatitis B Virus Assembly by Regulating Core Membrane Association and Nucleocapsid Processing
Department of Medical Microbiology and Hygiene, University Medical Center of the Johannes Gutenberg University Mainz, Augustusplatz, D-55131 Mainz, Germany
*
Author to whom correspondence should be addressed.
Academic Editor: Joanna Parish
Received: 26 January 2017 / Revised: 9 June 2017 / Accepted: 14 June 2017 / Published: 21 June 2017
Abstract
Many viruses take advantage of cellular trafficking machineries to assemble and release new infectious particles. Using RNA interference (RNAi), we demonstrate that the Golgi/autophagosome-associated Rab33B is required for hepatitis B virus (HBV) propagation in hepatoma cell lines. While Rab33B is dispensable for the secretion of HBV subviral envelope particles, its knockdown reduced the virus yield to 20% and inhibited nucleocapsid (NC) formation and/or NC trafficking. The overexpression of a GDP-restricted Rab33B mutant phenocopied the effect of deficit Rab33B, indicating that Rab33B-specific effector proteins may be involved. Moreover, we found that HBV replication enhanced Rab33B expression. By analyzing HBV infection cycle steps, we identified a hitherto unknown membrane targeting module in the highly basic C-terminal domain of the NC-forming core protein. Rab33B inactivation reduced core membrane association, suggesting that membrane platforms participate in HBV assembly reactions. Biochemical and immunofluorescence analyses provided further hints that the viral core, rather than the envelope, is the main target for Rab33B intervention. Rab33B-deficiency reduced core protein levels without affecting viral transcription and hampered core/NC sorting to envelope-positive, intracellular compartments. Together, these results indicate that Rab33B is an important player in intracellular HBV trafficking events, guiding core transport to NC assembly sites and/or NC transport to budding sites.
View Full-Text
►

▼

Figures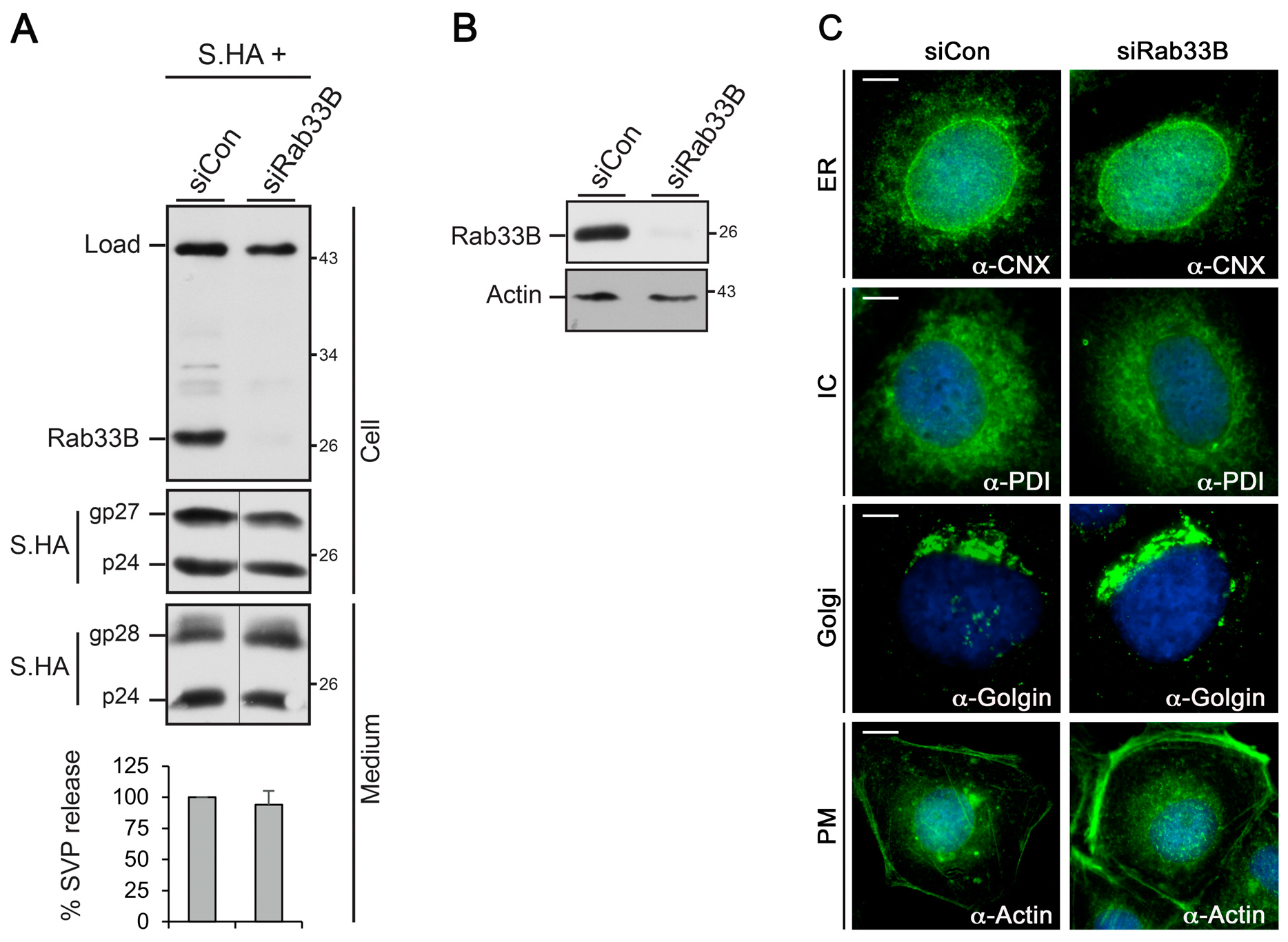 Figure 1
This is an open access article distributed under the
Creative Commons Attribution License
which permits unrestricted use, distribution, and reproduction in any medium, provided the original work is properly cited. (CC BY 4.0).
Share & Cite This Article
MDPI and ACS Style
Bartusch, C.; Döring, T.; Prange, R. Rab33B Controls Hepatitis B Virus Assembly by Regulating Core Membrane Association and Nucleocapsid Processing. Viruses 2017, 9, 157.
Note that from the first issue of 2016, MDPI journals use article numbers instead of page numbers. See further details here.
Related Articles
Comments
[Return to top]