Interference of HTLV-1 Tax Protein with Cell Polarity Regulators: Defining the Subcellular Localization of the Tax-DLG1 Interaction
Instituto de Biología Molecular y Celular de Rosario-CONICET, Facultad de Ciencias Bioquímicas y Farmacéuticas, Universidad Nacional de Rosario, Suipacha 531, 2000 Rosario, Argentina
*
Author to whom correspondence should be addressed.
Received: 19 October 2017 / Revised: 15 November 2017 / Accepted: 21 November 2017 / Published: 23 November 2017
Abstract
Human T cell leukemia virus (HTLV)-1 Tax (Tax) protein is very important in viral replication and cell transformation. Tax localizes in the nucleus and cytoplasm in association with organelles. Some activities of Tax depend on interactions with PDZ (PSD-95/Discs Large/Z0-1) domain–containing proteins such as Discs large protein 1 (DLG1) which is involved in cell polarity and proliferation. The DLG1 interaction results in a cytoplasmic co-localization pattern resembling vesicular aggregates, the nature of which is still unknown. To further explore the role of PDZ proteins in HTLV-1 cell transformation, we deeply investigated the Tax-DLG1 association. By fluorescence resonance energy transfer (FRET), we detected, for the first time, the direct binding of Tax to DLG1 within the cell. We showed that the interaction specifically affects the cellular distribution of not only DLG1, but also Tax. After studying different cell structures, we demonstrated that the aggregates distribute into the Golgi apparatus in spatial association with the microtubule-organizing center (MTOC). This study contributes to understand the biological significance of Tax-PDZ interactions.
View Full-Text
►

▼

Figures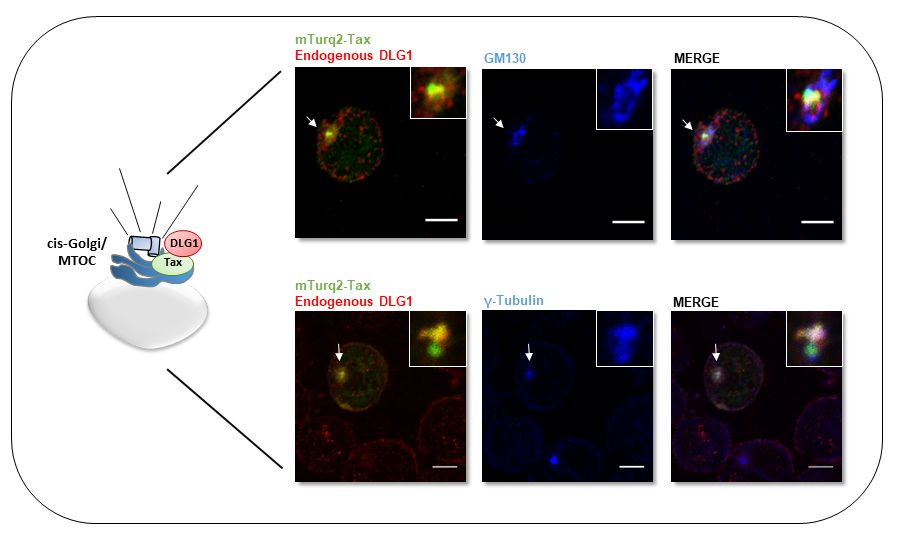 This is an open access article distributed under the
Creative Commons Attribution License
which permits unrestricted use, distribution, and reproduction in any medium, provided the original work is properly cited. (CC BY 4.0).
Share & Cite This Article
MDPI and ACS Style
Marziali, F.; Bugnon Valdano, M.; Brunet Avalos, C.; Moriena, L.; Cavatorta, A.L.; Gardiol, D. Interference of HTLV-1 Tax Protein with Cell Polarity Regulators: Defining the Subcellular Localization of the Tax-DLG1 Interaction. Viruses 2017, 9, 355.
Note that from the first issue of 2016, MDPI journals use article numbers instead of page numbers. See further details here.
Related Articles
Comments
[Return to top]