Epidemiological Investigations of Four Cowpox Virus Outbreaks in Alpaca Herds, Germany
1
Clinic for Ruminants and Swine, Faculty of Veterinary Medicine, University of Leipzig, An den Tierkliniken 11, 04103 Leipzig, Germany
2
Institute of Diagnostic Virology, Friedrich-Loeffler-Institut, Federal Research Institute for Animal Health, Südufer 10, 17493 Greifswald-Insel Riems, Germany
3
Veterinary practice Dr. Daniela Goerigk, Naundorfer Str. 9, 04668 Schkortitz, Germany
4
Institute of Animal Hygiene and Veterinary Public Health, Centre for Veterinary Public Health, Faculty of Veterinary Medicine, University of Leipzig, An den Tierkliniken 1, 04103 Leipzig, Germany
5
Institute of Novel and Emerging Infectious Diseases, Friedrich-Loeffler-Institut, Federal Research Institute for Animal Health, Südufer 10, 17493 Greifswald-Insel Riems, Germany
6
Institute of Virology, Faculty of Veterinary Medicine, University of Leipzig, An den Tierkliniken 29, 04103 Leipzig, Germany
†
These authors contributed equally to this work.
*
Author to whom correspondence should be addressed.
Received: 2 October 2017 / Revised: 11 November 2017 / Accepted: 13 November 2017 / Published: 18 November 2017
Abstract
Four cowpox virus (CPXV) outbreaks occurred in unrelated alpaca herds in Eastern Germany during 2012–2017. All incidents were initially noticed due to severe, generalized, and finally lethal CPXV infections, which were confirmed by testing of tissue and serum samples. As CPXV-infection has been described in South American camelids (SACs) only three times, all four herds were investigated to gain a deeper understanding of CPXV epidemiology in alpacas. The different herds were investigated twice, and various samples (serum, swab samples, and crusts of suspicious pox lesions, feces) were taken to identify additionally infected animals. Serum was used to detect CPXV-specific antibodies by performing an indirect immunofluorescence assay (iIFA); swab samples, crusts, and feces were used for detection of CPXV-specific DNA in a real-time PCR. In total, 28 out of 107 animals could be identified as affected by CPXV, by iIFA and/or PCR. Herd seroprevalence ranged from 16.1% to 81.2%. To investigate the potential source of infection, wild small mammals were trapped around all alpaca herds. In two herds, CPXV-specific antibodies were found in the local rodent population. In the third herd, CPXV could be isolated from a common vole (
Microtus arvalis
) found drowned in a water bucket used to water the alpacas. Full genome sequencing and comparison with the genome of a CPXV from an alpaca from the same herd reveal 99.997% identity, providing further evidence that the common vole is a reservoir host and infection source of CPXV. Only in the remaining fourth herd, none of the trapped rodents were found to be CPXV-infected. Rodents, as ubiquitous reservoir hosts, in combination with increasingly popular alpacas, as susceptible species, suggest an enhanced risk of future zoonotic infections.
View Full-Text
►

▼

Figures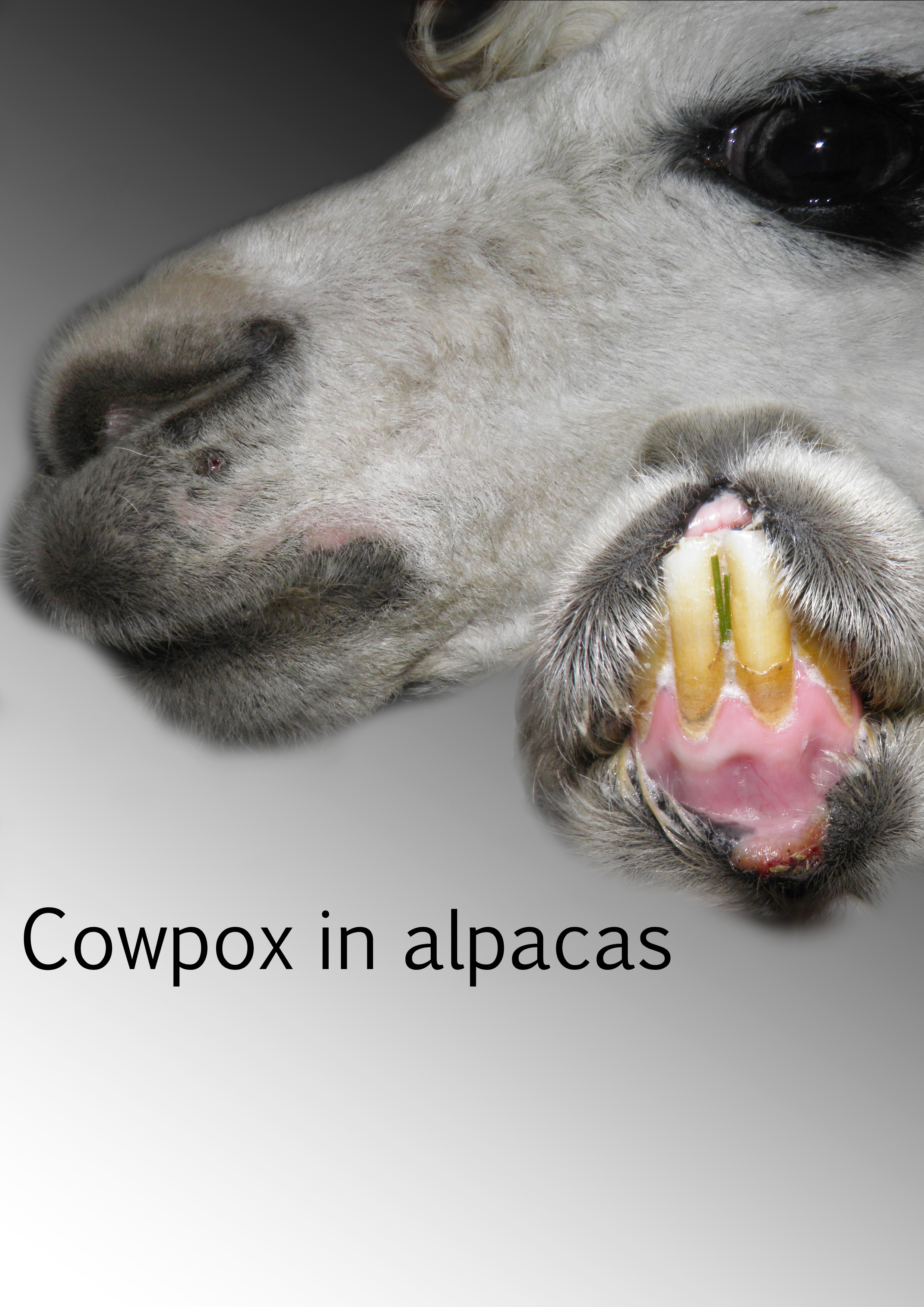 This is an open access article distributed under the
Creative Commons Attribution License
which permits unrestricted use, distribution, and reproduction in any medium, provided the original work is properly cited. (CC BY 4.0).
Share & Cite This Article
MDPI and ACS Style
Prkno, A.; Hoffmann, D.; Goerigk, D.; Kaiser, M.; van Maanen, A.C.F.; Jeske, K.; Jenckel, M.; Pfaff, F.; Vahlenkamp, T.W.; Beer, M.; Ulrich, R.G.; Starke, A.; Pfeffer, M. Epidemiological Investigations of Four Cowpox Virus Outbreaks in Alpaca Herds, Germany. Viruses 2017, 9, 344.
Note that from the first issue of 2016, MDPI journals use article numbers instead of page numbers. See further details here.
Related Articles
Comments
[Return to top]