A Truncated Nef Peptide from SIVcpz Inhibits the Production of HIV-1 Infectious Progeny
1
Departamento de Virologia—Instituto de Microbiologia, Universidade Federal do Rio de Janeiro, Av. Carlos Chagas Filho 373—CCS—Bloco I, Rio de Janeiro 21941-902, Brazil
2
Departments of Medicine, Microbiology and Immunology, University of California, San Francisco, 533 Parnassus Avenue, San Francisco, CA 94143, USA
†
These authors contributed equally to this work.
*
Author to whom correspondence should be addressed.
Academic Editor: Andrew Mehle
Received: 29 February 2016 / Revised: 8 June 2016 / Accepted: 14 June 2016 / Published: 7 July 2016
Abstract
Nef proteins from all primate Lentiviruses, including the simian immunodeficiency virus of chimpanzees (SIVcpz), increase viral progeny infectivity. However, the function of Nef involved with the increase in viral infectivity is still not completely understood. Nonetheless, until now, studies investigating the functions of Nef from SIVcpz have been conducted in the context of the HIV-1 proviruses. In an attempt to investigate the role played by Nef during the replication cycle of an SIVcpz, a Nef-defective derivative was obtained from the SIVcpzWTGab2 clone by introducing a frame shift mutation at a unique restriction site within the
nef
sequence. This
nef
-deleted clone expresses an N-terminal 74-amino acid truncated peptide of Nef and was named SIVcpz-tNef. We found that the SIVcpz-tNef does not behave as a classic
nef
-deleted HIV-1 or simian immunodeficiency virus of macaques SIVmac. Markedly, SIVcpz-tNef progeny from both Hek-293T and Molt producer cells were completely non-infectious. Moreover, the loss in infectivity of SIVcpz-tNef correlated with the inhibition of Gag and GagPol processing. A marked accumulation of Gag and very low levels of reverse transcriptase were detected in viral lysates. Furthermore, these observations were reproduced once the tNef peptide was expressed in
trans
both in SIVcpzΔNef and HIV-1WT expressing cells, demonstrating that the truncated peptide is a dominant negative for viral processing and infectivity for both SIVcpz and HIV-1. We demonstrated that the truncated Nef peptide binds to GagPol outside the protease region and by doing so probably blocks processing of both GagPol and Gag precursors at a very early stage. This study demonstrates for the first time that naturally-occurring Nef peptides can potently block lentiviral processing and infectivity.
View Full-Text
►

▼

Figures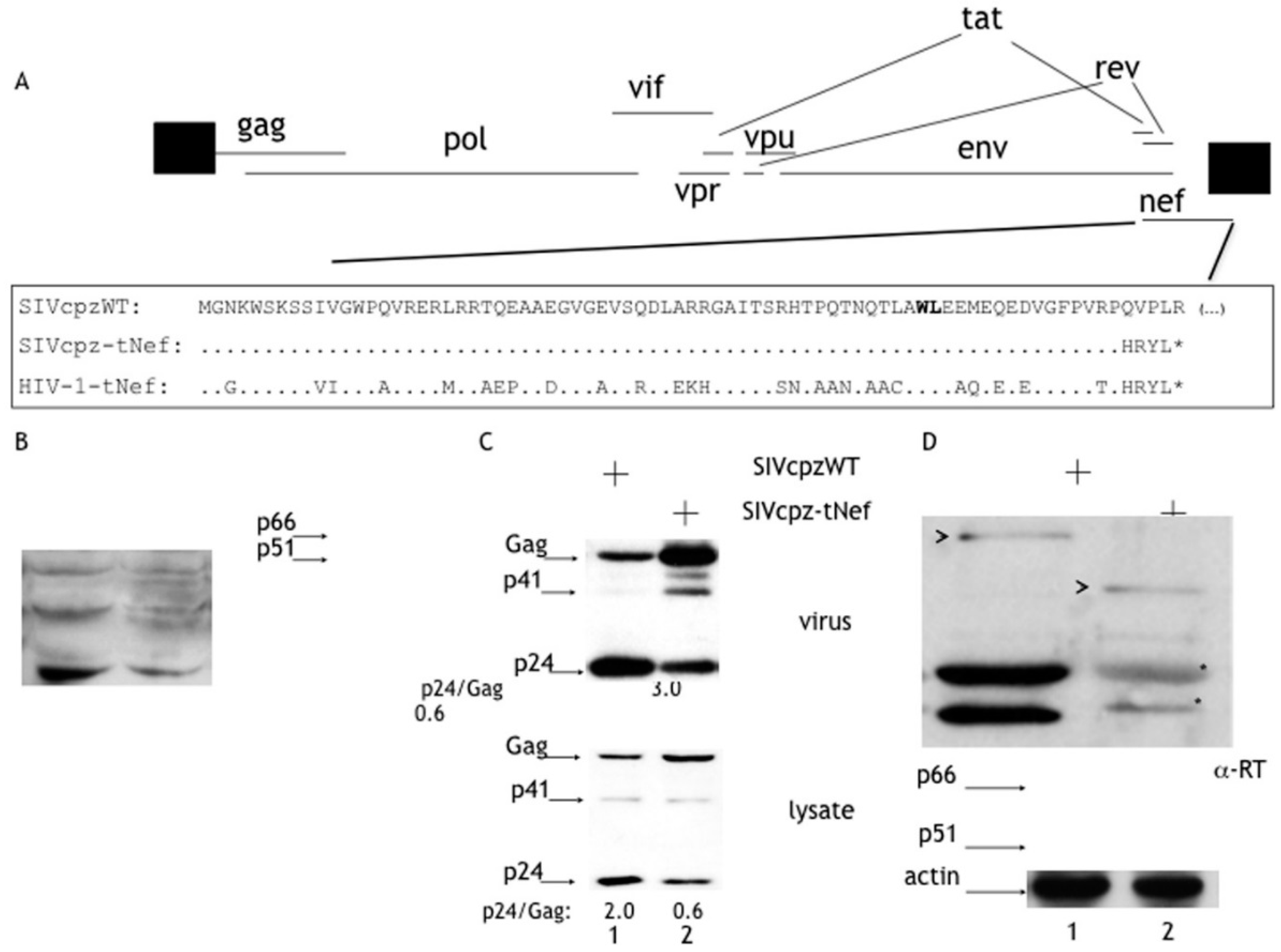 Figure 1
This is an open access article distributed under the
Creative Commons Attribution License
which permits unrestricted use, distribution, and reproduction in any medium, provided the original work is properly cited. (CC BY 4.0).
Share & Cite This Article
MDPI and ACS Style
Sabino Cunha, M.; Lima Sampaio, T.; Peterlin, B.M.; Jesus da Costa, L. A Truncated Nef Peptide from SIVcpz Inhibits the Production of HIV-1 Infectious Progeny. Viruses 2016, 8, 189.
Note that from the first issue of 2016, MDPI journals use article numbers instead of page numbers. See further details here.
Related Articles
Comments
[Return to top]