Multi-Omics Studies towards Novel Modulators of Influenza A Virus–Host Interaction
1
Institute of Biotechnology, University of Helsinki, Helsinki 00014, Finland
2
Finnish Institute of Occupational Health, Helsinki 00250, Finland
3
Institute for Molecular Medicine Finland (FIMM), University of Helsinki, Helsinki 00014, Finland
4
Institute of Mathematics and Computer Science, Ural Federal University, Yekaterinburg 620083, Russia
5
Q-Mol L.L.C. in Silico Pharmaceuticals, San Diego, CA 92037, USA
6
Department of Mathematics and Statistics, University of Turku, Turku 20014, Finland
7
Institute of Clinical Medicine, Oslo 0450, Norway
8
Department of Rheumatology, Helsinki University Hospital, University of Helsinki, Helsinki 00015, Finland
*
Author to whom correspondence should be addressed.
Academic Editors: Eric O. Freed and Thomas Klimkait
Received: 28 July 2016 / Revised: 13 September 2016 / Accepted: 22 September 2016 / Published: 29 September 2016
Abstract
Human influenza A viruses (IAVs) cause global pandemics and epidemics. These viruses evolve rapidly, making current treatment options ineffective. To identify novel modulators of IAV–host interactions, we re-analyzed our recent transcriptomics, metabolomics, proteomics, phosphoproteomics, and genomics/virtual ligand screening data. We identified 713 potential modulators targeting 199 cellular and two viral proteins. Anti-influenza activity for 48 of them has been reported previously, whereas the antiviral efficacy of the 665 remains unknown. Studying anti-influenza efficacy and immuno/neuro-modulating properties of these compounds and their combinations as well as potential viral and host resistance to them may lead to the discovery of novel modulators of IAV–host interactions, which might be more effective than the currently available anti-influenza therapeutics.
View Full-Text
►

▼

Figures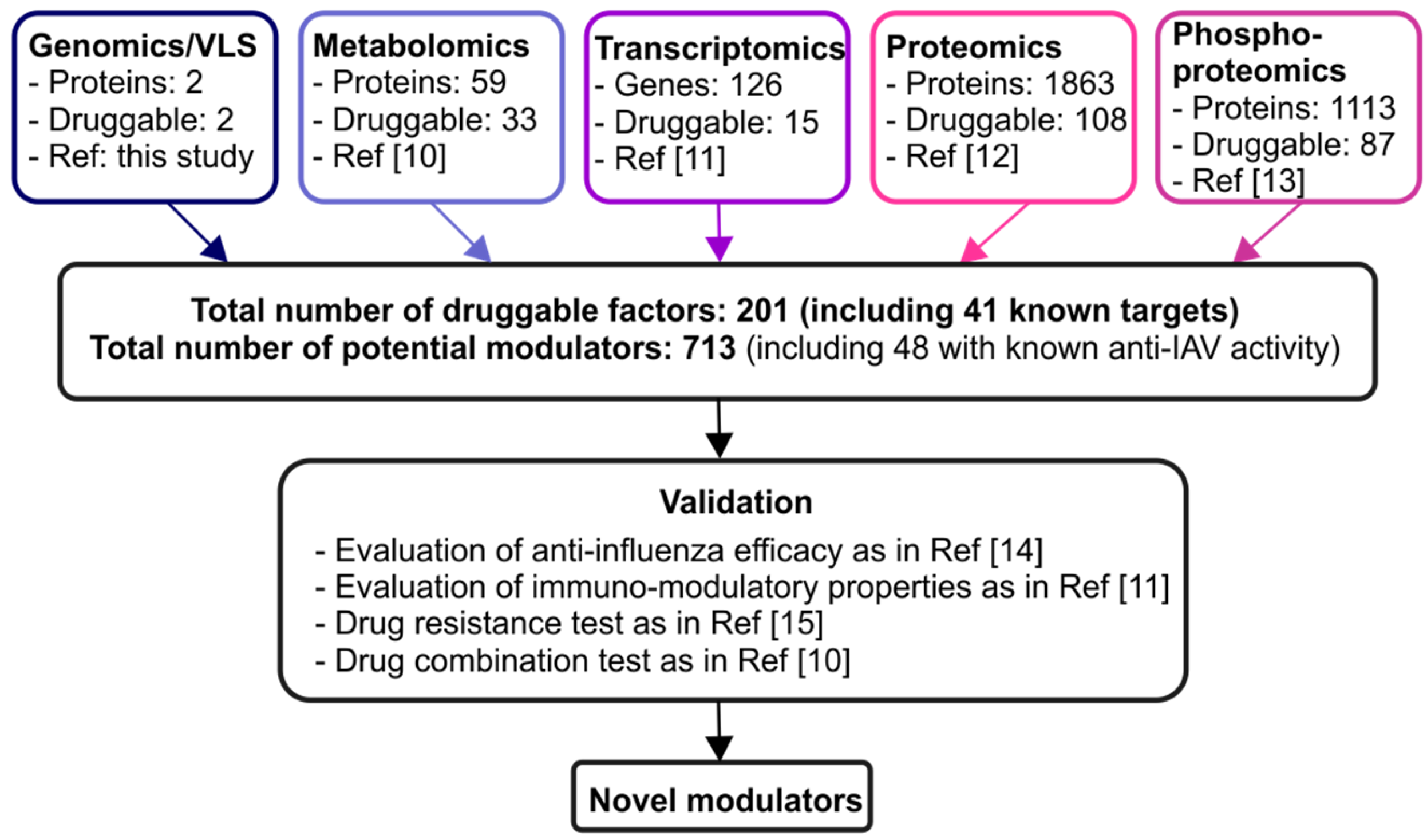 Figure 1
This is an open access article distributed under the
Creative Commons Attribution License
which permits unrestricted use, distribution, and reproduction in any medium, provided the original work is properly cited. (CC BY 4.0).
Share & Cite This Article
MDPI and ACS Style
Söderholm, S.; Fu, Y.; Gaelings, L.; Belanov, S.; Yetukuri, L.; Berlinkov, M.; Cheltsov, A.V.; Anders, S.; Aittokallio, T.; Nyman, T.A.; Matikainen, S.; Kainov, D.E. Multi-Omics Studies towards Novel Modulators of Influenza A Virus–Host Interaction. Viruses 2016, 8, 269.
Note that from the first issue of 2016, MDPI journals use article numbers instead of page numbers. See further details here.
Related Articles
Comments
[Return to top]