Genetic and Phylogenetic Characterization of Tataguine and Witwatersrand Viruses and Other Orthobunyaviruses of the Anopheles A, Capim, Guamá, Koongol, Mapputta, Tete, and Turlock Serogroups
1
D.I. Ivanovsky Institute of Virology, Gamaleya Federal Research Center for Epidemiology and Microbiology, Ministry of Health of the Russian Federation, 123098, Moscow, Russia
2
Integrated Research Facility at Fort Detrick, National Institute of Allergy and Infectious Diseases, National Institutes of Health, Fort Detrick, Frederick, MD 21702, USA
*
Author to whom correspondence should be addressed.
Academic Editors: Jane Tao and Pierre-Yves Lozach
Received: 2 September 2015 / Revised: 22 October 2015 / Accepted: 7 November 2015 / Published: 23 November 2015
Abstract
The family
Bunyaviridae
has more than 530 members that are distributed among five genera or remain to be classified. The genus
Orthobunyavirus
is the most diverse bunyaviral genus with more than 220 viruses that have been assigned to more than 18 serogroups based on serological cross-reactions and limited molecular-biological characterization. Sequence information for all three orthobunyaviral genome segments is only available for viruses belonging to the Bunyamwera, Bwamba/Pongola, California encephalitis, Gamboa, Group C, Mapputta, Nyando, and Simbu serogroups. Here we present coding-complete sequences for all three genome segments of 15 orthobunyaviruses belonging to the Anopheles A, Capim, Guamá, Kongool, Tete, and Turlock serogroups, and of two unclassified bunyaviruses previously not known to be orthobunyaviruses (Tataguine and Witwatersrand viruses). Using those sequence data, we established the most comprehensive phylogeny of the
Orthobunyavirus
genus to date, now covering 15 serogroups. Our results emphasize the high genetic diversity of orthobunyaviruses and reveal that the presence of the small nonstructural protein (NSs)-encoding open reading frame is not as common in orthobunyavirus genomes as previously thought.
View Full-Text
►

▼

Figures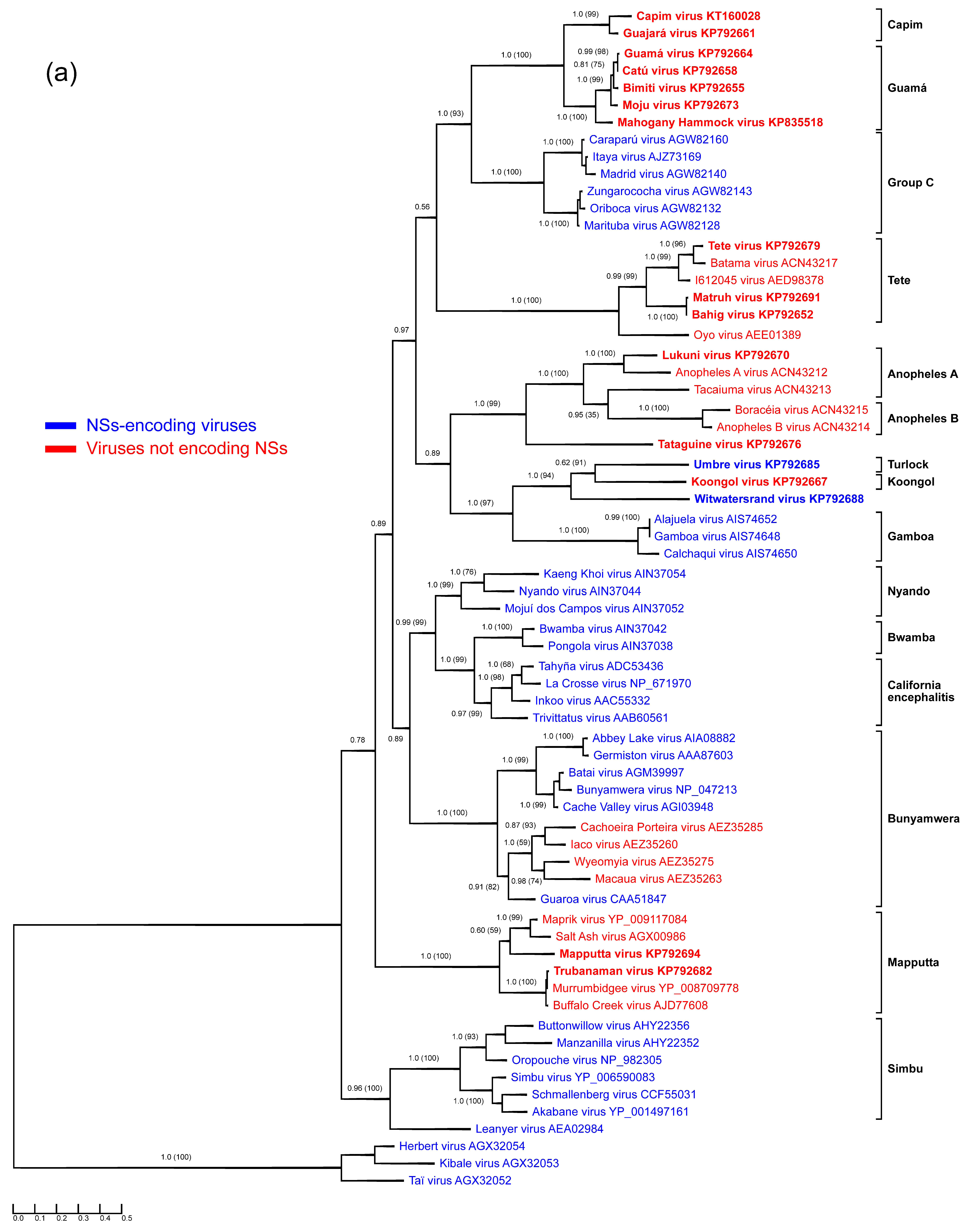 Figure 1a
This is an open access article distributed under the
Creative Commons Attribution License
which permits unrestricted use, distribution, and reproduction in any medium, provided the original work is properly cited. (CC BY 4.0).
Share & Cite This Article
MDPI and ACS Style
Shchetinin, A.M.; Lvov, D.K.; Deriabin, P.G.; Botikov, A.G.; Gitelman, A.K.; Kuhn, J.H.; Alkhovsky, S.V. Genetic and Phylogenetic Characterization of Tataguine and Witwatersrand Viruses and Other Orthobunyaviruses of the Anopheles A, Capim, Guamá, Koongol, Mapputta, Tete, and Turlock Serogroups. Viruses 2015, 7, 5987-6008.
Related Articles
Comments
[Return to top]