The Use of Chimeric Virus-like Particles Harbouring a Segment of Hantavirus Gc Glycoprotein to Generate a Broadly-Reactive Hantavirus-Specific Monoclonal Antibody
1
Vilnius University Institute of Biotechnology, V.A. Graiciuno 8, Vilnius LT-02241, Lithuania
2
Institute of Medical Virology, Helmut-Ruska-Haus, Charité Medical School, Berlin 10117, Germany
3
Institute of Virology, Slovak Academy of Science, Bratislava 84505, Slovakia
4
Institute for Novel and Emerging Infectious Diseases, Friedrich-Loeffler-Institut, Federal Research Institute for Animal Health, Südufer 10, Greifswald-Insel Riems 17493, Germany
*
Author to whom correspondence should be addressed.
Received: 21 November 2013 / Revised: 7 January 2014 / Accepted: 18 January 2014 / Published: 7 February 2014
Abstract
Monoclonal antibodies (MAbs) against viral glycoproteins have important diagnostic and therapeutic applications. In most cases, the MAbs specific to viral glycoproteins are raised against intact virus particles. The biosynthesis of viral glycoproteins in heterologous expression systems such as bacteria, yeast, insect or mammalian cells is often problematic due to their low expression level, improper folding and limited stability. To generate MAbs against hantavirus glycoprotein Gc, we have used initially a recombinant yeast-expressed full-length Puumala virus (PUUV) Gc protein. However, this approach was unsuccessful. As an alternative recombinant antigen, chimeric virus-like particles (VLPs) harboring a segment of PUUV Gc glycoprotein were generated in yeast
Saccharomyces cerevisiae
. A 99 amino acid (aa)-long segment of Gc protein was inserted into the major capsid protein VP1 of hamster polyomavirus at previously defined positions: either site #1 (aa 80–89) or site #4 (aa 280–289). The chimeric proteins were found to self-assemble to VLPs as evidenced by electron microscopy. Chimeric VLPs induced an efficient insert-specific antibody response in immunized mice. Monoclonal antibody (clone #10B8) of IgG isotype specific to hantavirus Gc glycoprotein was generated. It recognized recombinant full-length PUUV Gc glycoprotein both in ELISA and Western blot assay and reacted specifically with hantavirus-infected cells in immunofluorescence assay. Epitope mapping studies revealed the
N
-terminally located epitope highly conserved among different hantavirus strains. In conclusion, our approach to use chimeric VLPs was proven useful for the generation of virus-reactive MAb against hantavirus Gc glycoprotein. The generated broadly-reactive MAb #10B8 might be useful for various diagnostic applications.
View Full-Text
►

▼

Figures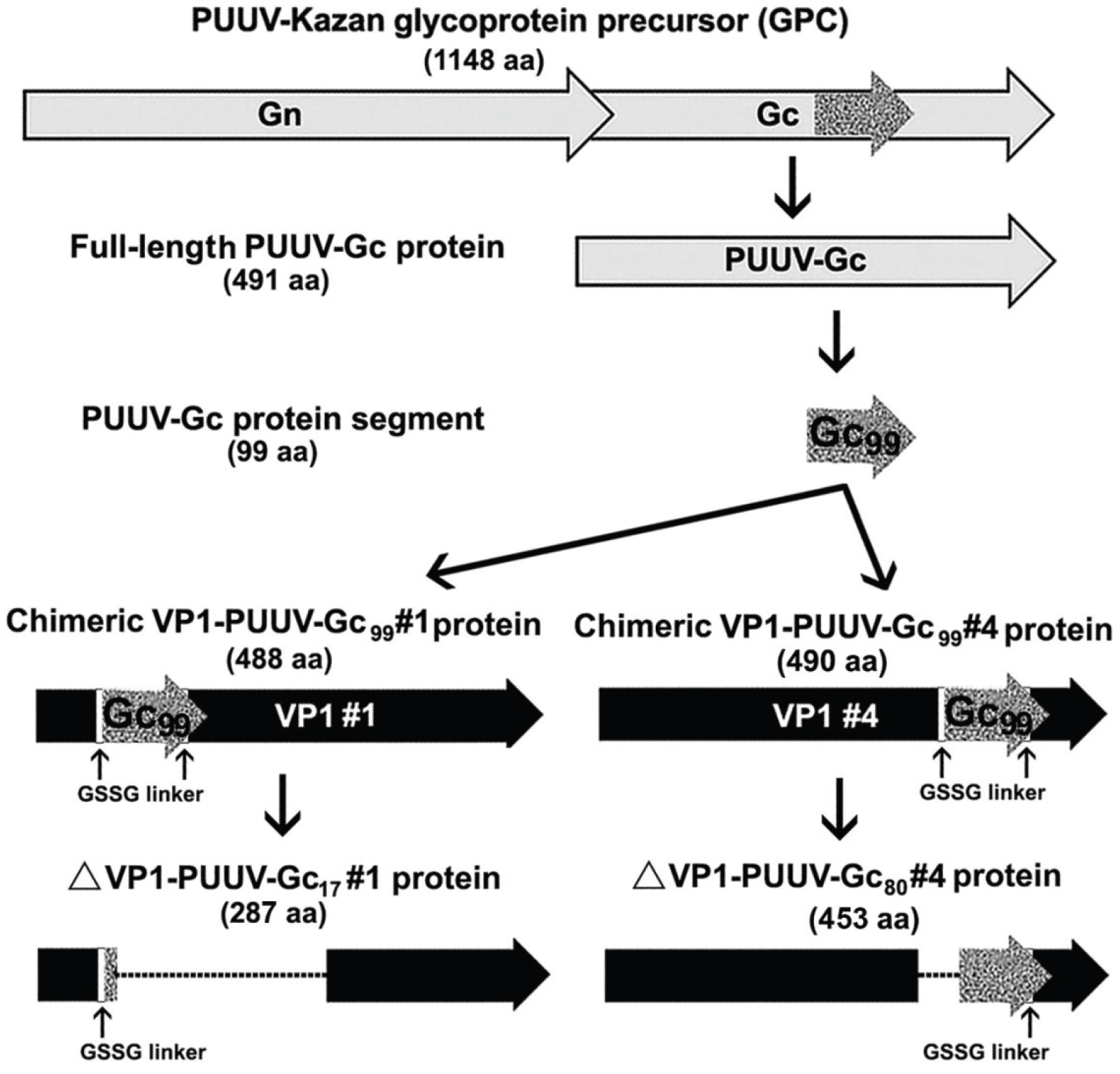 Figure 1
Share & Cite This Article
MDPI and ACS Style
Zvirbliene, A.; Kucinskaite-Kodze, I.; Razanskiene, A.; Petraityte-Burneikiene, R.; Klempa, B.; Ulrich, R.G.; Gedvilaite, A. The Use of Chimeric Virus-like Particles Harbouring a Segment of Hantavirus Gc Glycoprotein to Generate a Broadly-Reactive Hantavirus-Specific Monoclonal Antibody. Viruses 2014, 6, 640-660.
Related Articles
Comments
[Return to top]