Respiratory Syncytial Virus Infection Disrupts Monolayer Integrity and Function in Cystic Fibrosis Airway Cells
1
Departments of Pediatrics, University of Alabama at Birmingham, Birmingham, Alabama 35233, USA
2
The Gregory Fleming James Cystic Fibrosis Research Center, University of Alabama at Birmingham, Birmingham, Alabama, 35233, USA
3
Departments of Pulmonary Medicine, Cincinnati Children's Hospital Medical Center, Cincinnati, Ohio 45229, USA
4
Center for Global Health, Colorado School of Public Health, 13199 E Montview Blvd, Suite 310, A090 Aurora, CO 80045, USA
*
Author to whom correspondence should be addressed.
Received: 13 May 2013 / Revised: 12 September 2013 / Accepted: 16 September 2013 / Published: 19 September 2013
Abstract
Background
: Respiratory Syncytial Virus (RSV) infection is a common contributor to pulmonary symptoms in children with cystic fibrosis (CF). Here we examined RSV infection in immortalized bronchial epithelial cells (CFBE41o-) expressing wild-type (wt) or F508del cystic fibrosis transmembrane conductance regulator (CFTR), for monolayer integrity and RSV replication.
Methods
: CFBE41o- monolayers expressing wt or F508del CFTR were grown on permeable supports and inoculated with RSV A2 strain. Control experiments utilized UV-inactivated RSV and heat-killed RSV. Monolayer resistance and RSV production was monitored for up to six days post-infection.
Results
: Within 24 h, a progressive decrease in monolayer resistance was observed in RSV infected F508del CFBE41o- cells, while the monolayer integrity of RSV infected wt CFTR CFBE41o- cells remained stable. RSV replication was necessary to disrupt F508del CFBE41o- monolayers as UV-irradiated and heat killed RSV had no effect on monolayer integrity, with an earlier and much more pronounced peak in RSV titer noted in F508del relative to wt CFTR-expressing cells. RSV infection of wt CFBE41o- monolayers also resulted in blunting of CFTR response.
Conclusions
: These findings identify an enhanced sensitivity of CFBE41o- cells expressing F508del CFTR to RSV infection, replication and monolayer disruption independent of the cellular immune response, and provide a novel mechanism by which cystic fibrosis airway epithelia are susceptible to RSV-dependent injury.
View Full-Text
►

▼

Figures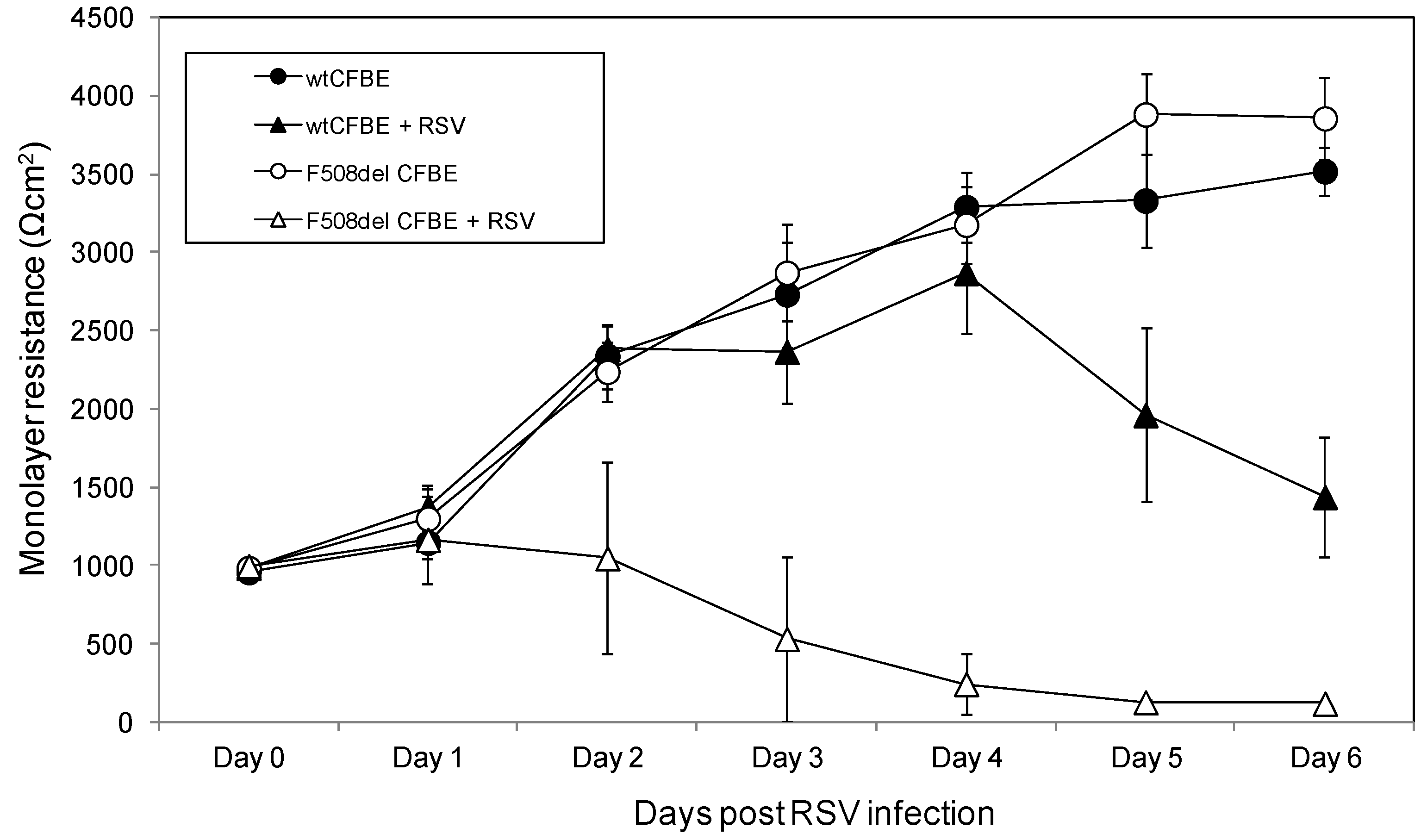 Figure 1
Share & Cite This Article
MDPI and ACS Style
Kong, M.; Maeng, P.; Hong, J.; Szczesniak, R.; Sorscher, E.; Sullender, W.; Clancy, J.P. Respiratory Syncytial Virus Infection Disrupts Monolayer Integrity and Function in Cystic Fibrosis Airway Cells. Viruses 2013, 5, 2260-2271.
Related Articles
Comments
[Return to top]