Open Access This article is
freely available
re-usable
Review
Influenza A Virus Entry Inhibitors Targeting the Hemagglutinin
2
Department of Clinical Laboratory, The First Affiliated Hospital of Jinan University, Guangzhou 510630, China; E-Mail:
limm269@126.com
(M.L.)
*
Author to whom correspondence should be addressed; E-Mail:
liusw@smu.edu.cn
(S.L.); Tel.: +86-20-6164-8538; Fax: +86-20-6164-8655.
Received: 14 December 2012; in revised form: 17 January 2013 / Accepted: 21 January 2013 /
Published: 22 January 2013
Abstract
: Influenza A virus (IAV) has caused seasonal influenza epidemics and influenza pandemics, which resulted in serious threat to public health and socioeconomic impacts. Until now, only 5 drugs belong to two categories are used for prophylaxis and treatment of IAV infection. Hemagglutinin (HA), the envelope glycoprotein of IAV, plays a critical role in viral binding, fusion and entry. Therefore, HA is an attractive target for developing anti‑IAV drugs to block the entry step of IAV infection. Here we reviewed the recent progress in the study of conformational changes of HA during viral fusion process and the development of HA-based IAV entry inhibitors, which may provide a new choice for controlling future influenza pandemics.
Keywords:
influenza A virus; hemagglutinin; viral entry; antiviral drugs
1. Introduction
Main Influenza A viruses (IAV) cause acute respiratory diseases in humans, birds, and other mammals, representing one of the major threats to public health. Wild birds are the reservoir of influenza A viruses. An avian strain can adapt to the human host and attain human-to-human transmission capability through acquired mutations. An unexpected human adaptation of an influenza subtype or strain rather than currently circulating influenza viruses may cause pandemic flu. The pandemics of 1918 H1N1 (Spanish flu), 1957 H2N2 (Asian flu), 1968 H3N2 (Hong Kong flu) and 2009 H1N1 (swine flu) symbolize the devastating public health and socioeconomic impacts of pandemic flu and keep us alert to any such outbreak. Additionally, seasonal flu is responsible for about 50,000 deaths per year. The H5N1 type IAV, which infected 18 patients in Hong Kong and caused 6 death in 1997, is a potentially serious threat to human health in the near future because of its high mortality (about 60%) and potential human-to-human transmission.
Influenza viruses mutate frequently because of their segmented RNA genome, making it almost impossible to produce a timely and sufficiently effective vaccine to prevent the potential oseltamivir-resistant H5N1 influenza A viruses epidemic outbreaks. Therefore, it is the only way to use anti-influenza agents for treatment and prevention at the beginning of pandemic outbreak of a virulent influenza strain, which gives time for the development and widespread dissemination of an effective vaccine. There are two classes of anti-influenza drugs up to now available in the clinic, which targeting the M2 ion channel and neuraminidase (NA) expressed on the virus envelope, respectively. Adamantanes block the ion channel formed by the M2 protein, which is critical in the release of viral ribonucleoprotein complexes (vRNPs) into the cytoplasm [1]. Although ion channel inhibitors can be effective against influenza virus infection, they have been reported to cause central nervous system (CNS) side effects. Also, currently circulating IAV strains are mostly resistant to adamantanes [2]. Thus adamantanes are not recommended for a general and uncontrolled use.
Two neuraminidase inhibitors, oseltamivir and zanamivir, were both approved in 1999 for treatment and prevention for acute uncomplicated flu caused by influenza A and B. Neuraminidase inhibitors interfere with the enzymatic activity of the NA protein, which is critical for the efficient release of newly synthesized viruses from infected cells. However, resistant virus strains are constantly emerging, especially to oseltamivir [3]. Different from the oral administration oseltamivir, zanamivir can only be inhaled due to its low bioavailability, which makes the limited use of this drug. In 2009, a new NA inhibitor, peramivir, was authorized for the emergent treatment of certain hospitalized patients with known or suspected 2009 H1N1 influenza.
It seems quite pressing to seek for new anti-influenza medications. Up to now, the life cycle of influenza virus has been well understood, allowing for the validation of several therapeutic targets. Among them, hemagglutinin (HA) is one of the most appealing ones. Till now 16 subtypes of HA have been identified and can be further subdivided into 5 clades and 2 groups (Figure 1). This malleable nature of HA imposes a great difficulty to conduct rational drug design. Furthermore, the variety of HA may be even strengthened by antigenic drift and antigenic shift [4,5]. Here, we described the functional and structural studies leading to the discovery of HA as a new anti-influenza target, and also how structural information is facilitating the rational design of new IAV entry inhibitors targeting HA.
Figure 1. The phylogenetic tree of influenza A virus hemagglutinins (HAs). Constraint-based Multiple Alignment Tool (COBALT) was used and then the figure was revised with Photoshop software. Tree method: Fast Minimum Revolution; Max Seq. Difference: 0.85; Distance: Grinshin General Protein. Grey dots represent nodes; Blue dots represent 16 subtypes of influenza A virus HA proteins.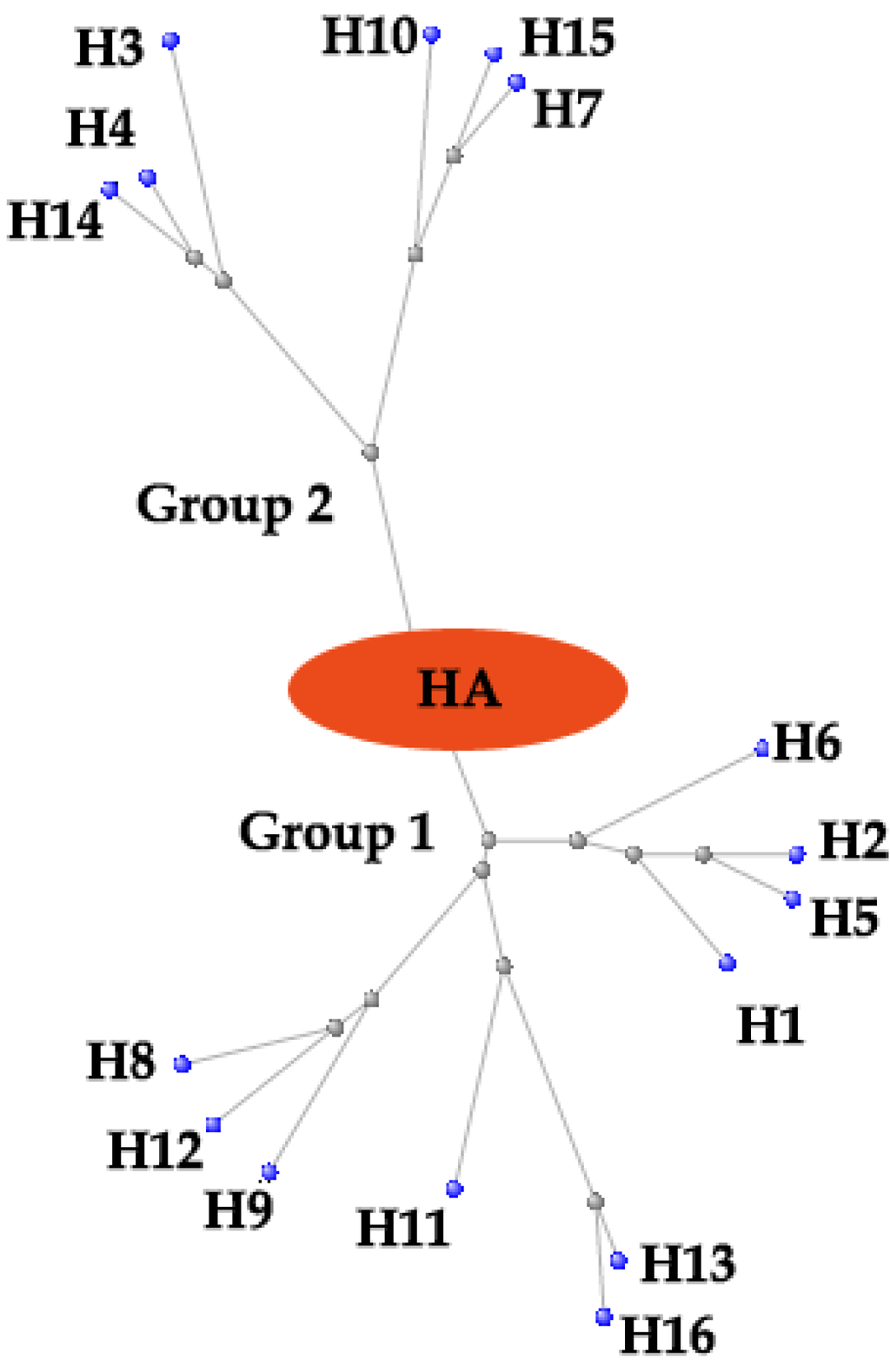 2. The Virus Entry Process and the Function of Hemagglutinin
Hemagglutinin is encoded by the fourth negative-stranded RNA segment of influenza A viral genomes. This RNA segment encodes HA0 with 566 residues. HA0 is post-translationally glycosylated and trimerized with chaperon in endoplasmic reticulum (ER) in infected cell. Subsequently, HA0 undergoes an extra- or intra- cellular cleavage process into HA1 and HA2, which is a critical step for the maturation of influenza virus progenies to acquire their infectivity [6]. Most HA subtypes (H1, H2 and H3) of the circulating influenza viruses in human, have a conserved cleavage site with a sole basic amino acid residue R343 in specified sequence Q/E-X-R, which is only recognized by extracellular tissue-restrict trypsin-like proteases [7]. However, for highly pathogenic avian influenza (HPAI) viruses, the multi-basic HA0 cleavage sites (R-X-R/K-R) of H5- and H7- subtyped HA are recognized by ubiquitously expressed intracellular proteases, facilitating systemic virus spread and greater pathogenicity [8].
After proper proteolytic cleavage and glycosylation of HA0, disulfide bound subunits HA1 (about 327 residues) and HA2 (about 222 residues) form the fusogenic homotrimer, whose structure resembles a "mushroom" planted in the viral envelope (Figure 2). The globular head of the "mushroom" is mainly constructed with HA1 subdomains, including receptor binding subdomain, vestigial esterase subdomain and antigenic epitope [4]. The receptor binding subdomain of HA1 recognizes α-2,3 or α-2,6 linked terminal sialic acids (SAs) in membrane glycoprotein receptor of host cell, therefore can prime the virus-cell adsorption and endocytosis for virus entry [9]. The stem of the "mushroom" is mainly composed of the inner trimeric HA2 ectodomain subunits, embraced by the N- and C-terminal segments of HA1. The first 23 residues of N-terminal of HA2 is the functional fusion peptide (FP). FP is accommodated in a hydrophobic pocket formed partially by the fusion domain of HA1 [10]. The acidification induced rearrangment of HA1 is a prerequisite for the exposure and release of FP subdomain of HA2 from inner pocket [11]. Subsequently, low pH-triggered HA2 reconformation results in the fusion of the viral envelope with endosome membranes (Figure 2) [12]. The fusion allows the release of viral ribonucleocapsid (vRNP) into cytoplasm of an infected cell, leading to the completion of the entry step.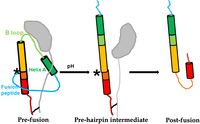 Figure 2.
Scheme of pH-induced conformational change of HA2 at the pre-fusion and post-fusion states. The approximate location of HA2 residue 106 is marked with "*". The figure was adapted from the paper published in J. Virol. [
13
].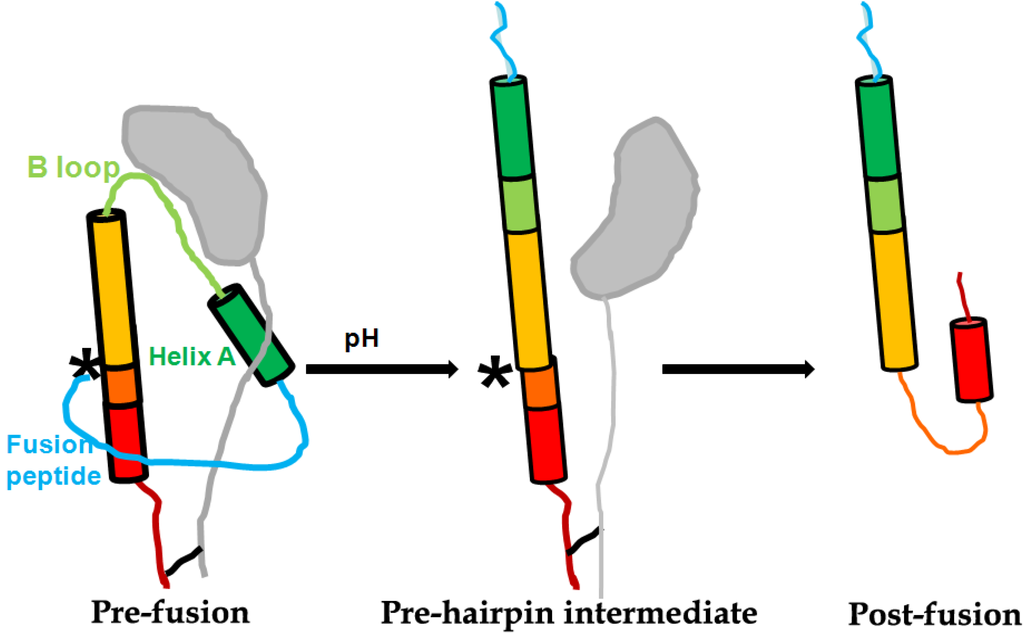 5. Inhibitors Targeting the Cleavage of the HA0 to HA1 and HA2
As the H3-subtype avian flu virus X31 HA crystal structure and H1, H5, H9, H7-subtype avian influenza virus HA crystal structure are unfolded, people get a better understanding of haemagglutinin. The crystal structure show that HA is trimer forms. Each monomer of HA can be hydrolyzed into subunits HA1 and HA2 by host protease. The two hydrolyzed subunits are then connected by disulfide (Figure 2). The structure of HA precursor (HA0) and the structure of the hydrolysis are very alike. Only after six residues of the C-terminal of HA1 and 12 residues of the N-terminal of HA2 subunit distributing can they fuse. Especially the 12 residues of HA2 cover polar amino acids in HA0 which is exposed to liquid environment. This makes the HA vulnerable to hydrogen ion excitation and its structure changes [76].
The hydrolysis of HA0 into HA1 and HA2 is a necessary step for avian influenza virus to be contagious. Therefore, if any molecule can prevent HA0 from being hydrolyzed into the subunits of HA1 and HA2, it possesses the ability to fight against viral infection. Some serine protease inhibitors, such as anti-protease peptide constituted of 58 amino acids [77], e-aminocaproic acid [7], Nafamostat [78], pulmonary surfactant (a kind of surface active lipoprotein complex) [79] and mucous protease inhibitors [80], can reduce the hydrolysis of HA0 and the infection of influenza viruses in both cell models and animal models (Figure 5). As a kind of injections to treat the symptoms of bleeding, cow pancreas inhibitor, protease peptide (Trasylol bayer), has been applied to the clinical practice. However, it was withdrawn from the clinical application with the study finding that the drug could increase mortality in 2008 [81].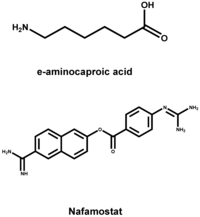 Figure 5. The chemical structures of IAV inhibitors by suppressing the cleavage of the HA precursor HA0 into the functional HA1 and HA2 subunits.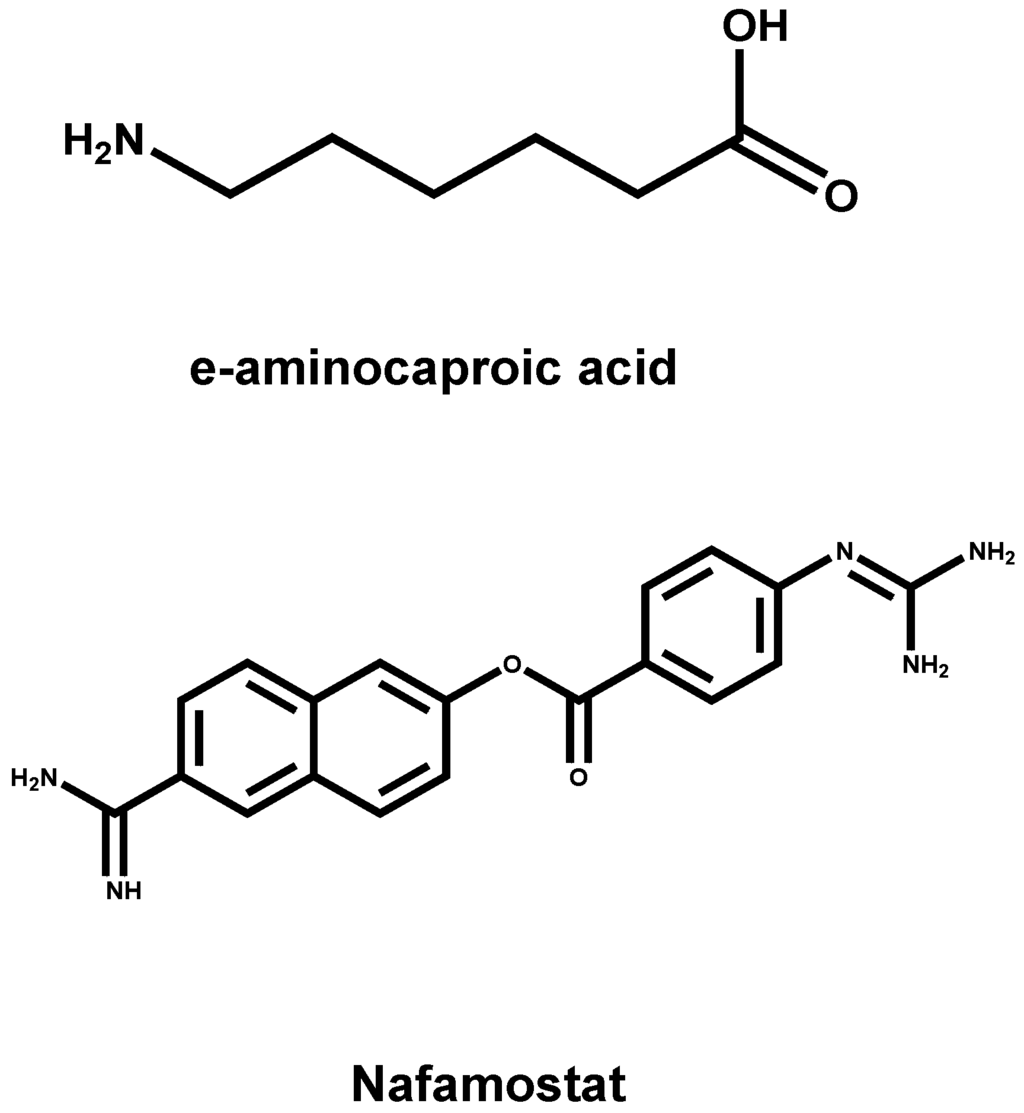 There are some FDA approval pulmonary surfactants, such as Exosurf, Curosurf, Infasurf and Survanta, all of which can enhance lung compliance, and prevent the baby respiratory distress syndrome. Quasi peptide inhibitor (dec-RVKR-CMK) resisting alkaline amino acid protease can inhibit the replication of H7 avian flu with high pathogenicity [82]. Recently, some researchers reported the MPSL/TMPRSS13 can hydrolyze H5 and H7 subtypes [83]. Therefore, natural inhibitors in the human body against MPSL/TMPRSS13 can serve as a lead compound to develop antiviral drugs which targeting haemagglutinin. It was found that the quasi peptide inhibitor also can restrain MPSL/TMPRSS13 and other insulin proteases such as plasmin, which may be the mechanism of action for this inhibitory peptide against influenza virus infection.
6. HA-Targeting Natural Products
In addition to above inhibitors, some natural molecules also possess good inhibitory activity against influenza A virus infection (Figure 6). For example, catechins isolated from green tea, like EGCG, were found to exhibit mild anti-influenza effect [84]. Further modifications of catechins derived a set of better inhibitors. To be better anti-influenza drug candidates, catechin derivatives possess broad spectrum anti-influenza activity. Besides, curcumin, the widely used spice and coloring agent in Indian food, was proved to be a good virus entry inhibitor targeting HA with EC50 value of 0.47 μM [85]. Modification of curcumin may produce a series of novel HA targeting inhibitors. Another kind of small molecule inhibitor is derived from andrographolide, like AL-1. AL-1 showed significant activity against avian influenza A (H9N2 and H5N1) and human influenza A H1N1 viruses in vitro [86]. AL-1 is capable of direct interfering with viral HA to block viral binding to cellular receptors as was demonstrated by its inhibitory activity on viral adsorption to red blood cells. In 2009, Li's group in China reported the first three small saponins molecule which inhibit HA. These three compounds can potently inhibit the entry of a H5N1 virus (A/Viet Nam/1203/2004) with IC50at low μM level. Further modifications revealed that the reduction of R1 to a disaccharide chain would abolish the inhibitory activity of these inhibitors [87]. Therefore, anti-influenza agents from natural products, especially those from Traditional Chinese Medicine (TCM), are promising lead compounds. Some lead compounds from TCM are extensively and intensively reviewed by Xu et al. in 2010 [88].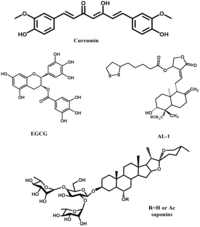 Figure 6. The chemical structures of IAV inhibitors targeting HA1 to block virus binding to receptor.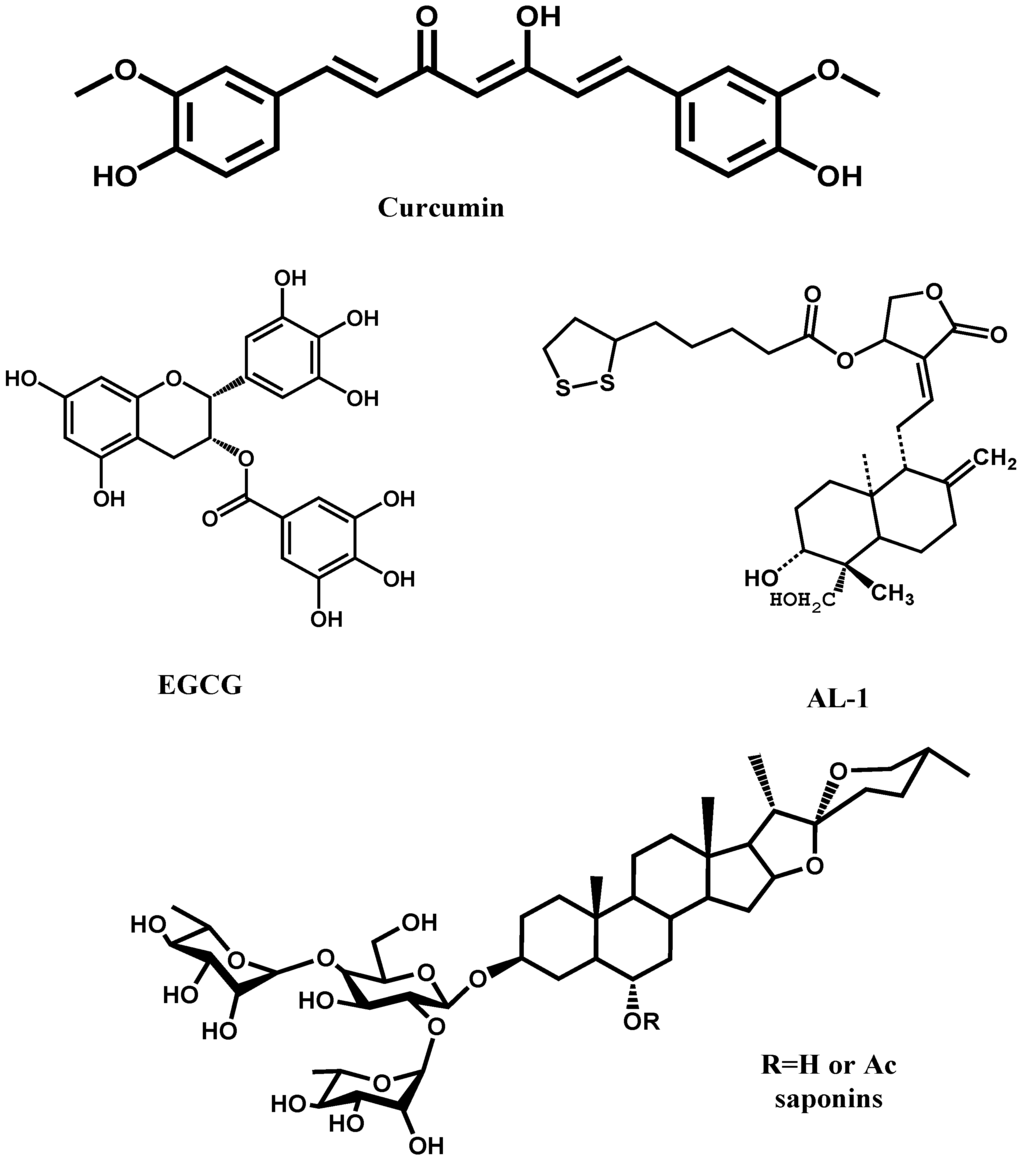 7. Conclusions
HA, the major surface protein of IAV, mediates the viral binding, membrane fusion and viral entry. Determination of the crystal structures of HA0 provides important information for understanding the pH-induced conformational changes of HA at the pre-fusion, intermediate and post-fusion states for development of anti-influenza drugs. Although a series of anti-influenza drugs targeting the NA and M2 ion channel are currently available, the emergency of drug-resistance viruses has raised the great concern on their ineffectiveness against the newly emerging IAVs and the HPAI viruses. Thus, it is essential to develop novel anti-IAV drugs with new targets. A number of protein-based or small molecule anti-IAV agents have been shown to interfere with the HA-mediated membrane fusion by targeting the receptor binding, blocking the cleavage of HA0, or by inhibiting the low pH-mediated conformation changes of HA. It seems not easy to find or design small compounds targeting the binding event of influenza virus, but the conformational change of HA2 which mediates membrane fusion, is a promising target for developing anti-influenza drugs. Novel influenza virus entry inhibitors may provide more selections for combination therapy with NA inhibitors and M2 ion channel blockers for treating and preventing influenza virus infection and potential pandemic outbreak.
Acknowledgments
This work was financially supported by the National Nature Science Foundation of China (No. 30772602, 81102792). The statements in this paper reflect the reviews of the authors and we apologize for any unintended missed reference in this review.
References and Notes
Das, K. Antivirals targeting influenza A virus.

J. Med. Chem.

2012,

55

, 6263–6277, doi:10.1021/jm300455c.
Xie, Y.; Gong, J.; Li, M.; Fang, H.; Xu, W. The medicinal potential of influenza virus surface proteins: Hemagglutinin and neuraminidase.

Curr. Med. Chem.

2011,

18

, 1050–1066, doi:10.2174/092986711794940815.
de Jong, M.D.; Tran, T.T.; Truong, H.K.; Vo, M.H.; Smith, G.J.; Nguyen, V.C.; Bach, V.C.; Phan, T.Q.; Do, Q.H.; Guan, Y.;

et al

. Oseltamivir resistance during treatment of influenza A (H5N1) infection.

New Engl. J. Med.

2005,

353

, 2667–2672, doi:10.1056/NEJMoa054512.
Wilson, I.A.; Skehel, J.J.; Wiley, D.C. Structure of the haemagglutinin membrane glycoprotein of influenza virus at 3 A resolution.

Nature

1981,

289

, 366–373, doi:10.1038/289366a0.
Stevens, J.; Blixt, O.; Tumpey, T.M.; Taubenberger, J.K.; Paulson, J.C.; Wilson, I.A. Structure and receptor specificity of the hemagglutinin from an H5N1 influenza virus.

Science

2006,

312

, 404–410, doi:10.1126/science.1124513.
Jiang, S.; Li, R.; Du, L.; Liu, S. Roles of the hemagglutinin of influenza A virus in viral entry and development of antiviral therapeutics and vaccines.

Protein Cell

2010,

1

, 342–354, doi:10.1007/s13238-010-0054-6.
Kido, H.; Yokogoshi, Y.; Sakai, K.; Tashiro, M.; Kishino, Y.; Fukutomi, A.; Katunuma, N. Isolation and characterization of a novel trypsin-like protease found in rat bronchiolar epithelial Clara cells. A possible activator of the viral fusion glycoprotein.

J. Biol. Chem.

1992,

267

, 13573–13579.
Steinhauer, D.A. Role of hemagglutinin cleavage for the pathogenicity of influenza virus.

Virology

1999,

258

, 1–20, doi:10.1006/viro.1999.9716.
Skehel, J.J.; Wiley, D.C. Receptor binding and membrane fusion in virus entry: The influenza hemagglutinin.

Annu. Rev. Biochem.

2000,

69

, 531–569, doi:10.1146/annurev.biochem.69.1.531.
Russell, R.J.; Gamblin, S.J.; Haire, L.F.; Stevens, D.J.; Xiao, B.; Ha, Y.; Skehel, J.J. H1 and H7 influenza haemagglutinin structures extend a structural classification of haemagglutinin subtypes.

Virology

2004,

325

, 287–296, doi:10.1016/j.virol.2004.04.040.
Thoennes, S.; Li, Z.N.; Lee, B.J.; Langley, W.A.; Skehel, J.J.; Russell, R.J.; Steinhauer, D.A. Analysis of residues near the fusion peptide in the influenza hemagglutinin structure for roles in triggering membrane fusion.

Virology

2008,

370

, 403–414, doi:10.1016/j.virol.2007.08.035.
Hamilton, B.S.; Whittaker, G.R.; Daniel, S. Influenza virus-mediated membrane fusion: Determinants of hemagglutinin fusogenic activity and experimental approaches for assessing virus fusion.

Viruses

2012,

4

, 1144–1168, doi:10.3390/v4071144.
Xu, R.; Wilson, I.A. Structural characterization of an early fusion intermediate of influenza virus hemagglutinin.

J. Virol.

2011,

85

, 5172–5182, doi:10.1128/JVI.02430-10.
Luo, M. Influenza virus entry.

Adv. Exp. Med. Biol.

2012,

726

, 201–221, doi:10.1007/978-1-4614-0980-9_9.
Priyadarzini, T.R.; Selvin, J.F.; Gromiha, M.M.; Fukui, K.; Veluraja, K. Theoretical investigation on the binding specificity of sialyldisaccharides with Hemagglutinins of Influenza A virus by MD simulations.

J. Biol. Chem.

2012,

287

, 34547–34557.
Imai, M.; Watanabe, T.; Hatta, M.; Das, S.C.; Ozawa, M.; Shinya, K.; Zhong, G.; Hanson, A.; Katsura, H.; Watanabe, S.;

et al

. Experimental adaptation of an influenza H5 HA confers respiratory droplet transmission to a reassortant H5 HA/H1N1 virus in ferrets.

Nature

2012,

486

, 420–428.
Tumpey, T.M.; Maines, T.R.; Van Hoeven, N.; Glaser, L.; Solorzano, A.; Pappas, C.; Cox, N.J.; Swayne, D.E.; Palese, P.; Katz, J.M.;

et al

. A two-amino acid change in the hemagglutinin of the 1918 influenza virus abolishes transmission.

Science

2007,

315

, 655–659, doi:10.1126/science.1136212.
Maines, T.R.; Jayaraman, A.; Belser, J.A.; Wadford, D.A.; Pappas, C.; Zeng, H.; Gustin, K.M.; Pearce, M.B.; Viswanathan, K.; Shriver, Z.H.;

et al

. Transmission and pathogenesis of swine-origin 2009 A(H1N1) influenza viruses in ferrets and mice.

Science

2009,

325

, 484–487.
Auewarakul, P.; Suptawiwat, O.; Kongchanagul, A.; Sangma, C.; Suzuki, Y.; Ungchusak, K.; Louisirirotchanakul, S.; Lerdsamran, H.; Pooruk, P.; Thitithanyanont, A.;

et al

. An avian influenza H5N1 virus that binds to a human-type receptor.

J. Virol.

2007,

81

, 9950–9955.
Sun, X.L. Recent anti-influenza strategies in multivalent sialyloligosaccharides and sialylmimetics approaches.

Curr. Med. Chem.

2007,

14

, 2304–2313, doi:10.2174/092986707781696582.
Matsubara, T.; Onishi, A.; Saito, T.; Shimada, A.; Inoue, H.; Taki, T.; Nagata, K.; Okahata, Y.; Sato, T. Sialic acid-mimic peptides as hemagglutinin inhibitors for anti-influenza therapy.

J. Med. Chem.

2010,

53

, 4441–4449, doi:10.1021/jm1002183.
Jones, J.C.; Turpin, E.A.; Bultmann, H.; Brandt, C.R.; Schultz-Cherry, S. Inhibition of influenza virus infection by a novel antiviral peptide that targets viral attachment to cells.

J. Virol.

2006,

80

, 11960–11967, doi:10.1128/JVI.01678-06.
Rajik, M.; Omar, A.R.; Ideris, A.; Hassan, S.S.; Yusoff, K. A novel peptide inhibits the influenza virus replication by preventing the viral attachment to the host cells.

Int. J. Biol. Scil

2009,

5

, 543–548.
Kim, J.I.; Park, M.S. N-linked glycosylation in the hemagglutinin of influenza a viruses.

Yonsei. Med. J.

2012,

53

, 886–893, doi:10.3349/ymj.2012.53.5.886.
Mishin, V.P.; Novikov, D.; Hayden, F.G.; Gubareva, L.V. Effect of hemagglutinin glycosylation on influenza virus susceptibility to neuraminidase inhibitors.

J. Virol.

2005,

79

, 12416–12424, doi:10.1128/JVI.79.19.12416-12424.2005.
Hartshorn, K.L.; Webby, R.; White, M.R.; Tecle, T.; Pan, C.; Boucher, S.; Moreland, R.J.; Crouch, E.C.; Scheule, R.K. Role of viral hemagglutinin glycosylation in anti-influenza activities of recombinant surfactant protein D.

Respir. Res.

2008,

9

, 65, doi:10.1186/1465-9921-9-65.
Lee, J.M.; Kim, J.G.; Kim, T.H.; Lee do, S.; Kim, J.H.; Cho, S.K.; Riu, K.Z.; Lee, D.S.; Lee, S.H. Nonactin hinders intracellular glycosylation in virus-infected baby hamster kidney cells.

Mol. Med. Report

2010,

3

, 115–119.
Karlsson, G.B.; Butters, T.D.; Dwek, R.A.; Platt, F.M. Effects of the imino sugar N-butyldeoxynojirimycin on the N-glycosylation of recombinant gp120.

J. Biol. Chem.

1993,

268

, 570–576.
Raymond, F.L.; Caton, A.J.; Cox, N.J.; Kendal, A.P.; Brownlee, G.G. The antigenicity and evolution of influenza H1 haemagglutinin, from 1950–1957 and 1977–1983: Two pathways from one gene.

Virology

1986,

148

, 275–287, doi:10.1016/0042-6822(86)90325-9.
Wiley, D.C.; Wilson, I.A.; Skehel, J.J. Structural identification of the antibody-binding sites of Hong Kong influenza haemagglutinin and their involvement in antigenic variation.

Nature

1981,

289

, 373–378, doi:10.1038/289373a0.
Duffy, S.; Shackelton, L.A.; Holmes, E.C. Rates of evolutionary change in viruses: Patterns and determinants.

Nat. Rev. Genet.

2008,

9

, 267–276.
Ohshima, N.; Iba, Y.; Kubota-Koketsu, R.; Asano, Y.; Okuno, Y.; Kurosawa, Y. Naturally occurring antibodies in humans can neutralize a variety of influenza virus strains, including H3, H1, H2, and H5.

J. Virol.

2011,

85

, 11048–11057, doi:10.1128/JVI.05397-11.
Ekiert, D.C.; Kashyap, A.K.; Steel, J.; Rubrum, A.; Bhabha, G.; Khayat, R.; Lee, J.H.; Dillon, M.A.; O'Neil, R.E.; Faynboym, A.M.;

et al

. Cross-neutralization of influenza A viruses mediated by a single antibody loop.

Nature

2012,

489

, 526–532, doi:10.1038/nature11414.
Whittle, J.R.; Zhang, R.; Khurana, S.; King, L.R.; Manischewitz, J.; Golding, H.; Dormitzer, P.R.; Haynes, B.F.; Walter, E.B.; Moody, M.A.;

et al

. Broadly neutralizing human antibody that recognizes the receptor-binding pocket of influenza virus hemagglutinin.

Proc. Natl. Acad. Sci. U. S. A.

2011,

108

, 14216–14221.
Malakhov, M.P.; Aschenbrenner, L.M.; Smee, D.F.; Wandersee, M.K.; Sidwell, R.W.; Gubareva, L.V.; Mishin, V.P.; Hayden, F.G.; Kim, D.H.; Ing, A.;

et al

. Sialidase fusion protein as a novel broad-spectrum inhibitor of influenza virus infection.

Antimicrob. Agents Chemother.

2006,

50

, 1470–1479, doi:10.1128/AAC.50.4.1470-1479.2006.
Triana-Baltzer, G.B.; Gubareva, L.V.; Klimov, A.I.; Wurtman, D.F.; Moss, R.B.; Hedlund, M.; Larson, J.L.; Belshe, R.B.; Fang, F. Inhibition of neuraminidase inhibitor-resistant influenza virus by DAS181, a novel sialidase fusion protein.

PLoS One

2009,

4

, e7838.
Hedlund, M.; Aschenbrenner, L.M.; Jensen, K.; Larson, J.L.; Fang, F. Sialidase-based anti-influenza virus therapy protects against secondary pneumococcal infection.

J. Infect. Dis.

2010,

201

, 1007–1015, doi:10.1086/651170.
Matsubara, T.; Sumi, M.; Kubota, H.; Taki, T.; Okahata, Y.; Sato, T. Inhibition of influenza virus infections by sialylgalactose-binding peptides selected from a phage library.

J. Med. Chem.

2009,

52

, 4247–4256, doi:10.1021/jm801570y.
Jiang, S.; Lin, K.; Strick, N.; Neurath, A.R. HIV-1 inhibition by a peptide.

Nature

1993,

365

, 113.
Wild, C.T.; Shugars, D.C.; Greenwell, T.K.; McDanal, C.B.; Matthews, T.J. Peptides corresponding to a predictive alpha-helical domain of human immunodeficiency virus type 1 gp41 are potent inhibitors of virus infection.

Proc. Natl. Acad. Sci. U. S. A.

1994,

91

, 9770–9774.
Kilby, J.M.; Eron, J.J. Novel therapies based on mechanisms of HIV-1 cell entry.

New Engl. J. Med.

2003,

348

, 2228–2238, doi:10.1056/NEJMra022812.
Lambert, D.M.; Barney, S.; Lambert, A.L.; Guthrie, K.; Medinas, R.; Davis, D.E.; Bucy, T.; Erickson, J.; Merutka, G.; Petteway, S.R., Jr. Peptides from conserved regions of paramyxovirus fusion (F) proteins are potent inhibitors of viral fusion.

Proc. Natl. Acad. Sci. U. S. A.

1996,

93

, 2186–2191.
Weissenhorn, W.; Carfi, A.; Lee, K.H.; Skehel, J.J.; Wiley, D.C. Crystal structure of the Ebola virus membrane fusion subunit, GP2, from the envelope glycoprotein ectodomain.

Mol. Cell

1998,

2

, 605–616, doi:10.1016/S1097-2765(00)80159-8.
Xu, Y.; Gao, S.; Cole, D.K.; Zhu, J.; Su, N.; Wang, H.; Gao, G.F.; Rao, Z. Basis for fusion inhibition by peptides: Analysis of the heptad repeat regions of the fusion proteins from Nipah and Hendra viruses, newly emergent zoonotic paramyxoviruses.

Biochem. Biophys. Res. Commun.

2004,

315

, 664–670, doi:10.1016/j.bbrc.2004.01.115.
Liu, S.; Xiao, G.; Chen, Y.; He, Y.; Niu, J.; Escalante, C.R.; Xiong, H.; Farmar, J.; Debnath, A.K.; Tien, P.;

et al

. Interaction between heptad repeat 1 and 2 regions in spike protein of SARS-associated coronavirus: Implications for virus fusogenic mechanism and identification of fusion inhibitors.

Lancet

2004,

363

, 938–947.
Walensky, L.D.; Kung, A.L.; Escher, I.; Malia, T.J.; Barbuto, S.; Wright, R.D.; Wagner, G.; Verdine, G.L.; Korsmeyer, S.J. Activation of apoptosis

in vivo

by a hydrocarbon-stapled BH3 helix.

Science

2004,

305

, 1466–1470.
Zhang, H.; Zhao, Q.; Bhattacharya, S.; Waheed, A.A.; Tong, X.; Hong, A.; Heck, S.; Curreli, F.; Goger, M.; Cowburn, D.;

et al

. A cell-penetrating helical peptide as a potential HIV-1 inhibitor.

J. Mol. Biol.

2008,

378

, 565–580, doi:10.1016/j.jmb.2008.02.066.
Dwyer, J.J.; Wilson, K.L.; Davison, D.K.; Freel, S.A.; Seedorff, J.E.; Wring, S.A.; Tvermoes, N.A.; Matthews, T.J.; Greenberg, M.L.; Delmedico, M.K. Design of helical, oligomeric HIV-1 fusion inhibitor peptides with potent activity against enfuvirtide-resistant virus.

Proc. Natl. Acad. Sci. U. S. A.

2007,

104

, 12772–12777.
Wang, H.; Qi, Z.; Guo, A.; Mao, Q.; Lu, H.; An, X.; Xia, C.; Li, X.; Debnath, A.K.; Wu, S.;

et al

. ADS-J1 inhibits human immunodeficiency virus type 1 entry by interacting with the gp41 pocket region and blocking fusion-active gp41 core formation.

Antimicrob. Agents Chemother.

2009,

53

, 4987–4998, doi:10.1128/AAC.00670-09.
Bodian, D.L.; Yamasaki, R.B.; Buswell, R.L.; Stearns, J.F.; White, J.M.; Kuntz, I.D. Inhibition of the fusion-inducing conformational change of influenza hemagglutinin by benzoquinones and hydroquinones.

Biochemistry

1993,

32

, 2967–2978.
Russell, R.J.; Kerry, P.S.; Stevens, D.J.; Steinhauer, D.A.; Martin, S.R.; Gamblin, S.J.; Skehel, J.J. Structure of influenza hemagglutinin in complex with an inhibitor of membrane fusion.

Proc. Natl. Acad. Sci. U. S. A.

2008,

105

, 17736–17741.
Hoffman, L.R.; Kuntz, I.D.; White, J.M. Structure-based identification of an inducer of the low-pH conformational change in the influenza virus hemagglutinin: Irreversible inhibition of infectivity.

J. Virol.

1997,

71

, 8808–8820.
Boriskin, Y.S.; Leneva, I.A.; Pecheur, E.I.; Polyak, S.J. Arbidol: A broad-spectrum antiviral compound that blocks viral fusion.

Curr. Med. Chem.

2008,

15

, 997–1005, doi:10.2174/092986708784049658.
Leneva, I.A.; Russell, R.J.; Boriskin, Y.S.; Hay, A.J. Characteristics of arbidol-resistant mutants of influenza virus: Implications for the mechanism of anti-influenza action of arbidol.

Antivir. Res.

2009,

81

, 132–140, doi:10.1016/j.antiviral.2008.10.009.
Plotch, S.J.; O'Hara, B.; Morin, J.; Palant, O.; LaRocque, J.; Bloom, J.D.; Lang, S.A., Jr.; DiGrandi, M.J.; Bradley, M.; Nilakantan, R.;

et al

. Inhibition of influenza A virus replication by compounds interfering with the fusogenic function of the viral hemagglutinin.

J. Virol.

1999,

73

, 140–151.
Liu, S.; Li, R.; Zhang, R.; Chan, C.C.; Xi, B.; Zhu, Z.; Yang, J.; Poon, V.K.; Zhou, J.; Chen, M.;

et al

. CL-385319 inhibits H5N1 avian influenza A virus infection by blocking viral entry.

Eur. J. Pharmacol.

2011,

660

, 460–467, doi:10.1016/j.ejphar.2011.04.013.
Li, R.; Song, D.; Zhu, Z.; Xu, H.; Liu, S. An induced pocket for the binding of potent fusion inhibitor CL-385319 with H5N1 influenza virus hemagglutinin.

PLoS One

2012,

7

, e41956.
Zhu, Z.; Li, R.; Xiao, G.; Chen, Z.; Yang, J.; Zhu, Q.; Liu, S. Design, synthesis and structure-activity relationship of novel inhibitors against H5N1 hemagglutinin-mediated membrane fusion.

Eur. J. Med. Chem.

2012,

57C

, 211–216.
Yoshimoto, J.; Kakui, M.; Iwasaki, H.; Fujiwara, T.; Sugimoto, H.; Hattori, N. Identification of a novel HA conformational change inhibitor of human influenza virus.

Arch. Virol.

1999,

144

, 865–878, doi:10.1007/s007050050552.
Yoshimoto, J.; Kakui, M.; Iwasaki, H.; Sugimoto, H.; Fujiwara, T.; Hattori, N. Identification of amino acids of influenza virus HA responsible for resistance to a fusion inhibitor, Stachyflin.

Microbiol. Immunol.

2000,

44

, 677–685.
Minagawa, K.; Kouzuki, S.; Kamigauchi, T. Stachyflin and acetylstachyflin, novel anti-influenza A virus substances, produced by Stachybotrys sp. RF-7260. II. Synthesis and preliminary structure-activity relationships of stachyflin derivatives.

J. Antibiot. (Tokyo)

2002,

55

, 165–171, doi:10.7164/antibiotics.55.165.
Luo, G.; Colonno, R.; Krystal, M. Characterization of a hemagglutinin-specific inhibitor of influenza A virus.

Virology

1996,

226

, 66–76, doi:10.1006/viro.1996.0628.
Luo, G.; Torri, A.; Harte, W.E.; Danetz, S.; Cianci, C.; Tiley, L.; Day, S.; Mullaney, D.; Yu, K.L.; Ouellet, C.;

et al

. olecular mechanism underlying the action of a novel fusion inhibitor of influenza A virus.

J. Virol.

1997,

71

, 4062–4070.
Staschke, K.A.; Hatch, S.D.; Tang, J.C.; Hornback, W.J.; Munroe, J.E.; Colacino, J.M.; Muesing, M.A. Inhibition of influenza virus hemagglutinin-mediated membrane fusion by a compound related to podocarpic acid.

Virology

1998,

248

, 264–274, doi:10.1006/viro.1998.9273.
Tang, G.; Lin, X.; Qiu, Z.; Li, W.; Zhu, L.; Wang, L.S.; Li, S.H.; Li, H.D.; Lin, W.B.; Yang, M.;

et al

. Design and synthesis of benzenesulfonamide derivatives as potent anti-influenza hemagglutinin inhibitors.

ACS. Med. Chem. Lett.

2011,

2

, 603–607, doi:10.1021/ml2000627.
Vigerust, D.J.; McCullers, J.A. Chloroquine is effective against influenza A virus

in vitro

but not

in vivo

.

Influenza Other Respi. Viruses

2007,

1

, 189–192, doi:10.1111/j.1750-2659.2007.00027.x.
Paton, N.I.; Lee, L.; Xu, Y.; Ooi, E.E.; Cheung, Y.B.; Archuleta, S.; Wong, G.; Wilder-Smith, A. Chloroquine for influenza prevention: A randomised, double-blind, placebo controlled trial.

Lancet Infect. Dis.

2011,

11

, 677–683.
Vanderlinden, E.; Goktas, F.; Cesur, Z.; Froeyen, M.; Reed, M.L.; Russell, C.J.; Cesur, N.; Naesens, L. Novel inhibitors of influenza virus fusion: Structure-activity relationship and interaction with the viral hemagglutinin.

J. Virol.

2010,

84

, 4277–4288.
Vareckova, E.; Mucha, V.; Wharton, S.A.; Kostolansky, F. Inhibition of fusion activity of influenza A haemagglutinin mediated by HA2-specific monoclonal antibodies.

Arch. Virol.

2003,

148

, 469–486, doi:10.1007/s00705-002-0932-1.
Gocnik, M.; Fislova, T.; Sladkova, T.; Mucha, V.; Kostolansky, F.; Vareckova, E. Antibodies specific to the HA2 glycopolypeptide of influenza A virus haemagglutinin with fusion-inhibition activity contribute to the protection of mice against lethal infection.

J. Gen. Virol.

2007,

88

, 951–955, doi:10.1099/vir.0.82563-0.
Ekiert, D.C.; Bhabha, G.; Elsliger, M.A.; Friesen, R.H.; Jongeneelen, M.; Throsby, M.; Goudsmit, J.; Wilson, I.A. Antibody recognition of a highly conserved influenza virus epitope.

Science

2009,

324

, 246–251, doi:10.1126/science.1171491.
Throsby, M.; van den Brink, E.; Jongeneelen, M.; Poon, L.L.; Alard, P.; Cornelissen, L.; Bakker, A.; Cox, F.; van Deventer, E.; Guan, Y.;

et al

. Heterosubtypic neutralizing monoclonal antibodies cross-protective against H5N1 and H1N1 recovered from human IgM+ memory B cells.

PLoS One

2008,

3

, e3942.
Sui, J.; Hwang, W.C.; Perez, S.; Wei, G.; Aird, D.; Chen, L.M.; Santelli, E.; Stec, B.; Cadwell, G.; Ali, M.;

et al

. Structural and functional bases for broad-spectrum neutralization of avian and human influenza A viruses.

Nat. Struct. Mol. Biol.

2009,

16

, 265–273, doi:10.1038/nsmb.1566.
Liu, W.; Zou, P.; Chen, Y.H. Monoclonal antibodies recognizing EVETPIRN epitope of influenza A virus M2 protein could protect mice from lethal influenza A virus challenge.

Immunol. Lett.

2004,

93

, 131–136, doi:10.1016/j.imlet.2004.03.003.
Grandea, A.G., 3rd; Olsen, O.A.; Cox, T.C.; Renshaw, M.; Hammond, P.W.; Chan-Hui, P.Y.; Mitcham, J.L.; Cieplak, W.; Stewart, S.M.; Grantham, M.L.;

et al

. Human antibodies reveal a protective epitope that is highly conserved among human and nonhuman influenza A viruses.

Proc. Natl. Acad. Sci. U. S. A.

2010,

107

, 12658–12663.
Chen, J.; Lee, K.H.; Steinhauer, D.A.; Stevens, D.J.; Skehel, J.J.; Wiley, D.C. Structure of the hemagglutinin precursor cleavage site, a determinant of influenza pathogenicity and the origin of the labile conformation.

Cell

1998,

95

, 409–417, doi:10.1016/S0092-8674(00)81771-7.
Zhirnov, O.P.; Ovcharenko, A.V.; Bukrinskaya, A. Suppression of influenza virus replication in infected mice by protease inhibitors.

J. Gen. Virol.

1984,

65

, 191–196, doi:10.1099/0022-1317-65-1-191.
Hosoya, M.; Matsuyama, S.; Baba, M.; Suzuki, H.; Shigeta, S. Effects of protease inhibitors on replication of various myxoviruses.

Antimicrob. Agents Chemother.

1992,

36

, 1432–1436, doi:10.1128/AAC.36.7.1432.
Kido, H.; Sakai, K.; Kishino, Y.; Tashiro, M. Pulmonary surfactant is a potential endogenous inhibitor of proteolytic activation of Sendai virus and influenza A virus.

Febs. Lett.

1993,

322

, 115–119, doi:10.1016/0014-5793(93)81549-F.
Beppu, Y.; Imamura, Y.; Tashiro, M.; Towatari, T.; Ariga, H.; Kido, H. Human mucus protease inhibitor in airway fluids is a potential defensive compound against infection with influenza A and Sendai viruses.

J. Biochem.

1997,

121

, 309–316, doi:10.1093/oxfordjournals.jbchem.a021588.
Stamou, S.C.; Reames, M.K.; Skipper, E.; Stiegel, R.M.; Nussbaum, M.; Geller, R.; Robicsek, F.; Lobdell, K.W. Aprotinin in cardiac surgery patients: is the risk worth the benefit?

Eur. J. Cardiothorac. Surg.

2009,

36

, 869–875, doi:10.1016/j.ejcts.2009.04.053.
Stieneke-Grober, A.; Vey, M.; Angliker, H.; Shaw, E.; Thomas, G.; Roberts, C.; Klenk, H.D.; Garten, W. Influenza virus hemagglutinin with multibasic cleavage site is activated by furin, a subtilisin-like endoprotease.

EMBO J.

1992,

11

, 2407–2414.
Okumura, Y.; Takahashi, E.; Yano, M.; Ohuchi, M.; Daidoji, T.; Nakaya, T.; Bottcher, E.; Garten, W.; Klenk, H.D.; Kido, H. Novel type II transmembrane serine proteases, MSPL and TMPRSS13, Proteolytically activate membrane fusion activity of the hemagglutinin of highly pathogenic avian influenza viruses and induce their multicycle replication.

J. Virol.

2010,

84

, 5089–5096.
Song, J.M.; Lee, K.H.; Seong, B.L. Antiviral effect of catechins in green tea on influenza virus.

Antivir. Res.

2005,

68

, 66–74, doi:10.1016/j.antiviral.2005.06.010.
Hsu, W.L.; Chen, D.Y.; Shien, J.H.; Tiley, L.; Chiou, S.S.; Wang, S.Y.; Chang, T.J.; Lee, Y.J.; Chan, W. Curcumin inhibits influenza virus infection and haemagglutination activity.

Food Chem.

2010,

119

, 1346–1351, doi:10.1016/j.foodchem.2009.09.011.
Chen, J.X.; Xue, H.J.; Ye, W.C.; Fang, B.H.; Liu, Y.H.; Yuan, S.H.; Yu, P.; Wang, Y.Q. Activity of andrographolide and its derivatives against influenza virus

in vivo

and

in vitro

.

Biol. Pharm. Bull.

2009,

32

, 1385–1391, doi:10.1248/bpb.32.1385.
Ding, N.; Chen, Q.; Zhang, W.; Ren, S.; Guo, Y.; Li, Y. Structure-activity relationships of saponin derivatives: A series of entry inhibitors for highly pathogenic H5N1 influenza virus.

Eur. J. Med. Chem.

2012,

53

, 316–326, doi:10.1016/j.ejmech.2012.04.022.
Ge, H.; Wang, Y.F.; Xu, J.; Gu, Q.; Liu, H.B.; Xiao, P.G.; Zhou, J.; Liu, Y.; Yang, Z.; Su, H. Anti-influenza agents from Traditional Chinese Medicine.

Nat. Prod. Rep.

2010,

27

, 1758–1780, doi:10.1039/c0np00005a.
© 2013 by the authors; licensee MDPI, Basel, Switzerland. This article is an open-access article distributed under the terms and conditions of the Creative Commons Attribution license (http://creativecommons.org/licenses/by/3.0/).