Performance of VIDISCA-454 in Feces-Suspensions and Serum
1
Laboratory of Experimental Virology, Department of Medical Microbiology, Center for Infection and Immunity Amsterdam (CINIMA), Academic Medical Center of the University of Amsterdam, 1105AZ, Amsterdam, The Netherlands
2
Laboratory of Clinical Virology, Department of Medical Microbiology, Center for Infection and Immunity Amsterdam (CINIMA), Academic Medical Center of the University of Amsterdam, 1105AZ, Amsterdam, The Netherlands
3
Department of Clinical Epidemiology, Biostatistics and Bioinformatics, Bioinformatics Laboratory, Academic Medical Center of the University of Amsterdam, 1105AZ, Amsterdam, The Netherlands
4
Biosystems Data Analysis, Swammerdam Institute for Life Sciences, University of Amsterdam, Science Park 904, 1098 XH, Amsterdam, The Netherlands
†
These authors contributed equally to the work.
‡
Current address: CBS-KNAW Fungal Biodiversity Center, 3584 CT, Utrecht, The Netherlands.
*
Author to whom correspondence should be addressed.
Received: 18 July 2012 / Revised: 13 August 2012 / Accepted: 15 August 2012 / Published: 22 August 2012
Abstract
Virus discovery combining sequence unbiased amplification with next generation sequencing is now state-of-the-art. We have previously determined that the performance of the unbiased amplification technique which is operational at our institute, VIDISCA-454, is efficient when respiratory samples are used as input. The performance of the assay is, however, not known for other clinical materials like blood or stool samples. Here, we investigated the sensitivity of VIDISCA-454 with feces-suspensions and serum samples that are positive and that have been quantified for norovirus and human immunodeficiency virus type 1, respectively. The performance of VIDISCA-454 in serum samples was equal to its performance in respiratory material, with an estimated lower threshold of 1,000 viral genome copies. The estimated threshold in feces-suspension is around 200,000 viral genome copies. The decreased sensitivity in feces suspension is mainly due to sequences that share no recognizable identity with known sequences. Most likely these sequences originate from bacteria and phages which are not completely sequenced.
View Full-Text
►

▼

Figures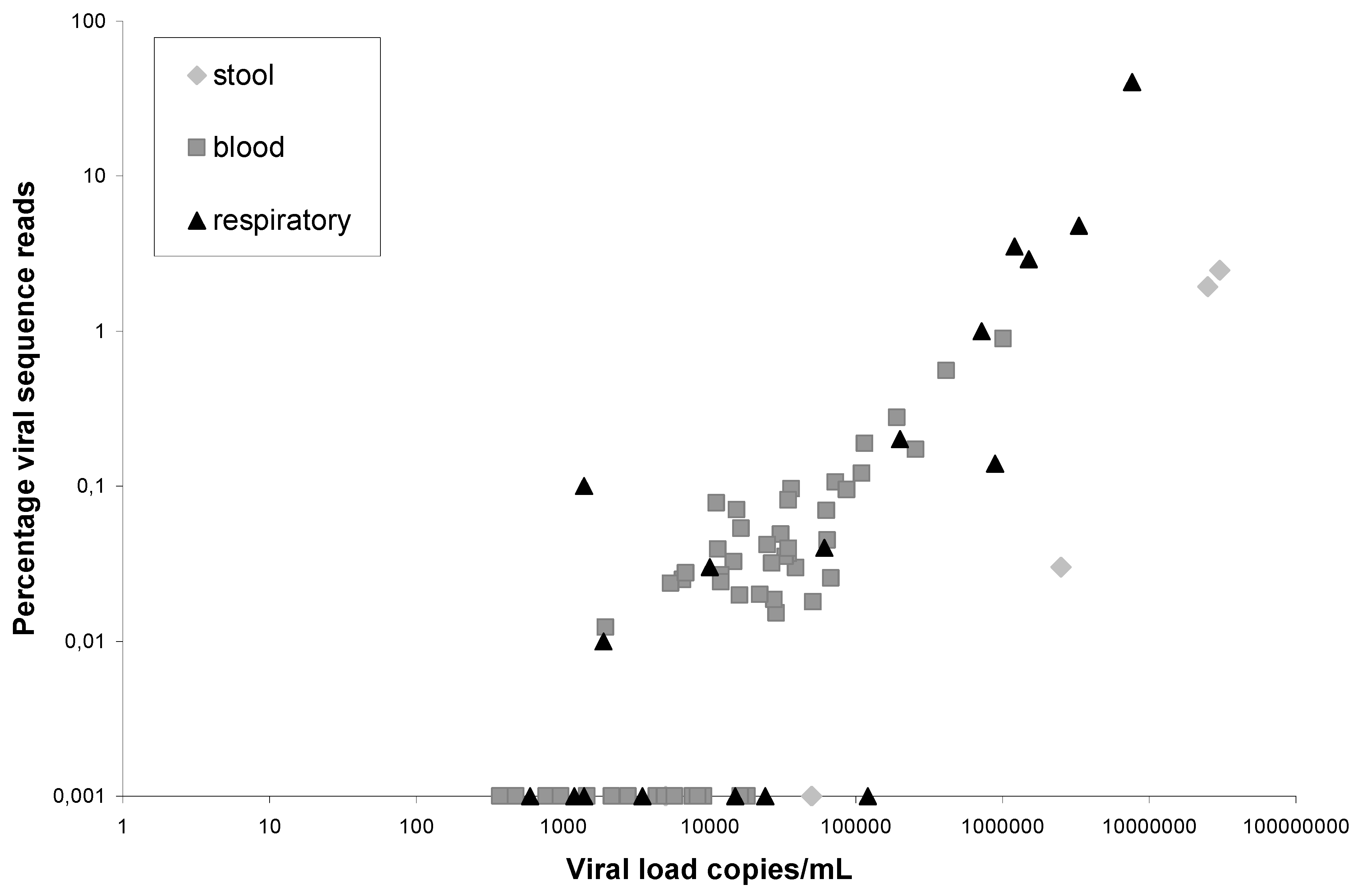 Figure 1
Share & Cite This Article
MDPI and ACS Style
de Vries, M.; Oude Munnink, B.B.; Deijs, M.; Canuti, M.; Koekkoek, S.M.; Molenkamp, R.; Bakker, M.; Jurriaans, S.; van Schaik, B.D.C.; Luyf, A.C.; Olabarriaga, S.D.; van Kampen, A.H.C.; van der Hoek, L. Performance of VIDISCA-454 in Feces-Suspensions and Serum. Viruses 2012, 4, 1328-1334.
Related Articles
Comments
[Return to top]