A Model to Detect Autochthonous Group 1 and 2 Brazilian Vaccinia virus Coinfections: Development of a qPCR Tool for Diagnosis and Pathogenesis Studies
1
Laboratório de Vírus, Departamento de Microbiologia, Universidade Federal de Minas Gerais, Belo Horizonte 31270-901, Minas Gerais, Brazil
2
Faculdade de Medicina de Diamantina, Universidade Federal dos Vales do Jequitinhonha e Mucuri, Dimantina 39100-000, Minas Gerais, Brazil
*
Author to whom correspondence should be addressed.
Received: 1 December 2017 / Revised: 22 December 2017 / Accepted: 29 December 2017 / Published: 30 December 2017
Abstract
Vaccinia virus
(
VACV
) is the etiological agent of bovine vaccinia (BV), an emerging zoonosis that has been associated with economic losses and social effects. Despite increasing reports of BV outbreaks in Brazil, little is known about the biological interactions of Brazilian
VACV
(
VACV
-BR) isolates during coinfections; furthermore, there are no tools for the diagnosis of these coinfections. In this study, a tool to co-detect two variants of
VACV
was developed to provide new information regarding the pathogenesis, virulence profile, and viral spread during coinfection with
VACV
-BR isolates. To test the quantitative polymerase chain reactions (qPCR) tool, groups of BALB/c mice were intranasally monoinfected with Pelotas virus 1—Group II (PV1-GII) and Pelotas virus 2—Group I (PV2-GI), or were coinfected with PV1-GII and PV2-GI. Clinical signs of the mice were evaluated and the viral load in lung and spleen were detected using simultaneous polymerase chain reactions (PCR) targeting the
A56R
(
hemagglutinin
) gene of
VACV
. The results showed that qPCR for the quantification of viral load in coinfection was efficient and highly sensitive. Coinfected mice presented more severe disease and a higher frequency of
VACV
detection in lung and spleen, when compared to monoinfected groups. This study is the first description of PV1 and PV2 pathogenicity during coinfection in mice, and provides a new method to detect
VACV
-BR coinfections.
View Full-Text
►

▼

Figures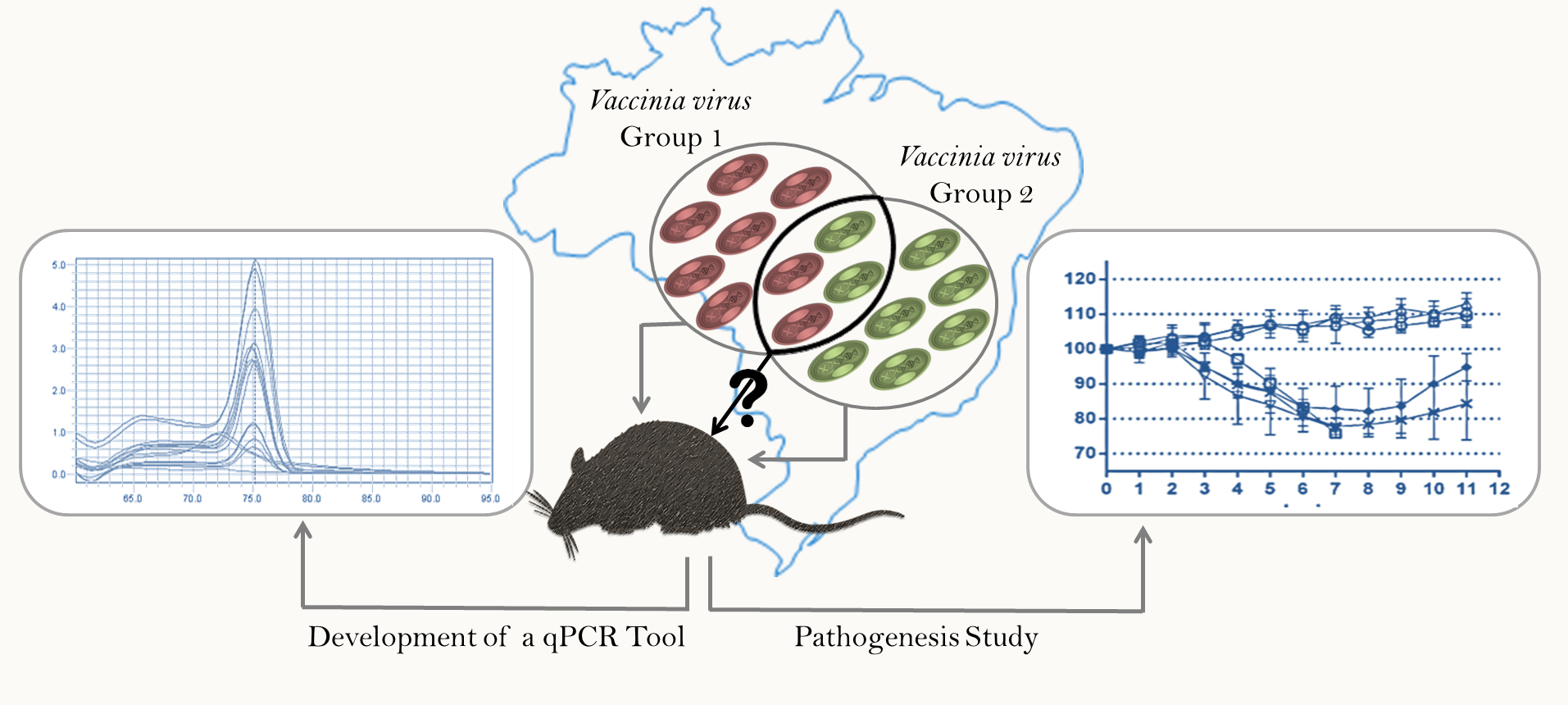 This is an open access article distributed under the
Creative Commons Attribution License
which permits unrestricted use, distribution, and reproduction in any medium, provided the original work is properly cited. (CC BY 4.0).
Share & Cite This Article
MDPI and ACS Style
Calixto, R.; Oliveira, G.; Lima, M.; Andrade, A.C.; Trindade, G.S.; de Oliveira, D.B.; Kroon, E.G. A Model to Detect Autochthonous Group 1 and 2 Brazilian Vaccinia virus Coinfections: Development of a qPCR Tool for Diagnosis and Pathogenesis Studies. Viruses 2018, 10, 15.
Note that from the first issue of 2016, MDPI journals use article numbers instead of page numbers. See further details here.
Related Articles
Comments
[Return to top]