Susceptibility of Several Northeastern Conifers to Fusarium circinatum and Strategies for Biocontrol
1
Department of Biology, CESAM (Centre for Environmental and Marine Studies), University of Aveiro, Campus Universitario de Santiago, 3810-193 Aveiro, Portugal
2
Sustainable Forest Management Research Institute, University of Valladolid-INIA, Avenida de Madrid 44, 34071 Palencia, Spain
3
National Institute for Research and Development in Forestry "Marin Drăcea", Brasov Station, Closca 13, 500040 Brasov, Romania
4
Department of Plant Production and Forest Resources, University of Valladolid, Avenida de Madrid 44, 34071 Palencia, Spain
5
Facultad de Recursos Naturales y Medio Ambiente, Bluefields Indian and Caribbean University-BICU, Avenida Universitaria, Apartado Postal N° 88, Bluefields, Nicaragua
6
Department of Agroforestry Sciences, University of Valladolid, Avenida de Madrid 44, 34071 Palencia, Spain
*
Author to whom correspondence should be addressed.
Received: 11 July 2017 / Revised: 14 August 2017 / Accepted: 18 August 2017 / Published: 30 August 2017
Abstract
Fusarium circinatum
, the causal of pine pitch canker disease (PPC), is now considered among the most important pathogens of Pinaceae in the world. Although in Europe PPC is only established in the Iberian Peninsula, the potential endangered areas cover over 10 million hectares under the current host distribution and climatic conditions. It is therefore a priority to test the susceptibility of those species and their provenances, within Central and Northern Europe and find biological control agents (BCAs) against the disease. In this study, the susceptibility of
Pinus sylvestris
,
P. mugo
and
Picea abies
Romanian provenances to
F. circinatum
was tested using three inoculum doses. In parallel, the potential use of
Trichoderma atroviride
and
Trichoderma viride
as BCAs against
F. circinatum
was also tested. This study has demonstrated, for the first time, the susceptibility of
P. mugo
to
F. circinatum
. Likewise, the susceptibility of
P. abies
was also confirmed. The fact that the Romanian provenance of
P. sylvestris
has not been susceptible to
F. circinatum
suggests genetic resistance as a potential tool to manage the disease. This, together with the apparent effectiveness of
Trichoderma
species as BCAs, seems to indicate that an integrated management of the disease might be feasible.
View Full-Text
►

▼

Figures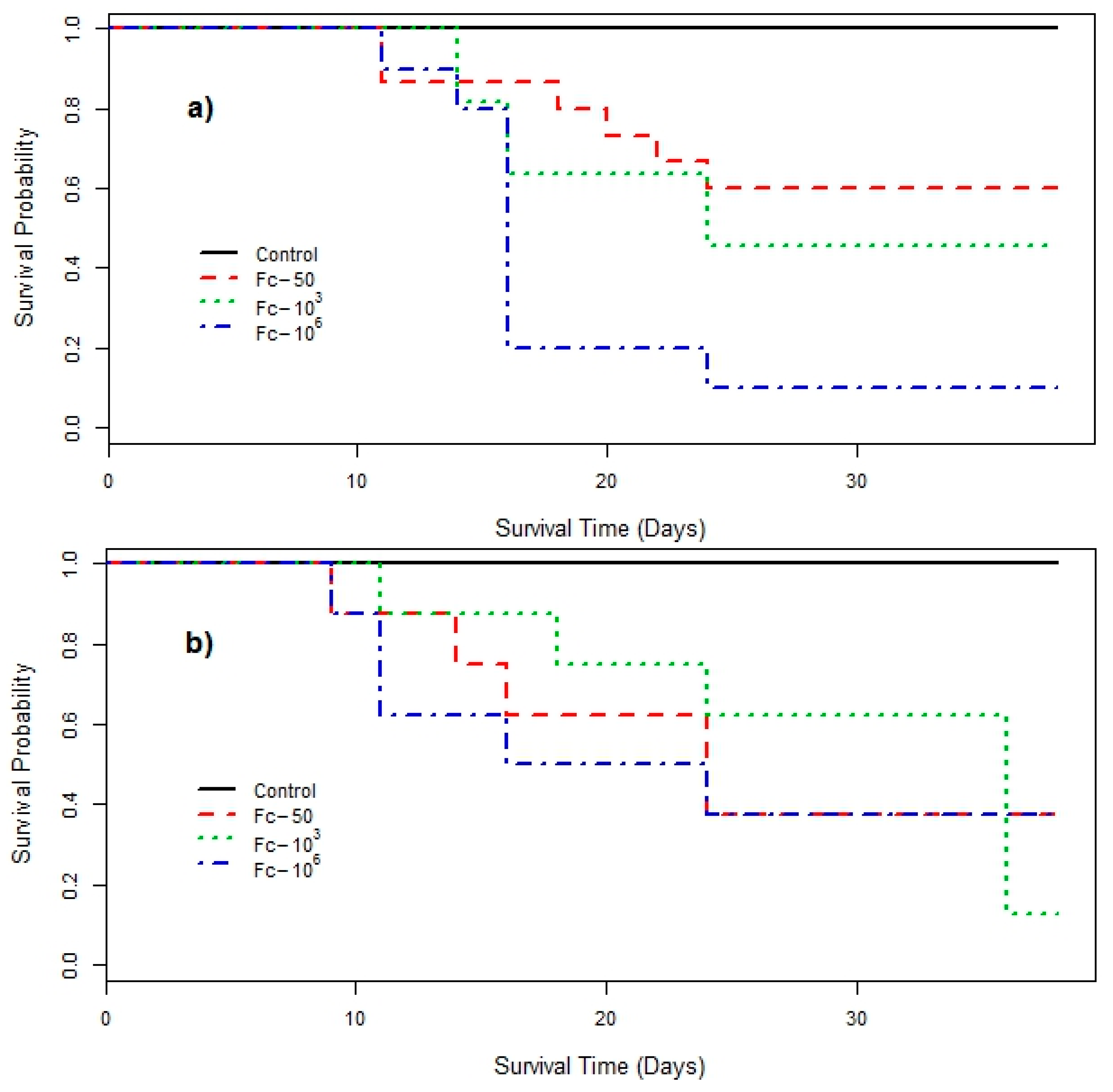 Figure 1a
This is an open access article distributed under the
Creative Commons Attribution License
which permits unrestricted use, distribution, and reproduction in any medium, provided the original work is properly cited. (CC BY 4.0).
Share & Cite This Article
MDPI and ACS Style
Martín-García, J.; Paraschiv, M.; Flores-Pacheco, J.A.; Chira, D.; Diez, J.J.; Fernández, M. Susceptibility of Several Northeastern Conifers to Fusarium circinatum and Strategies for Biocontrol. Forests 2017, 8, 318.
Note that from the first issue of 2016, MDPI journals use article numbers instead of page numbers. See further details here.
Related Articles
Comments
[Return to top]