C:N:P Stoichiometry and Carbon Storage in a Naturally-Regenerated Secondary Quercus variabilis Forest Age Sequence in the Qinling Mountains, China
1
College of Forestry, Northwest A&F University, Yangling 712100, Shaanxi, China
2
Key Laboratory of Ecosystem Network Observation and Modeling, Qianyanzhou Ecological Station, Institute of Geographic Sciences and Natural Resources Research, Chinese Academy of Sciences, Beijing 100101, China
3
University of Chinese Academy of Sciences, Beijing 100049, China
4
State Key Laboratory of Soil Erosion and Dryland Farming on the Loess Plateau, Northwest A&F University, Yangling 712100, Shaanxi, China
5
Institute of Soil and Water Conservation, Chinese Academy of Sciences and Ministry of Water Resources, Yangling 712100, Shaanxi, China
*
Author to whom correspondence should be addressed.
Received: 7 June 2017 / Revised: 28 July 2017 / Accepted: 4 August 2017 / Published: 6 August 2017
Abstract
Large-scale
Quercus variabilis
natural secondary forests are protected under the Natural Forest Protection (NFP) program in China to improve the ecological environment. However, information about nutrient characteristics and carbon (C) storage is still lacking. Plant biomass and C, nitrogen (N) and phosphorus (P) stoichiometry of tree tissues, shrubs, herbs, litter, and soil were determined in young, middle-aged, near-mature and mature
Quercus variabilis
secondary forests in the Qinling Mountains, China. Tree leaf N and P concentrations indicated that the N-restricted situation worsened with forest age. The per hectare biomass of trees in decreasing order was near-mature, mature, middle-aged, then young stands. The majority of the biomass was in the stems (44.88–48.15%), followed by roots (24.54–28.68%), and branches (10.15–14.16%), and leaves made up the lowest proportion (2.86–3.55%) of trees. C storage at plant layer increased significantly with age, reaching maximum values in near-mature stand (100.4 Mg·ha
−1
) and then decreasing in mature stands. Soil C storage at a depth of 0 to 100 cm was 82.8, 96.8, 85.8, 104.2 Mg·ha
−1
, and C storage of forest ecosystem was 122.8, 163.0, 184.9, 178.3 Mg·ha
−1
in young, middle-aged, near-mature, mature stands, respectively. There were significant correlations between biomass and C, N, P stoichiometry in different layers, especially in young stands.
View Full-Text
►

▼

Figures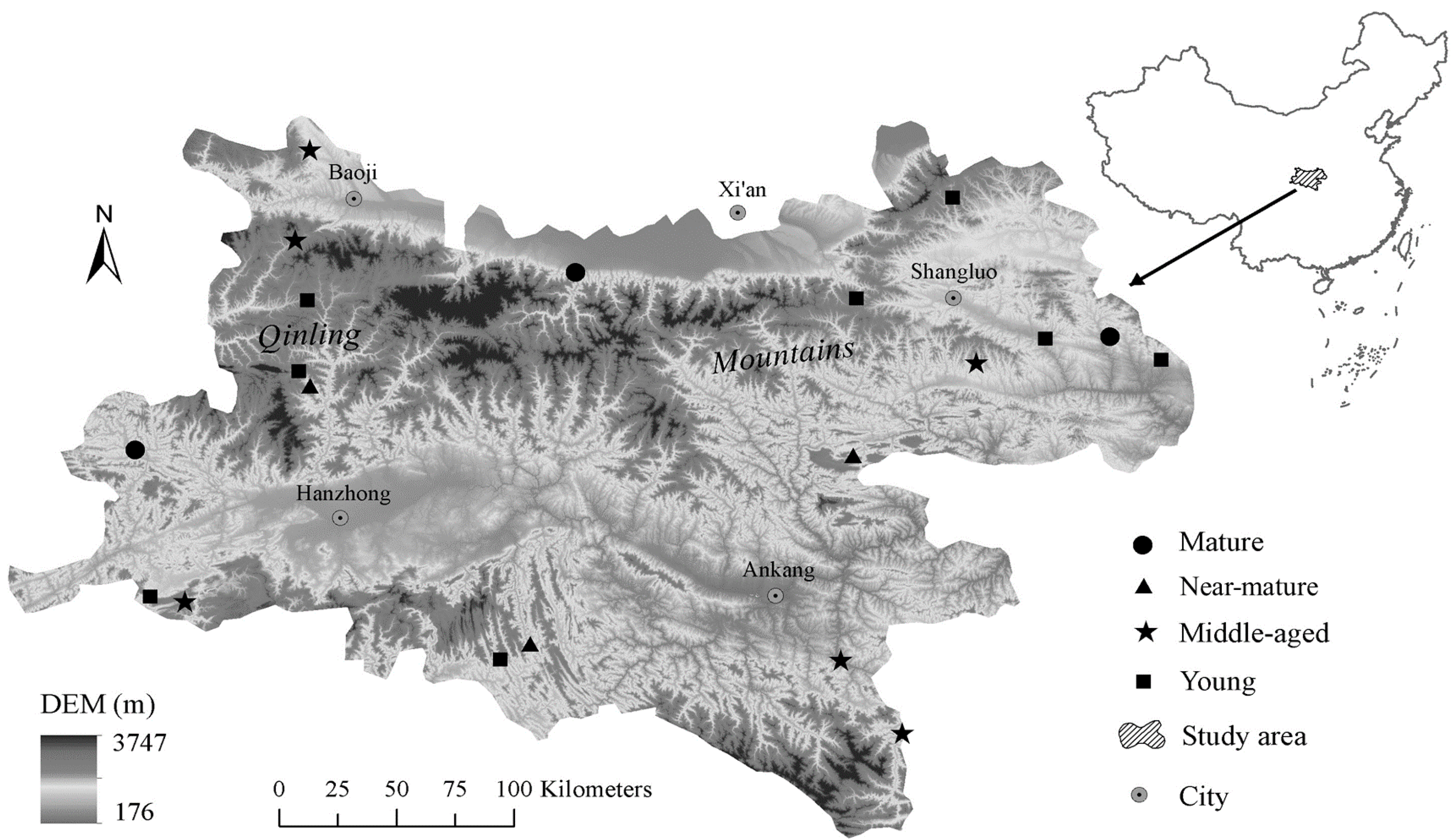 Figure 1
This is an open access article distributed under the
Creative Commons Attribution License
which permits unrestricted use, distribution, and reproduction in any medium, provided the original work is properly cited. (CC BY 4.0).
Share & Cite This Article
MDPI and ACS Style
Jiang, P.; Chen, Y.; Cao, Y. C:N:P Stoichiometry and Carbon Storage in a Naturally-Regenerated Secondary Quercus variabilis Forest Age Sequence in the Qinling Mountains, China. Forests 2017, 8, 281.
Note that from the first issue of 2016, MDPI journals use article numbers instead of page numbers. See further details here.
Related Articles
Comments
[Return to top]