Attribution of Disturbance Agents to Forest Change Using a Landsat Time Series in Tropical Seasonal Forests in the Bago Mountains, Myanmar
1
Graduate School of Bioresource and Bioenvironmental Sciences, Kyushu University, 6-10-1 Hakozaki, Higashi-ku, Fukuoka 812-8581, Japan
2
Applied Geomatics, Remote Sensing and Land Resources Laboratory, School of the Environment, Trent University, Peterborough, ON K9J 7B8, Canada
3
Institute of Decision Science for a Sustainable Society, Kyushu University, 6-10-1 Hakozaki, Fukuoka 812-8581, Japan
4
Faculty of Agriculture, Kyushu University, 6-10-1 Hakozaki, Fukuoka 812-8581, Japan
*
Author to whom correspondence should be addressed.
Academic Editor: Sean P. Healey
Received: 26 May 2017 / Revised: 14 June 2017 / Accepted: 14 June 2017 / Published: 19 June 2017
Abstract
In 2016, in response to forest loss, the Myanmar government banned logging operations for 1 year throughout the entire country and for 10 years in specific regions. However, it is unclear whether this measure will effectively reduce forest loss, because disturbance agents other than logging may have substantial effects on forest loss. In this study, we investigated an approach to attribute disturbance agents to forest loss, and we characterized the attribution of disturbance agents, as well as the areas affected by these agents, in tropical seasonal forests in the Bago Mountains, Myanmar. A trajectory-based analysis using a Landsat time series was performed to detect change pixels. After the aggregation process that grouped adjacent change pixels in the same year as patches, a change attribution was implemented using the spectral, geometric, and topographic information of each patch via random forest modeling. The attributed agents of change include "logging", "plantation", "shifting cultivation", "urban expansion", "water invasion", "recovery", "other change", and "no change". The overall accuracy of the attribution model at the patch and area levels was 84.7% and 96.0%, respectively. The estimated disturbance area from the attribution model accounted for 10.0% of the study area. The largest disturbance agent was found to be logging (59.8%), followed by water invasion (14.6%). This approach quantifies disturbance agents at both spatial and temporal scales in tropical seasonal forests, where limited information is available for forest management, thereby providing crucial information for assessing forest conditions in such environments.
View Full-Text
►

▼

Figures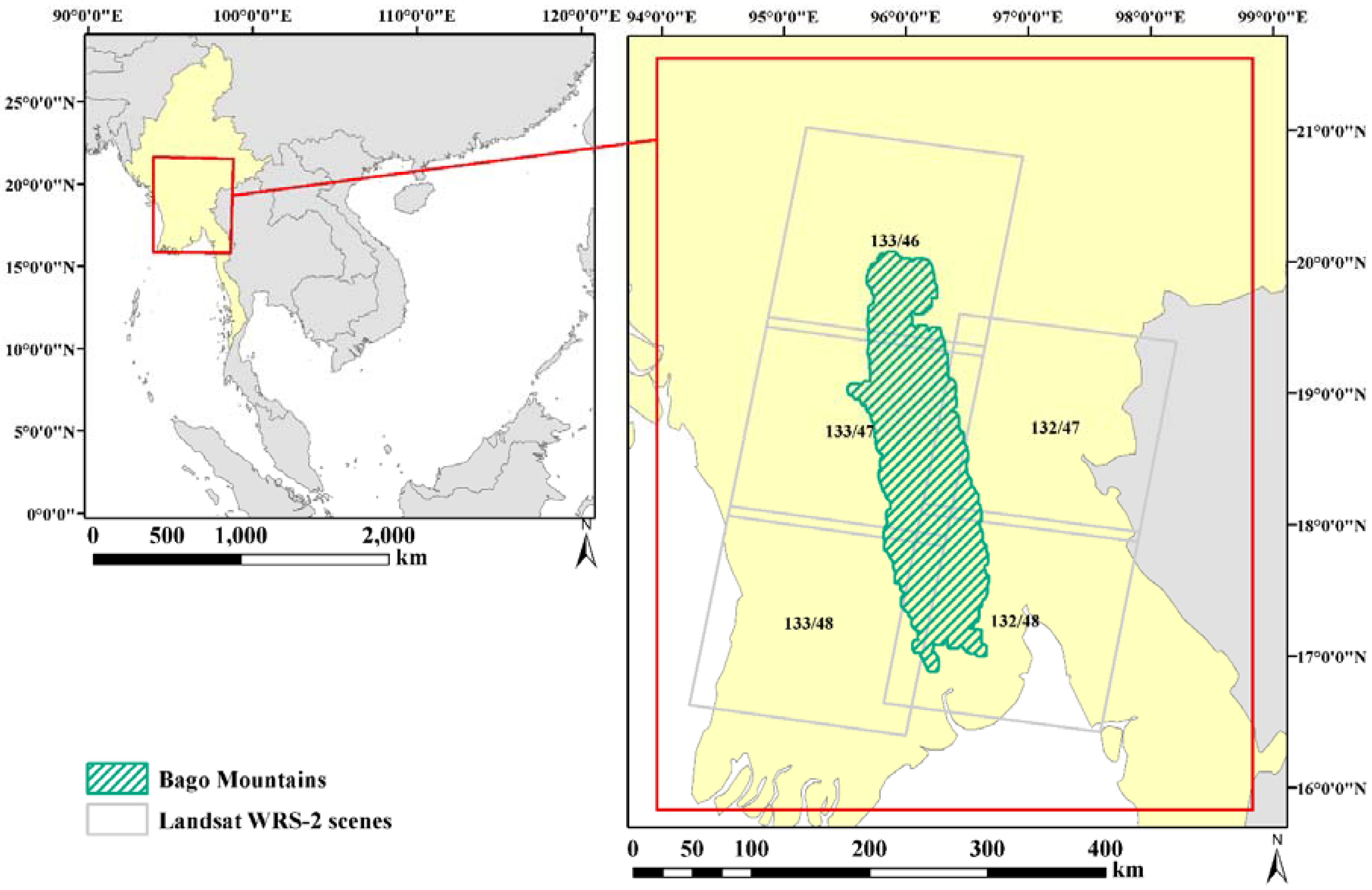 Figure 1
This is an open access article distributed under the
Creative Commons Attribution License
which permits unrestricted use, distribution, and reproduction in any medium, provided the original work is properly cited. (CC BY 4.0).
Share & Cite This Article
MDPI and ACS Style
Shimizu, K.; Ahmed, O.S.; Ponce-Hernandez, R.; Ota, T.; Win, Z.C.; Mizoue, N.; Yoshida, S. Attribution of Disturbance Agents to Forest Change Using a Landsat Time Series in Tropical Seasonal Forests in the Bago Mountains, Myanmar. Forests 2017, 8, 218.
Note that from the first issue of 2016, MDPI journals use article numbers instead of page numbers. See further details here.
Related Articles
Comments
[Return to top]