Enhancing Stand Structure through Snag Creation in Northeastern U.S. Forests: Using Ethanol Injections and Bark Beetle Pheromones to Artificially Stress Red Maple and White Pine
1
U.S. Forest Service, Northeastern Area State and Private Forestry, 271 Mast Rd., Durham, NH 03824, USA
2
Mount Grace Land Conservation Trust, 1461 Old Keene Rd., Athol, MA 01331, USA
*
Author to whom correspondence should be addressed.
Academic Editor: Christopher J. Fettig
Received: 30 April 2016 / Revised: 24 May 2016 / Accepted: 30 May 2016 / Published: 15 June 2016
Abstract
We investigated two methods to create white pine and red maple snags in a forested setting. The first involved injecting trees with ethanol at two times (single Ethanol (ETOH) and double ETOH injections) to increase attractiveness to insects and elicit attacks on trees. The second method was unique to white pines and involved both injection treatments in combination with baiting trees with
Ips
-specific pheromones. Three of five white pines from the double ETOH treatment died in the second year. Species including
Ips pini
(Say),
Ips grandicollis
Eichhoff,
Orthotomicus caelatus
Eichhoff,
Crypturgus borealis
Swaine and
Monochamus notatus
(Drury) responded more strongly to at least one of the treatments over control trees. However, there were no differences found in individual Scolytinae or Cerambycidae species response to treatments in red maple. Fitness (F
V
/F
M
) and vitality (PI
abs
) were both significantly reduced in both ETOH treatments compared to controls in white pine. In red maple, fitness was reduced in the double ETOH treated trees but the final mean F
V
/F
M
values were within the approximate optimal of health. Ethanol injections, in combination with
Ips
-specific semiochemicals, show promise for creating standing coarse woody debris (CWD) in white pine. Injecting ethanol was not effective for stressing red maple.
View Full-Text
►

▼

Figures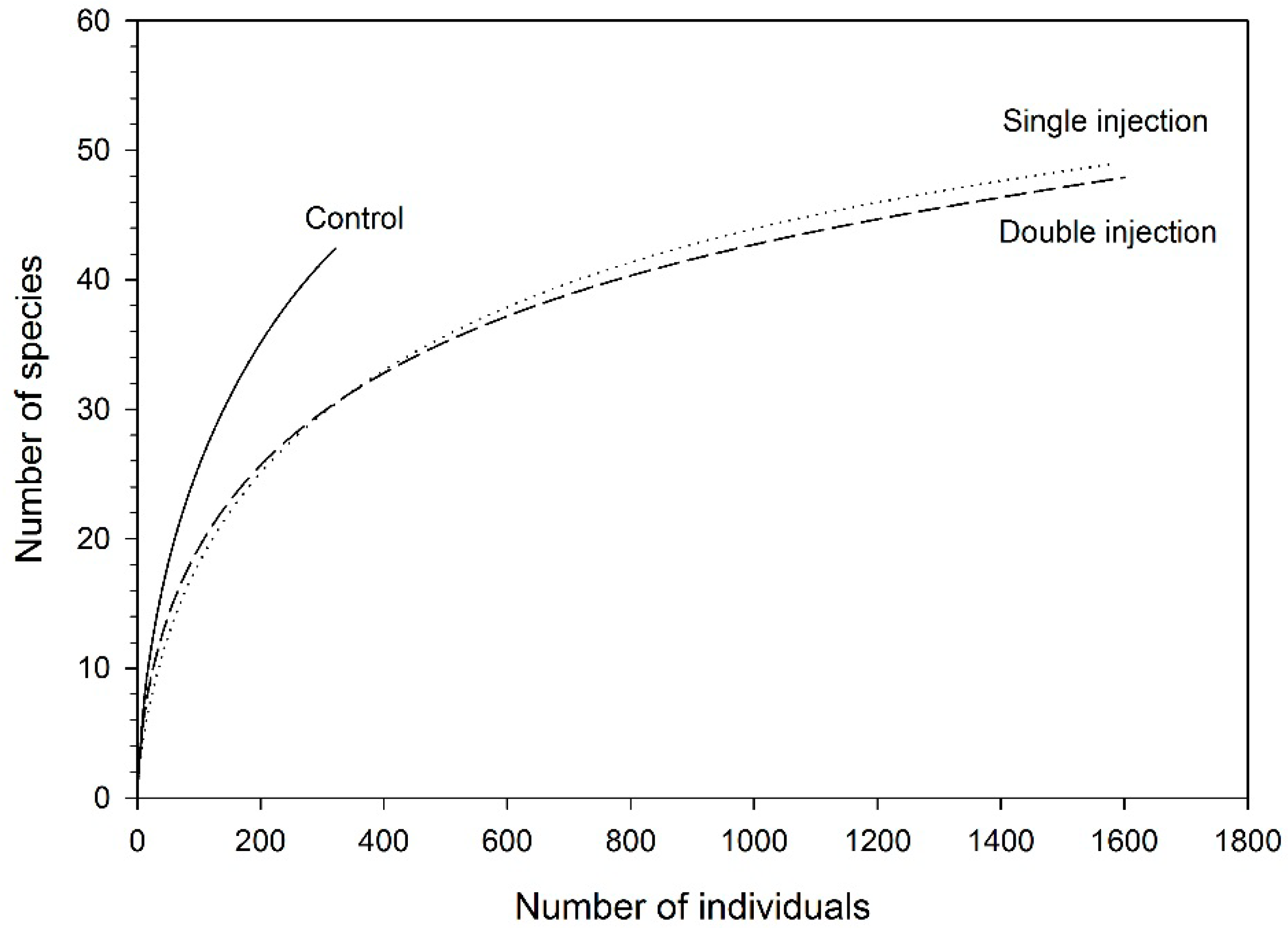 Figure 1
This is an open access article distributed under the
Creative Commons Attribution License
which permits unrestricted use, distribution, and reproduction in any medium, provided the original work is properly cited. (CC BY 4.0).
Share & Cite This Article
MDPI and ACS Style
Dodds, K.J.; Hanavan, R.P.; Wansleben, T. Enhancing Stand Structure through Snag Creation in Northeastern U.S. Forests: Using Ethanol Injections and Bark Beetle Pheromones to Artificially Stress Red Maple and White Pine. Forests 2016, 7, 124.
Note that from the first issue of 2016, MDPI journals use article numbers instead of page numbers. See further details here.
Related Articles
Comments
[Return to top]