New Rhenium-Doped SrCo1−xRexO3−δ Perovskites Performing as Cathodes in Solid Oxide Fuel Cells
1
Institute of Materials Science of Madrid, CSIC, Cantoblanco, Madrid 28049, Spain
2
Institute of Materials and Thermomechanics, Universidad Austral de Chile, General Lagos 2086, Valdivia 5111187, Chile
3
Grupo CLIOPE, National Technological University, Reg. Mendoza, Rodríguez 273, Mendoza 5500, Argentina
4
Institut Laue-Langevin, B.P. 156x, Grenoble 38042, France
*
Author to whom correspondence should be addressed.
Academic Editor: Christof Schneider
Received: 8 July 2016 / Revised: 12 August 2016 / Accepted: 18 August 2016 / Published: 24 August 2016
Abstract
In the aim to stabilize novel three-dimensional perovskite oxides based upon SrCoO
3−δ
, we have designed and prepared SrCo
1−x
Re
x
O
3−δ
phases (x = 0.05 and 0.10), successfully avoiding the competitive hexagonal 2H polytypes. Their performance as cathode materials in intermediate-temperature solid oxide fuel cells (IT-SOFC) has been investigated. The characterization of these oxides included X-ray (XRD) and in situ temperature-dependent neutron powder diffraction (NPD) experiments for x = 0.10. At room temperature, SrCo
1−x
Re
x
O
3−δ
perovskites are defined in the P4/mmm space group, which corresponds to a subtle tetragonal perovskite superstructure with unit-cell parameters a = b ≈ a
o
, c = 2a
o
(a
o
= 3.861 and 3.868 Å, for x = 0.05 and 0.10, respectively). The crystal structure evolves above 380 °C to a simple cubic perovskite unit cell, as observed from in-situ NPD data. The electrical conductivity gave maximum values of 43.5 S·cm
−1
and 51.6 S·cm
−1
for x = 0.05 and x = 0.10, respectively, at 850 °C. The area specific resistance (ASR) polarization resistance determined in symmetrical cells is as low as 0.087 Ω·cm
2
and 0.065 Ω·cm
2
for x = 0.05 and x = 0.10, respectively, at 850 °C. In single test cells these materials generated a maximum power of around 0.6 W/cm
2
at 850 °C with pure H
2
as a fuel, in an electrolyte-supported configuration with La
0.8
Sr
0.2
Ga
0.83
Mg
0.17
O
3−
δ
(LSGM) as the electrolyte. Therefore, we propose the SrCo
1−x
Re
x
O
3−δ
(x = 0.10 and 0.05) perovskite oxides as promising candidates for cathodes in IT-SOFC.
View Full-Text
►

▼

Figures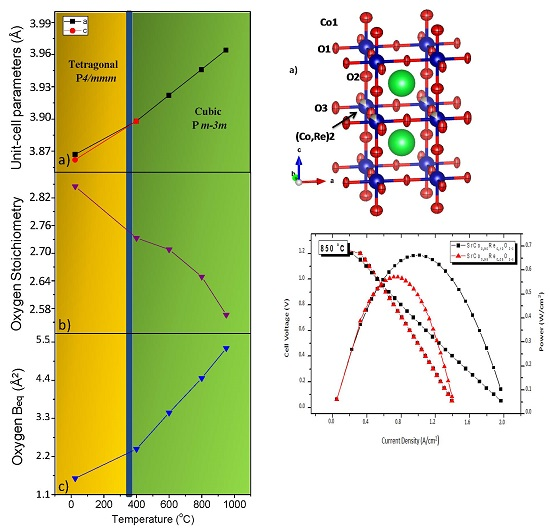 This is an open access article distributed under the
Creative Commons Attribution License
which permits unrestricted use, distribution, and reproduction in any medium, provided the original work is properly cited. (CC BY 4.0).
Share & Cite This Article
MDPI and ACS Style
Troncoso, L.; Gardey, M.C.; Fernández-Díaz, M.T.; Alonso, J.A. New Rhenium-Doped SrCo1−xRexO3−δ Perovskites Performing as Cathodes in Solid Oxide Fuel Cells. Materials 2016, 9, 717.
Note that from the first issue of 2016, MDPI journals use article numbers instead of page numbers. See further details here.
Related Articles
Comments
[Return to top]