Sorptive Uptake Studies of an Aryl-Arsenical with Iron Oxide Composites on an Activated Carbon Support
1
Department of Chemistry, University of Saskatchewan, 110 Science Place, Saskatoon, SK S7N 5C9, Canada
2
Saskatchewan Structural Science Centre, University of Saskatchewan, 110 Science Place, Saskatoon, SK S7N 5C9, Canada
*
Author to whom correspondence should be addressed.
Received: 25 December 2013 / Revised: 30 January 2014 / Accepted: 25 February 2014 / Published: 5 March 2014
Abstract
Sorption uptake kinetics and equilibrium studies for 4-hydroxy-3-nitrobenzene arsonic acid (roxarsone) was evaluated with synthetic magnetite (Mag-P), commercial magnetite (Mag-C), magnetite 10%, 19%, and 32% composite material (CM-10, -19, -32) that contains granular activated carbon (GAC), and synthetic goethite at pH 7.00 in water at 21 °C for 24 h. GAC showed the highest sorptive removal of roxarsone and the relative uptake for each sorbent material with roxarsone are listed in descending order as follows: GAC (471 mg/g) > goethite (418 mg/g) > CM-10 (377 mg/g) CM-19 (254 mg/g) > CM-32 (227 mg/g) > Mag-P (132 mg/g) > Mag-C (29.5 mg/g). The As (V) moiety of roxarsone is adsorbed onto the surface of the iron oxide/oxyhydrate and is inferred as inner-sphere surface complexes; monodentate-mononuclear, bidentate-mononuclear, and bidentate-binuclear depending on the protolytic speciation of roxarsone. The phenyl ring of roxarsone provides the primary driving force for the sorptive interaction with the graphene surface of GAC and its composites. Thus, magnetite composites are proposed as multi-purpose adsorbents for the co-removal of inorganic and organic arsenicals due to the presence of graphenic and iron oxide active adsorption sites.
View Full-Text
►

▼

Figures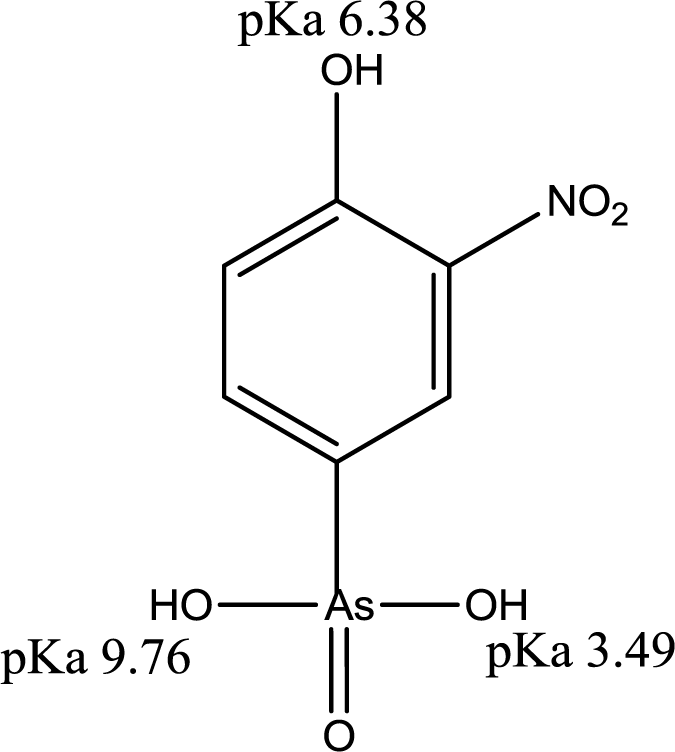 Share & Cite This Article
MDPI and ACS Style
Kwon, J.H.; Wilson, L.D.; Sammynaiken, R. Sorptive Uptake Studies of an Aryl-Arsenical with Iron Oxide Composites on an Activated Carbon Support. Materials 2014, 7, 1880-1898.
Related Articles
Comments
[Return to top]