Open Access This article is
freely available
re-usable
Article
The Preparation of Ag Nanoparticle and Ink Used for Inkjet Printing of Paper Based Conductive Patterns
Institute of Advanced Wear & Corrosion Resistant and Functional Materials, Jinan University, Guangzhou 510632, China
*
Authors to whom correspondence should be addressed.
Received: 14 June 2017 / Accepted: 21 August 2017 / Published: 28 August 2017
Abstract
:
Ag nanoparticles were successfully prepared using a liquid reduction method with a suitable mixture reductant of polyethylene glycol (PEG) and ethylene glycol (EG). OP-10 as a dispersing agent, was used to prepare the conductive Ag ink. Ag nanoparticles with an average particle size of 40 nm were prepared while the ratio of PEG to EG was 1:2. Meanwhile, the Ag particles had a narrow size distribution and great dispersion performance. The effects of paper substrates, sintering temperature, and sintering time on the conductivity of the printed Ag ink pattern were also studied. It was found that Lucky porous high glossy photo paper was a good candidate as the printing substrate. The resistivity of the printed pattern could reach 5.1 × 10−3 Ω·cm after heated at 100 °C for 2 h. Hence, the printed pattern showed good conductivity which led to the LED light being on. Furthermore, the Ag nanoparticle ink could be printed to form any pattern as required that still showed good electrical conductivity after being sintered under low-temperature. This could provide new possibilities for the preparation of flexible electrodes.
Keywords:
Ag nanoparticles; flexible electrode; Ag ink; inkjet printing
1. Introduction
As a new type of functional material, Ag nanoparticles are widely used in many fields such as chemicals, aerospace, medical, electronics, and so on. With the development of large-area and flexibility of electronic products, Ag nanoparticles have broad application prospects, especially in the electronic and information manufacturing industries [
1
]. The liquid reduction method is the main method of preparing Ag nanoparticles (AgNPs) and presents great advantages including simple production equipment, convenient operation, and the low price of raw materials [
2
,
3
]. However, in the production process of silver powders, reaction parameters such as temperature, concentration of reducing agent, and amounts of capping agent are quite complex. As it is really difficult to control the size and shape of the silver powders, the value and application of Ag nanoparticles has been limited. Thus, the preparation of uniform, small sized, and single-shaped Ag nanoparticles rapidly and controllably is a current technology problem worldwide.
With the development of electronic printing technology, conductive thin films are widely used in flexible display circuit printing [
4
], solar photovoltaic cells [
5
], and light emitting diodes [
6
]. Paper substrate materials have great potential for use in portable electronic devices as they are flexible and portable. There are several methods for the deposition of conductive materials on a paper surface such as stamping, chemical vapor deposition, and spin coating [
7
]. However, to provide a smooth layer of conductive materials on solid substrates, these methods require a dust free environment and strictly controlled temperature, which are very expensive and difficult to maintain. As a form of digital printing, inkjet printing has developed quickly and has become more extensively applied. Compared to traditional printing methods, inkjet has a high utilization of materials, simple manufacturing process, low prices, large area, high precision, and many other advantages.
Generally, nano-Ag is the key functional material of the silver conductive ink and is composed of Ag particles, dispersants, surfactants, solvents, and other additives. Usually it is difficult to remove the dispersant and other additives at lower sintering temperatures because of their high boiling point. These additives severely decrease the conductivity of the printed pattern formed by the silver ink. To remove these additives, the sintering temperature of the conductive ink has to generally be higher than 200 °C [
8
], which severely restricts the use of certain flexible substrates such as paper [
9
], polyethylene terephthalate (PET) [
10
], and so on.
In our study, Ag nanoparticles were prepared using different mixing ratios of two reducing agents and various experimental parameters to study the reaction mechanism. Specific preparation schemes were proposed to obtain a good dispersal of Ag nanoparticles rapidly, which had different controlled particle sizes. A series of low boiling point additives were studied and introduced into the ink system for variety and to acquire a low sintered temperature conductive Ag ink for ink-jet printing.
2. Results
2.1. Characterization of AgNPs
2.2. Characterization of Ag Conductive Patterns
3. Materials and Methods
3.1. Materials
All chemicals used in this study were of analytical reagent grade. Meanwhile, Ag nitrate, polyvinyl pyrrolidone (PVP), ethylene glycol (EG), polyethylene glycol (PEG), and isopropanol (IPA) were obtained from the Tianjin Damao Chemical Reagent Factory (Tianjin, China). Ethyl alcohol was provided by the Guangzhou Chemical Reagent Factory (Guangzhou, China). Octylphenol polyoxyethylene ether (10) (OP-10) was provided by the Tianjin Fuyu fine chemical industry (Tianjin, China).
3.2. Synthesis of AgNPs
PEG and EG were mixed for use as a reducing agent. The preparation steps of spherical nano-Ag particles were as follows. First, 100 mg of AgNO3 and 150 mg PVP was transferred into a round-bottomed flask containing 20 mL of EG. Next, 20 mL of PEG was added to the stirred mixture, and combined until well mixed. The mixed solution was then transferred to an oil bath with a constant temperature and 200 r/min constant stirring. At the completion of the reaction, the mixture was washed and diluted with anhydrous ethanol 5 times before concentrated products were achieved after 20 min centrifugation at 8000 rpm. The liquid had obvious stratification, with the lower layer having a higher AgNPs concentration. The precipitated product was cleaned and centrifuged with anhydrous ethanol 5–8 times. The precipitated product was dried at room temperature standby.
3.3. Synthesis of Nano Ag Ink
To synthesize the new Ag nano-ink, the recipe used was as follows: 3 wt % of OP-10; 20 wt % of ethylene glycol; 1.5 wt % ethanol; and 1 wt. % isopropyl alcohol was placed into glass bottles containing 59.5 wt % deionized water. The solution mixture was stirred at 200 r/min constant speed. After 10 min, 200 mg of AgNPs was added to the mixed solution which was then ultrasonically cleaned for 30 min, and the mixture formed a uniform system at room temperature when it was stirred for 30 min. Finally, a uniform AgNPs ink was obtained. The AgNPs ink was injected into a clean ink cartridge (Canon iP1188, Canon, Tokyo Daejeon, Tokyo, Japan) and printed using a Canon iP1188 inkjet printer. To deposit a large number of AgNPs, the printer settings were adjusted for the "best print quality" and "photo print mode" to ensure sufficient AgNPs ink was printed on the paper substrate.
3.4. Characterization of AgNPs
Morphological observations were carried on using a field-emission scanning electron microscope (FE-SEM, Zeiss, Oberkochen, Germany) and a field-emission transmission electron microscope (TEM, Philips TECNAI-F20, Chur, Switzerland). Samples were also analyzed by X-ray diffraction (XRD; D8, Bruker, Billerica, MA, USA) at room temperature with a scanning angle from 20° to 90°. The scanning speed was 10°/min with 40 kV accelerating voltages and a 15 mA current. A UV-Vis absorption spectroscopy test was conducted using a UV-Vis spectrophotometer (UV-2550, Japan Shimadzu Corporation, Kyoto, Japan). The sample was diluted 1000 times and placed in a 1 × 3 cm quartz cuvette for testing. The resistance of the thin AgNPs pattern was tested using a KDB-1 digital four-probe resistance tester (Guangzhou Kunde Technology Companies (Guangzhou, China)).
4. Conclusions
In summary, based on a controlled reaction temperature, ratio of PEG to EG, and reaction time, the Ag nanoparticles were prepared through a liquid reduction method. PEG and EG were mixed as reducing agents to prepare silver nanoparticles with a range of different particle sizes under 140 °C. When the ratio of PEG to EG was 1:2, silver nanoparticles were prepared with an average particle size of 40 nm, a narrow size distribution and good dispersion performance. The conductive AgNPs ink was produced using OP-10 as a dispersing agent. The influence of other parameters was also studied, such as the effects of paper substrates, sintering temperature and time on the conductivity of the printed pattern. It was found that the Lucky porous high glossy photo paper was a good candidate substrate, and the resistivity of the printed pattern after heating at 100 °C for 2 h could reach 5.1 × 10−3 Ω·cm. When the printed pattern was connected to an LED light and supplied the power, the LED lit up. Therefore, it was possible to print any patterns as designed, had good electrical conductivity, and could be sintered at a low-temperature and has provided new ideas for the preparation of flexible electrodes.
Acknowledgments
This project was supported by Guangdong provincial science and technology projects. (Item Number 2014B090915003 and 2015B090901052).
Author Contributions
Zhidan Lin, Peng Zhang and Lin Cao conceived and designed the experiments; Lin Cao and Xiaohe Bai performed the experiments; Peng Zhang, Shuling Deng, Xusheng Du and Lin Cao analyzed the data; Peng Zhang and Zhidan Lin contributed reagents, materials and analysis tools; Lin Cao wrote the paper.
Conflicts of Interest
The authors declare no conflict of interest.

Figure 1. SEM images of Ag nanoparticles prepared under different temperatures: (a) 130 °C; (b) 140 °C; and (c) 150 °C.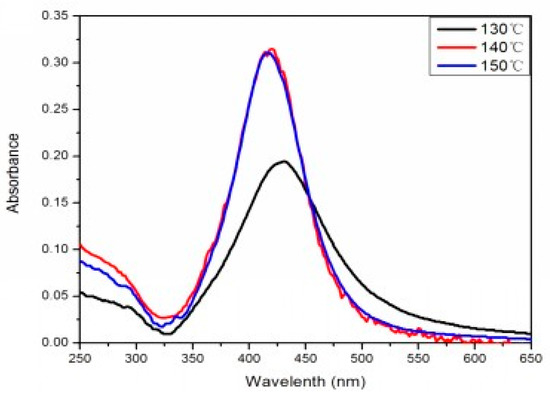 Figure 2. UV-vis extinction spectra of the products prepared at different temperatures at PEG:EG ratio of 1:2.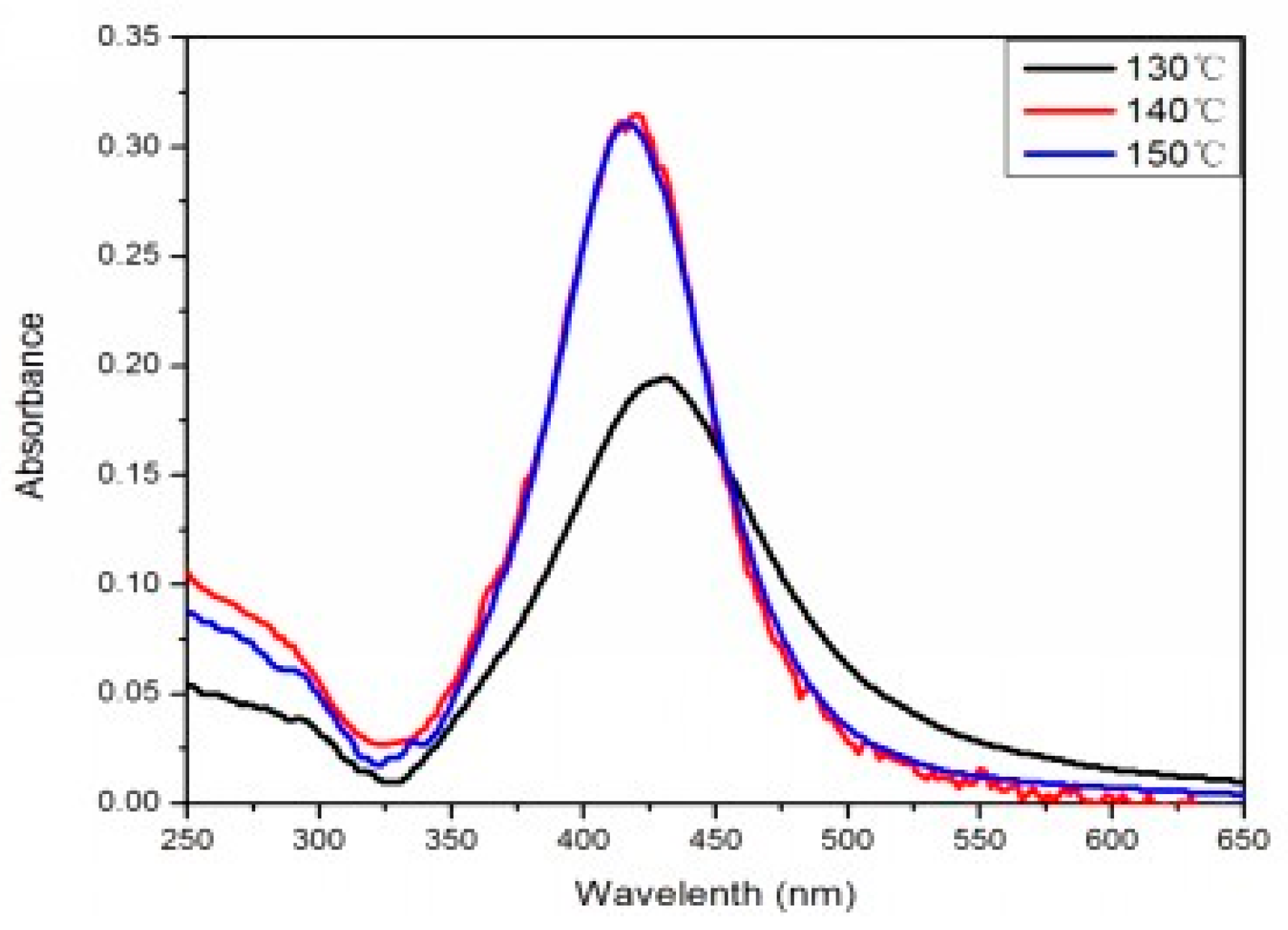 Figure 4. TEM images of the preparation of Ag nanoparticles. (a) 2 min; (b) 5 min; (c) 12 min; and (d) 20 min.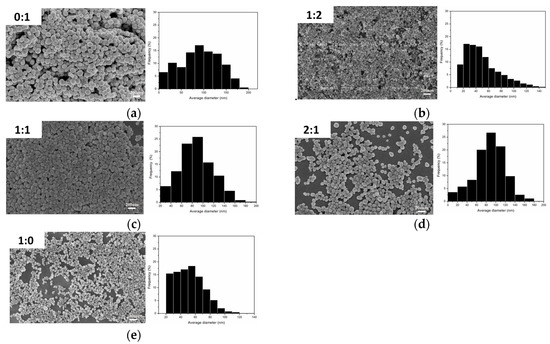 Figure 5. SEM images and particle size distribution images of Ag nanoparticles prepared under different volume ratios of PEG to EG. (a) PEG:EG = 0:1; (b) PEG:EG = 1:2; (c) PEG:EG = 1:1; (d) PEG:EG = 2:1; and (e) PEG:EG = 1:0.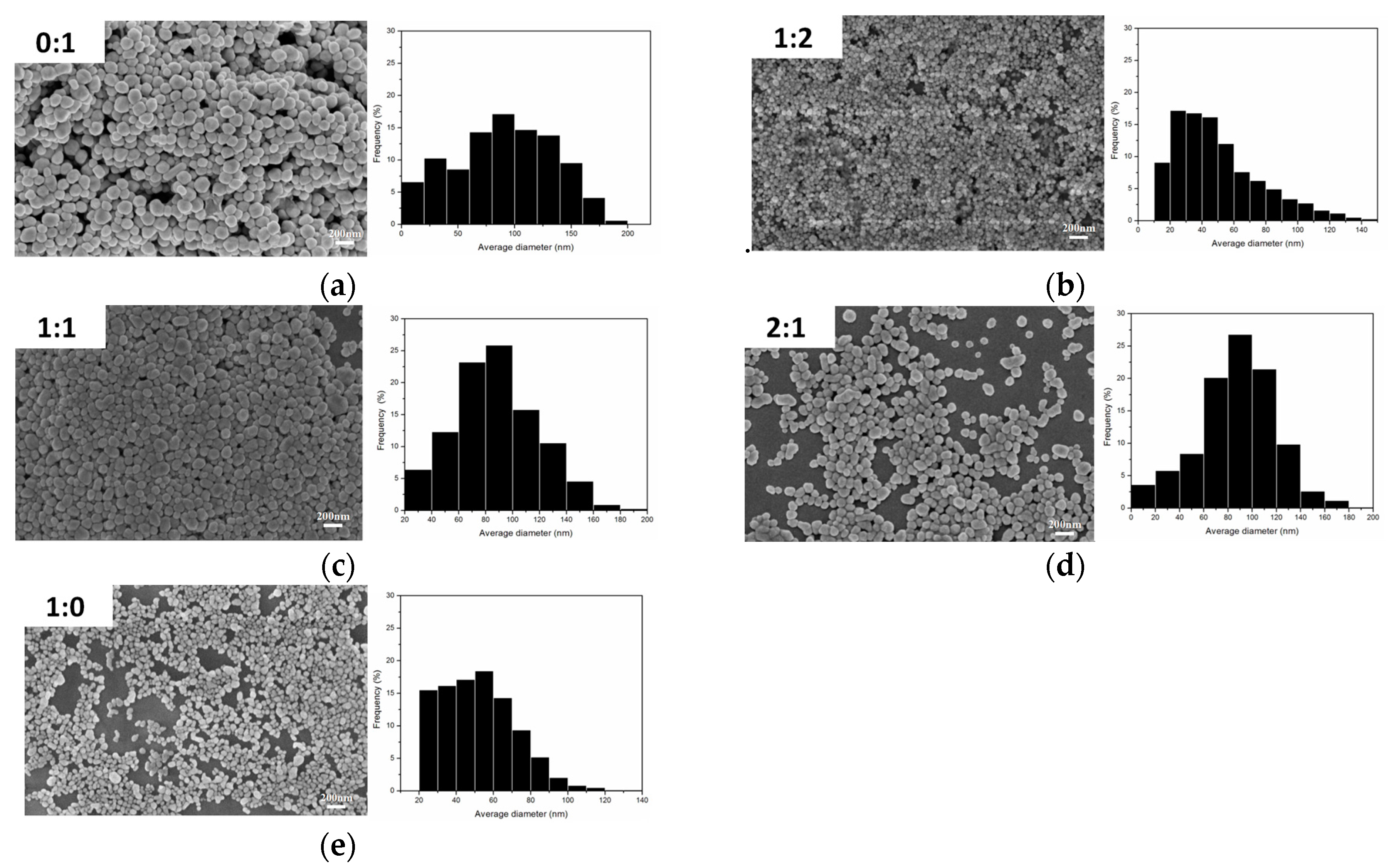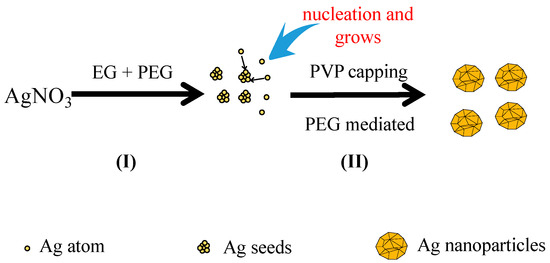 Figure 6. Schematic illustration of formation of uniformity Ag nanoparticles in mixed solvents of EG and PEG.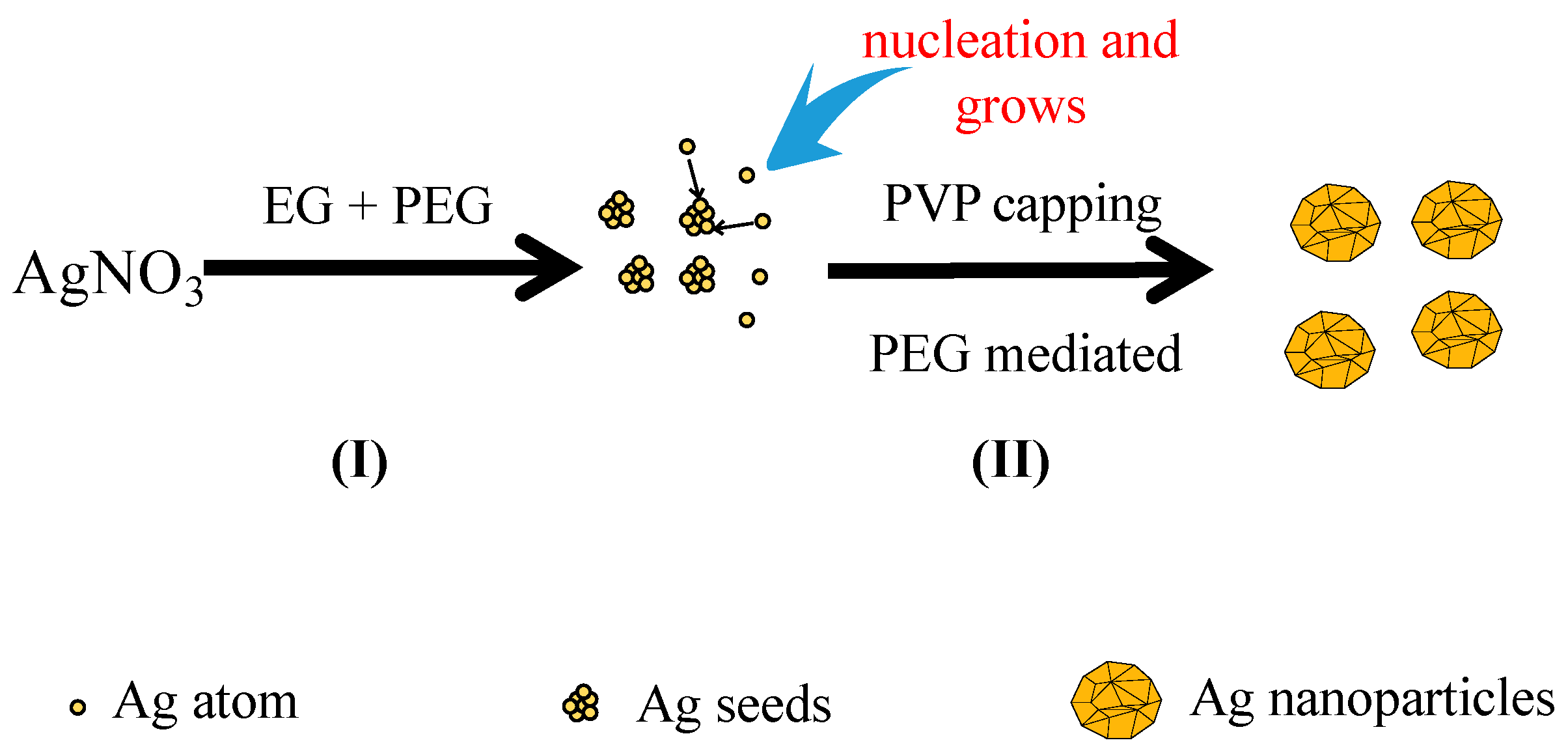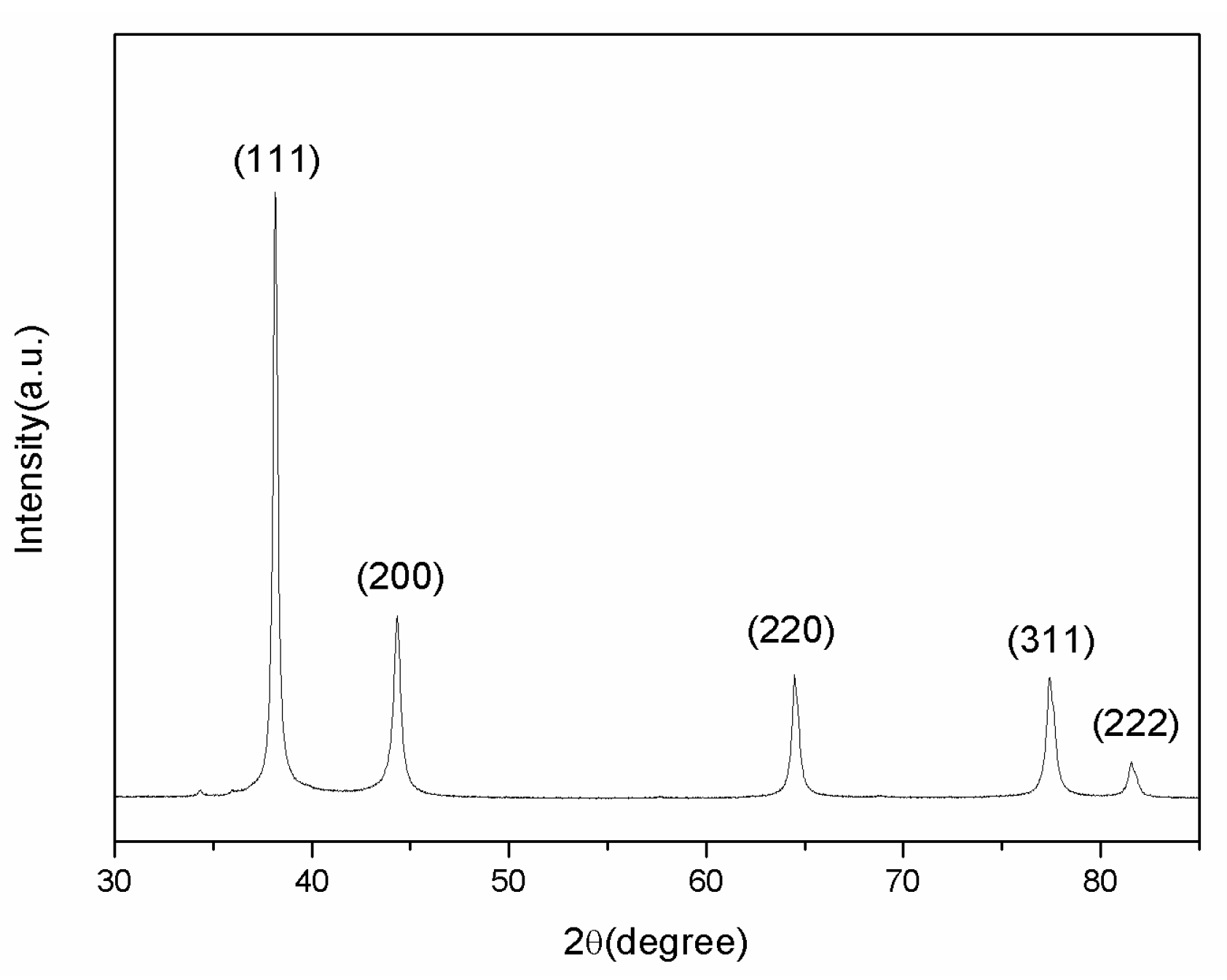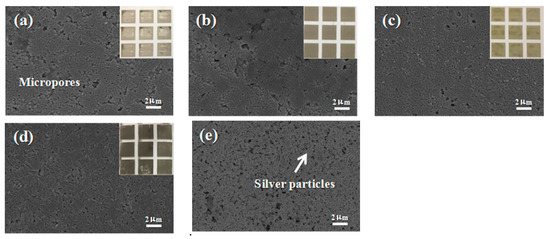 Figure 8. The SEM of the printed Ag patterns using different photo papers as substrates and the surface structure of different photo papers. (a) Epson; (b) Kodak; (c) Fantac; (d) Lucky; and (e) the Lucky photo paper printed Ag patterns.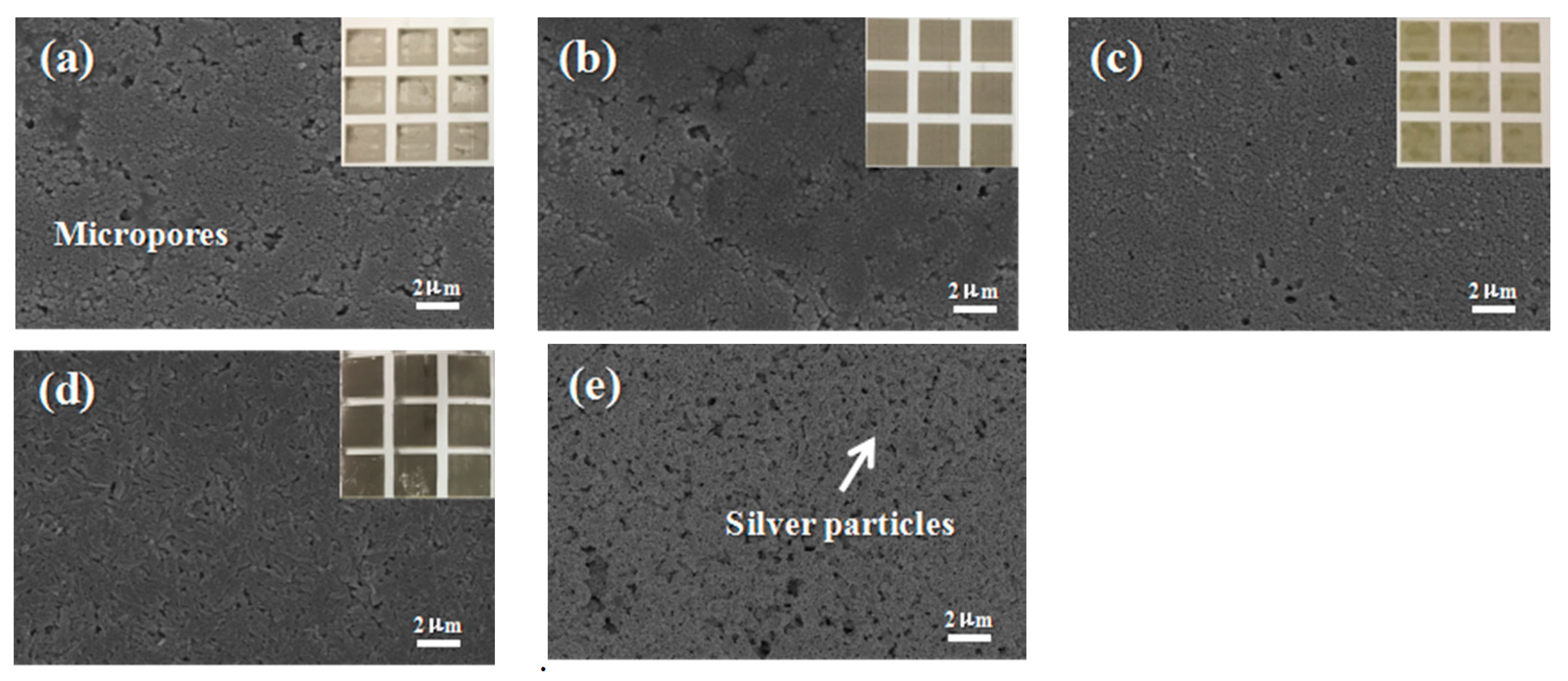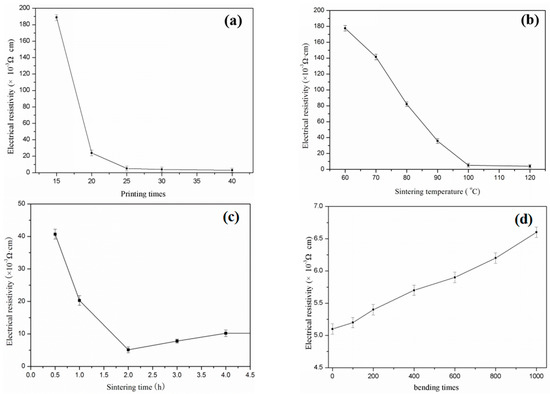 Figure 9. The resistivity of the printed Ag patterns with: (a) different printing times; (b) different sintering temperature; (c) different sintering time; and (d) different bending times.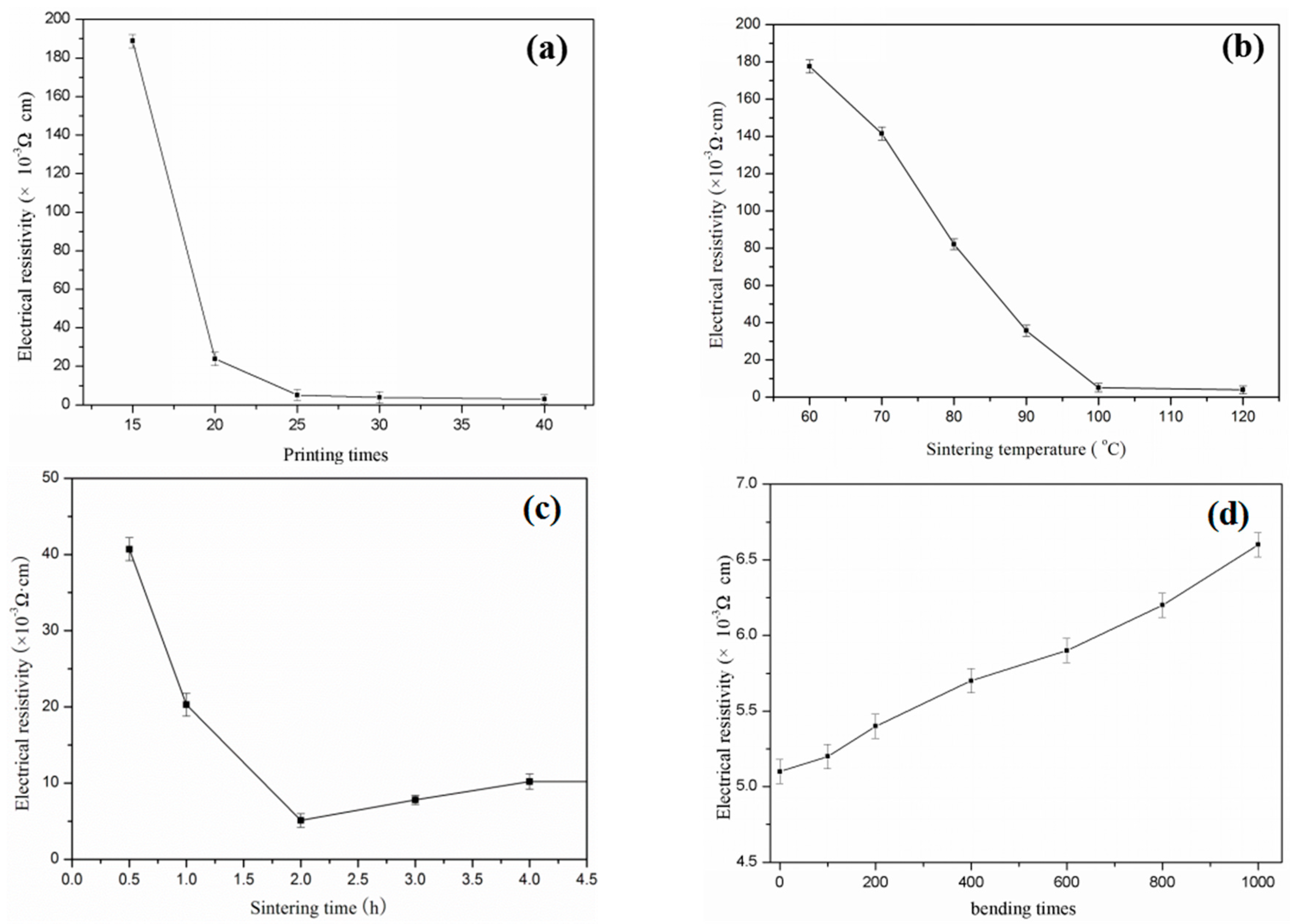 Figure 10. The simple conductivity test of printed Ag patterns: (a) Square; (b) Rectangle; (c) Spiral.

© 2017 by the authors. Licensee MDPI, Basel, Switzerland. This article is an open access article distributed under the terms and conditions of the Creative Commons Attribution (CC BY) license (http://creativecommons.org/licenses/by/4.0/).