Synthesis of Nanoscale CaO-Al2O3-SiO2-H2O and Na2O-Al2O3-SiO2-H2O Using the Hydrothermal Method and Their Characterization
1
Jiangsu National Synergetic Innovation Center for Advanced Materials (SICAM), Nanjing Tech University, Nanjing 210009, China
2
Guangdong Provincial Key Laboratory of Durability for Marine Civil Engineering, College of Civil Engineering, Shenzhen University, Shenzhen 518060, China
*
Author to whom correspondence should be addressed.
Received: 7 May 2017 / Revised: 11 June 2017 / Accepted: 12 June 2017 / Published: 26 June 2017
Abstract
C-A-S-H (CaO-Al
2
O
3
-SiO
2
-H
2
O) and N-A-S-H (Na
2
O-Al
2
O
3
-SiO
2
-H
2
O) have a wide range of chemical compositions and structures and are difficult to separate from alkali-activated materials. Therefore, it is difficult to analyze their microscopic properties directly. This paper reports research on the synthesis of C-A-S-H and N-A-S-H particles with an average particle size smaller than 300 nm by applying the hydrothermal method. The composition and microstructure of the products with different CaO(Na
2
O)/SiO
2
ratios and curing conditions were characterized using XRD, the RIR method, FTIR, SEM, TEM, and laser particle size analysis. The results showed that the C-A-S-H system products with a low CaO/SiO
2
ratio were mainly amorphous C-A-S-H gels. With an increase in the CaO/SiO
2
ratio, an excess of Ca(OH)
2
was observed at room temperature, while in a high-temperature reaction system, katoite, C
4
AcH
11
, and other crystallized products were observed. The katoite content was related to the curing temperature and the content of Ca(OH)
2
and it tended to form at a high-temperature and high-calcium environment, and an increase in the temperature renders the C-A-S-H gels more compact. The main products of the N-A-S-H system at room temperature were amorphous N-A-S-H gels and a small amount of sodalite. An increase in the curing temperature promoted the formation of the crystalline products faujasite and zeolite-P. The crystallization products consisted of only zeolite-P in the high-temperature N-A-S-H system and its content were stable above 70%. An increase in the Na
2
O/SiO
2
ratio resulted in more non-bridging oxygen and the TO
4
was more isolated in the N-A-S-H structure. The composition and microstructure of the C-A-S-H and N-A-S-H system products synthesized by the hydrothermal method were closely related to the ratio of the raw materials and the curing conditions. The results of this study increase our understanding of the hydration products of alkali-activated materials.
View Full-Text
►

▼

Figures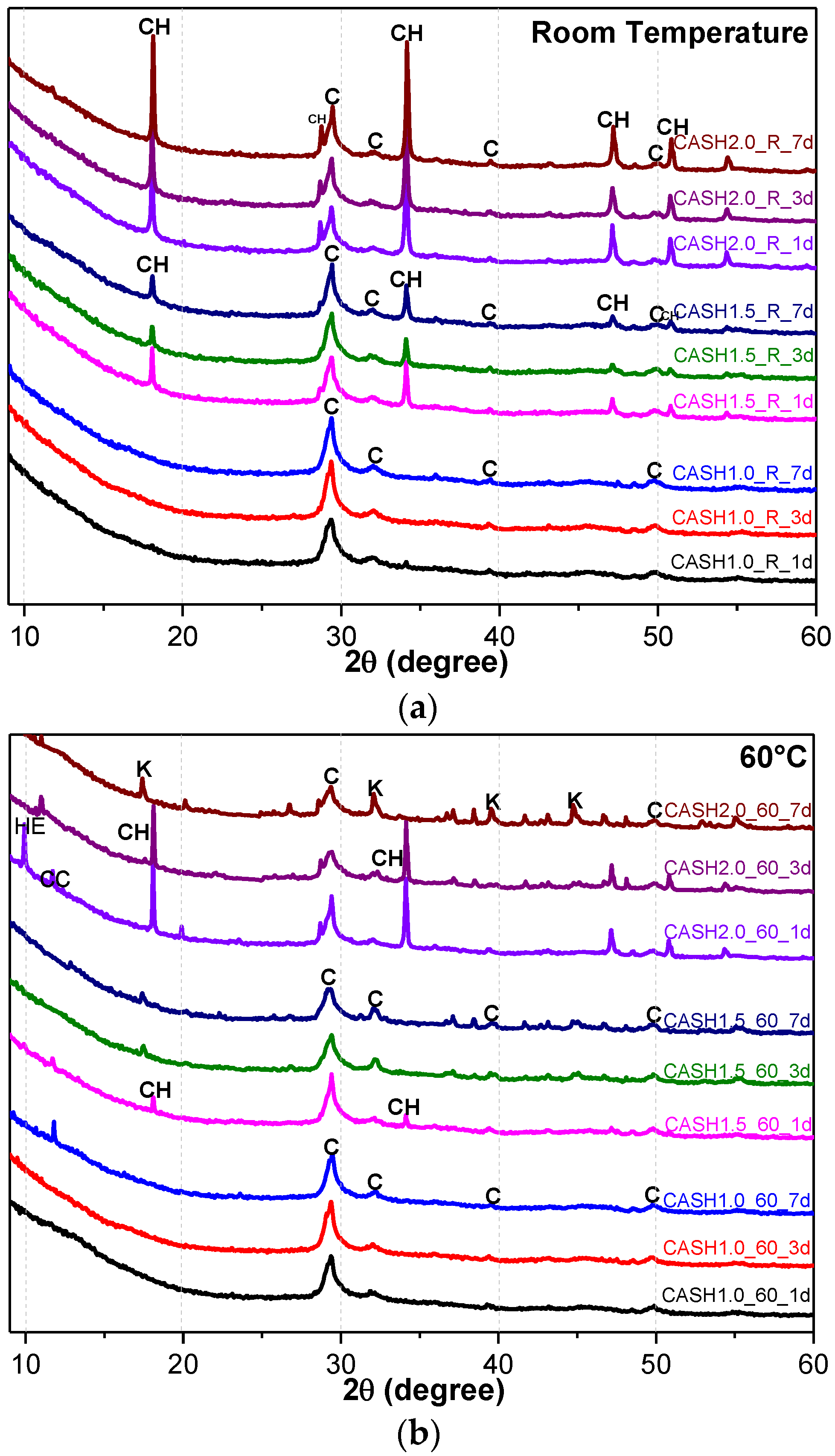 Figure 1a
This is an open access article distributed under the
Creative Commons Attribution License
which permits unrestricted use, distribution, and reproduction in any medium, provided the original work is properly cited. (CC BY 4.0).
Share & Cite This Article
MDPI and ACS Style
Yang, J.; Li, D.; Fang, Y. Synthesis of Nanoscale CaO-Al2O3-SiO2-H2O and Na2O-Al2O3-SiO2-H2O Using the Hydrothermal Method and Their Characterization. Materials 2017, 10, 695.
Note that from the first issue of 2016, MDPI journals use article numbers instead of page numbers. See further details here.
Related Articles
Comments
[Return to top]