Unusual Enhancement of Doxorubicin Activity on Co-Delivery with Polyhedral Oligomeric Silsesquioxane (POSS)
1
Department of General Biophysics, Faculty of Biology and Environmental Protection, University of Lodz, Pomorska 141/143, 90-236 Lodz, Poland
2
Centre of Molecular and Macromolecular Studies, Polish Academy of Sciences, Sienkiewicza 112, 90-363 Lodz, Poland
3
Cytometry Laboratory, Department of Molecular Biophysics, Faculty of Biology and Environmental Protection, University of Lodz, Pomorska 141/143, 90-236 Lodz, Poland
4
Leibniz-Institut für Polymerforschung Dresden e.V., Hohe Strasse 6, 01069 Dresden, Germany
5
Copernicus Memorial Hospital, Pabianicka 62, 93-513 Lodz, Poland
†
Authors contributed equally to this work.
*
Author to whom correspondence should be addressed.
Academic Editor: Subbu S. Venkatraman
Received: 12 April 2017 / Revised: 4 May 2017 / Accepted: 15 May 2017 / Published: 20 May 2017
Abstract
Polyhedral oligomeric silsesquioxane (POSS), bearing eight 3-chloroammoniumpropyl substituents, was studied as a potential nanocarrier in co-delivery systems with doxorubicin (DOX). The toxicity of doxorubicin and POSS:DOX complexes at four different molar ratios (1:1; 1:2, 1:4, 1:8) towards microvascular endothelial cells (HMEC-1), breast cancer cells (MCF-7), and human cervical cancer endothelial cells (HeLa) was determined. The rate of penetration of the components into the cells, their cellular localization and the hydrodynamic diameter of the complexes was also determined. A cytotoxicity profile of POSS:DOX complexes indicated that the POSS:DOX system at the molar ratio of 1:8 was more effective than free DOX. Confocal images showed that DOX co-delivery with POSS allowed for more effective penetration of doxorubicin through the cell membrane. Taking all the results into account, it can be claimed that the polyhedral oligomeric silsesquioxane (T
8
-POSS) is a promising, complex nanocarrier for doxorubicin delivery.
View Full-Text
►

▼

Figures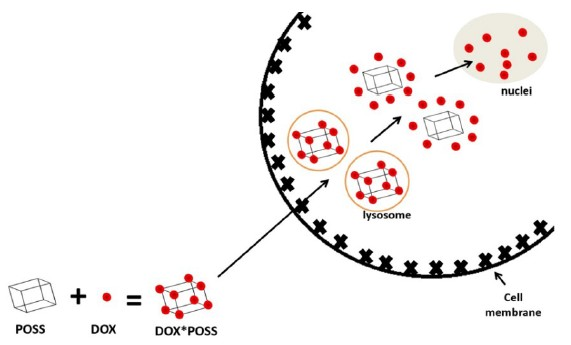 This is an open access article distributed under the
Creative Commons Attribution License
which permits unrestricted use, distribution, and reproduction in any medium, provided the original work is properly cited. (CC BY 4.0).
Share & Cite This Article
MDPI and ACS Style
Sobierajska, E.; Konopka, M.; Janaszewska, A.; Piorecka, K.; Blauz, A.; Klajnert-Maculewicz, B.; Stanczyk, M.; Stanczyk, W.A. Unusual Enhancement of Doxorubicin Activity on Co-Delivery with Polyhedral Oligomeric Silsesquioxane (POSS). Materials 2017, 10, 559.
Note that from the first issue of 2016, MDPI journals use article numbers instead of page numbers. See further details here.
Related Articles
Comments
[Return to top]