Artificial Neural Network Modeling and Genetic Algorithm Optimization for Cadmium Removal from Aqueous Solutions by Reduced Graphene Oxide-Supported Nanoscale Zero-Valent Iron (nZVI/rGO) Composites
1
Guizhou Provincial Key Laboratory for Information Systems of Mountainous Areas and Protection of Ecological Environment, Guizhou Normal University, Guiyang 550001, China
2
Department of Applied Chemistry, College of Chemistry and Molecular Engineering, Peking University, Beijing 100871, China
*
Author to whom correspondence should be addressed.
Academic Editor: Geminiano Mancusi
Received: 9 April 2017 / Revised: 7 May 2017 / Accepted: 12 May 2017 / Published: 17 May 2017
Abstract
Reduced graphene oxide-supported nanoscale zero-valent iron (nZVI/rGO) composites were synthesized in the present study by chemical deposition method and were then characterized by various methods, such as Fourier-transform infrared spectroscopy (FTIR) and X-ray photoelectron spectroscopy (XPS). The nZVI/rGO composites prepared were utilized for Cd(II) removal from aqueous solutions in batch mode at different initial Cd(II) concentrations, initial pH values, contact times, and operating temperatures. Response surface methodology (RSM) and artificial neural network hybridized with genetic algorithm (ANN-GA) were used for modeling the removal efficiency of Cd(II) and optimizing the four removal process variables. The average values of prediction errors for the RSM and ANN-GA models were 6.47% and 1.08%. Although both models were proven to be reliable in terms of predicting the removal efficiency of Cd(II), the ANN-GA model was found to be more accurate than the RSM model. In addition, experimental data were fitted to the Langmuir, Freundlich, and Dubinin-Radushkevich (D-R) isotherms. It was found that the Cd(II) adsorption was best fitted to the Langmuir isotherm. Examination on thermodynamic parameters revealed that the removal process was spontaneous and exothermic in nature. Furthermore, the pseudo-second-order model can better describe the kinetics of Cd(II) removal with a good R
2
value than the pseudo-first-order model.
View Full-Text
►

▼

Figures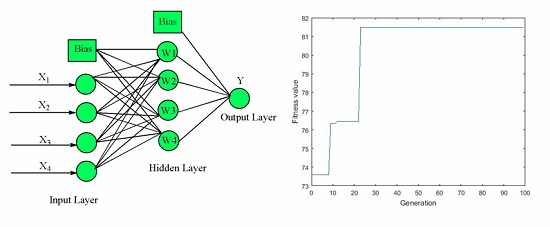 This is an open access article distributed under the
Creative Commons Attribution License
which permits unrestricted use, distribution, and reproduction in any medium, provided the original work is properly cited. (CC BY 4.0).
Share & Cite This Article
MDPI and ACS Style
Fan, M.; Li, T.; Hu, J.; Cao, R.; Wei, X.; Shi, X.; Ruan, W. Artificial Neural Network Modeling and Genetic Algorithm Optimization for Cadmium Removal from Aqueous Solutions by Reduced Graphene Oxide-Supported Nanoscale Zero-Valent Iron (nZVI/rGO) Composites. Materials 2017, 10, 544.
Note that from the first issue of 2016, MDPI journals use article numbers instead of page numbers. See further details here.
Related Articles
Comments
[Return to top]