Fault Detection and Location by Static Switches in Microgrids Using Wavelet Transform and Adaptive Network-Based Fuzzy Inference System
1
Department of Electrical Engineering, Chung Yuan Christian University, 200 Chung Pei Road, Chung Li 320, Taiwan
2
Division of Smart Grid, Institute of Nuclear Energy Research, Longtan 32546, Taiwan
*
Author to whom correspondence should be addressed.
Received: 7 February 2014 / Revised: 4 April 2014 / Accepted: 9 April 2014 / Published: 23 April 2014
Abstract
Microgrids are a highly efficient means of embedding distributed generation sources in a power system. However, if a fault occurs inside or outside the microgrid, the microgrid should be immediately disconnected from the main grid using a static switch installed at the secondary side of the main transformer near the point of common coupling (PCC). The static switch should have a reliable module implemented in a chip to detect/locate the fault and activate the breaker to open the circuit immediately. This paper proposes a novel approach to design this module in a static switch using the discrete wavelet transform (DWT) and adaptive network-based fuzzy inference system (ANFIS). The wavelet coefficient of the fault voltage and the inference results of ANFIS with the wavelet energy of the fault current at the secondary side of the main transformer determine the control action (open or close) of a static switch. The ANFIS identifies the faulty zones inside or outside the microgrid. The proposed method is applied to the first outdoor microgrid test bed in Taiwan, with a generation capacity of 360.5 kW. This microgrid test bed is studied using the real-time simulator eMegaSim developed by Opal-RT Technology Inc. (Montreal, QC, Canada). The proposed method based on DWT and ANFIS is implemented in a field programmable gate array (FPGA) by using the Xilinx System Generator. Simulation results reveal that the proposed method is efficient and applicable in the real-time control environment of a power system.
View Full-Text
►

▼

Figures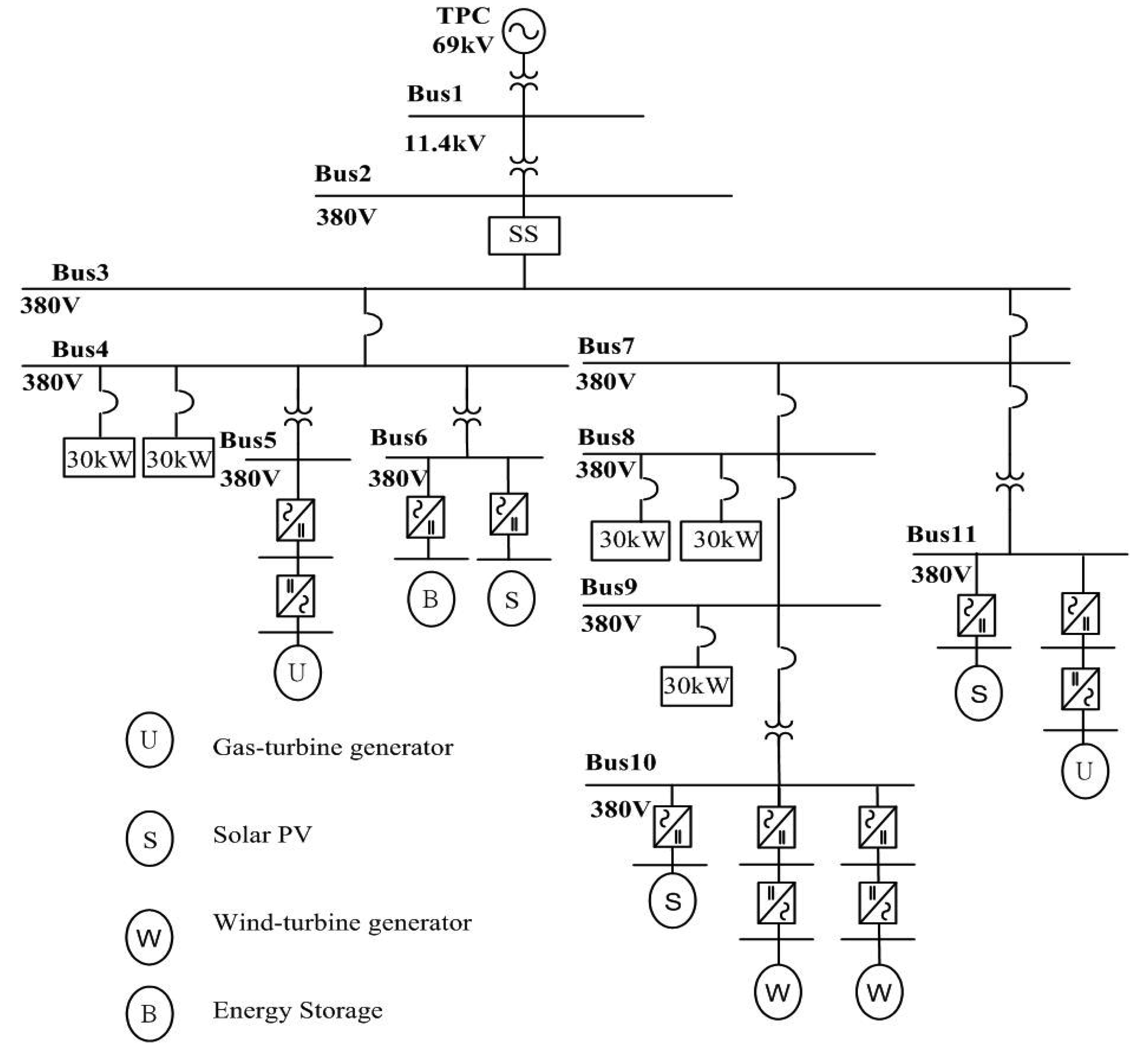 Share & Cite This Article
MDPI and ACS Style
Hong, Y.-Y.; Wei, Y.-H.; Chang, Y.-R.; Lee, Y.-D.; Liu, P.-W. Fault Detection and Location by Static Switches in Microgrids Using Wavelet Transform and Adaptive Network-Based Fuzzy Inference System. Energies 2014, 7, 2658-2675.
Related Articles
Comments
[Return to top]