Compact Design of 10 kW Proton Exchange Membrane Fuel Cell Stack Systems with Microcontroller Units
1
Department of Mechanical Engineering, National Taiwan University, Taipei 10617, Taiwan
2
FIELD Energy Ltd., Zhudong 31061, Taiwan
*
Author to whom correspondence should be addressed.
Received: 13 December 2013 / Revised: 18 February 2014 / Accepted: 21 March 2014 / Published: 22 April 2014
Abstract
In this study, fuel, oxidant supply and cooling systems with microcontroller units (MCU) are developed in a compact design to fit two 5 kW proton exchange membrane fuel cell (PEMFC) stacks. At the initial stage, the testing facility of the system has a large volume (2.0 m × 2.0 m × 1.5 m) with a longer pipeline and excessive control sensors for safe testing. After recognizing the performance and stability of stack, the system is redesigned to fit in a limited space (0.4 m × 0.5 m × 0.8 m). Furthermore, the stack performance is studied under different hydrogen recycling modes. Then, two similar 5 kW stacks are directly coupled with diodes to obtain a higher power output and safe operation. The result shows that the efficiency of the 5 kW stack is 43.46% with a purge period of 2 min with hydrogen recycling and that the hydrogen utilization rate µ
f
is 66.31%. In addition, the maximum power output of the twin-coupled module (a power module with two stacks in electrical cascade/parallel arrangement) is 9.52 kW.
View Full-Text
►

▼

Figures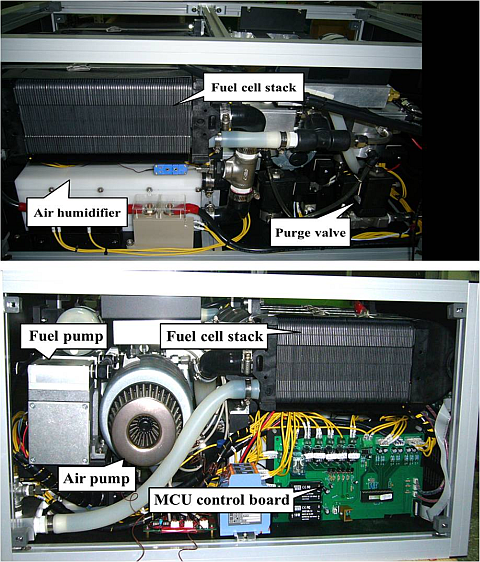 Share & Cite This Article
MDPI and ACS Style
Ma, H.; Cheng, W.; Fang, F.; Hsu, C.; Lin, C. Compact Design of 10 kW Proton Exchange Membrane Fuel Cell Stack Systems with Microcontroller Units. Energies 2014, 7, 2498-2514.
Related Articles
Comments
[Return to top]