Hanging Wall Pressure Relief Mechanism of Horizontal Section Top-Coal Caving Face and Its Application—A Case Study of the Urumqi Coalfield, China
1
State Key Laboratory for Geomechanics & Deep Underground Engineering, School of Mechanics and Civil Engineering, China University of Mining and Technology, Xuzhou 221116, China
2
State Key Laboratory of Coal Resources and Safe Mining, School of Mines, China University of Mining and Technology, Xuzhou 221116, China
3
College of Earth and Mineral Sciences, the Pennsylvania State University, University Park, PA 16802, USA
4
Jiangou Coal Mine, Shenxin Energy Company, Urumqi 830001, China
*
Author to whom correspondence should be addressed.
Received: 2 August 2017 / Revised: 29 August 2017 / Accepted: 1 September 2017 / Published: 10 September 2017
Abstract
Abundant steeply-dipping thick coal seams (SDTCS) have been found in Xinjiang, China, and they are mined largely by the horizontal section top-coal caving (HSTCC) method. The hanging wall of the HSTCC face is nearly vertical and does not fracture easily after the underlying coal is extracted. As a result, stress tends to concentrate in the hanging wall of the lower-section working face (LSWF) and then induce dynamic disasters. In this study, a mechanical model of a HSTCC face's hanging wall in steeply-dipping seams was constructed to study the characteristics of hanging wall deformation. The mechanism of hanging wall pressure relief by deep-hole blasting (DHB) was analyzed and the effectiveness of DHB was investigated by simulation using the LS-DYNA software. Based on these studies, parameters relevant to pressure relief by DHB were determined and then DHB was applied to the 4301 working face in the Jiangou coal mine. The results show that the average pressure of measured at the 4301 working face decreased about 34% from those at the 4501 face where the hanging wall was not blasted. Accidents related to dynamic rock pressure, such as support crushing and large-scale rib fall, did not occur at the 4301 working face throughout the mining process. Additionally, in order to constrain the surface "V"-shaped collapsed grooves induced by repeated mining of HSTCC faces and prevent the subsequent failure of the surrounding rock on the sides of the collapsed grooves, loess was used to fill in the grooves to provide constraint and dynamic control on the surrounding rock. The two complementary technologies proposed in this study provide a guide on how to control hanging wall of SDTCS in similar conditions.
View Full-Text
►

▼

Figures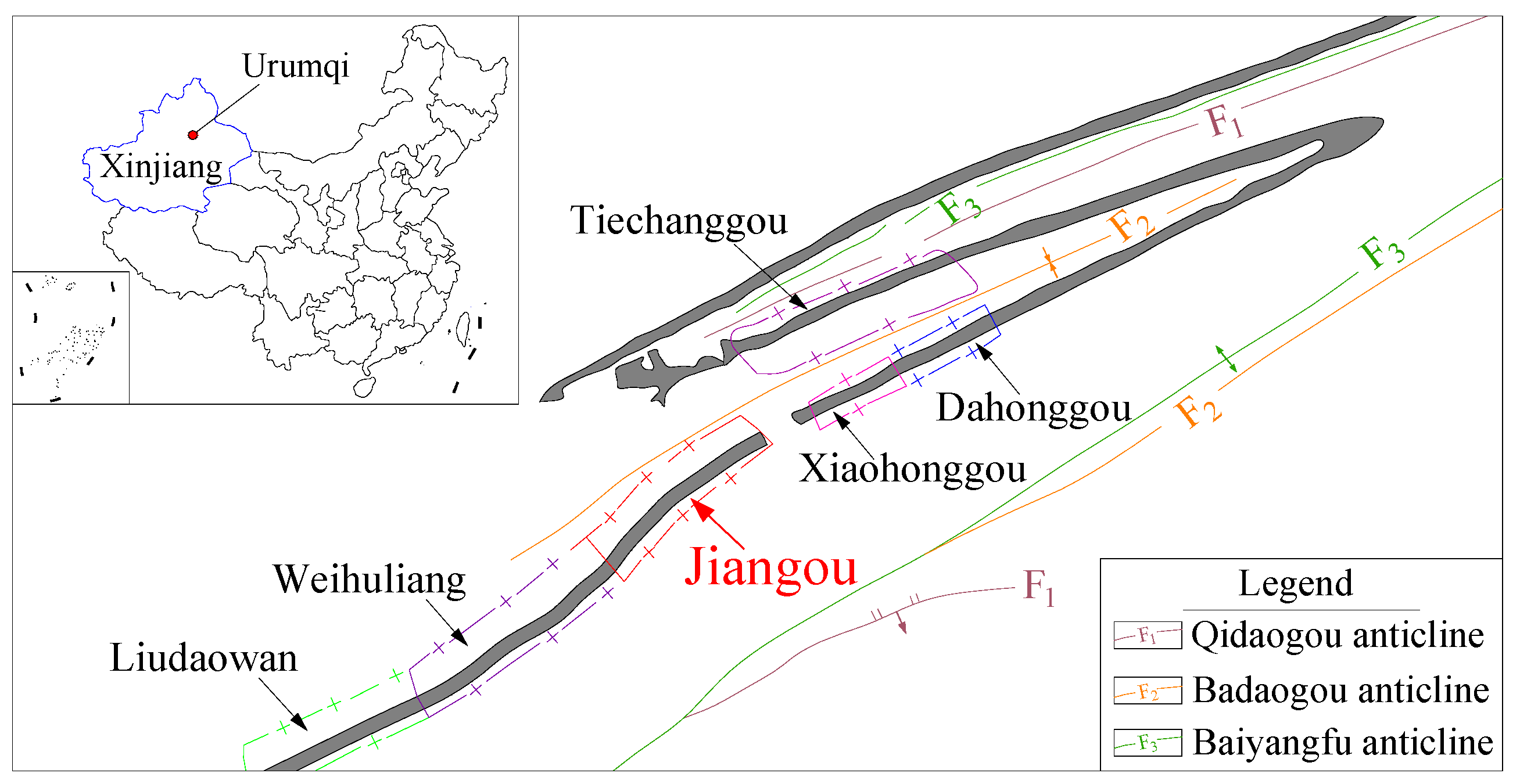 Figure 1
This is an open access article distributed under the
Creative Commons Attribution License
which permits unrestricted use, distribution, and reproduction in any medium, provided the original work is properly cited. (CC BY 4.0).
Share & Cite This Article
MDPI and ACS Style
Guo, J.; Ma, L.; Wang, Y.; Wang, F. Hanging Wall Pressure Relief Mechanism of Horizontal Section Top-Coal Caving Face and Its Application—A Case Study of the Urumqi Coalfield, China. Energies 2017, 10, 1371.
Note that from the first issue of 2016, MDPI journals use article numbers instead of page numbers. See further details here.
Related Articles
Comments
[Return to top]