Comparison of Modelled and Measured Tilted Solar Irradiance for Photovoltaic Applications
1
Institute for Meteorology and Climatology, Leibniz Universität Hannover, Herrenhäuser Straße 2, 30419 Hannover, Germany
2
Valentin Software GmbH, Stralauer Platz 34, 10243 Berlin, Germany
3
Physikalisch-Technische Bundesanstalt (PTB), Bundesallee 100, 38116 Braunschweig, Germany
*
Author to whom correspondence should be addressed.
Received: 9 August 2017 / Revised: 10 October 2017 / Accepted: 16 October 2017 / Published: 25 October 2017
Abstract
This work assesses the performance of five transposition models that estimate the global and diffuse solar irradiance on tilted planes based on the global horizontal irradiance. The modelled tilted irradiance values are compared to measured one-minute values from pyranometers and silicon sensors tilted at different angles at Hannover (Germany) and NREL (Golden, CO, USA). It can be recognized that the deviations of the model of Liu and Jordan, Klucher and Perez from the measurements increases as the tilt angle increases and as the sensors are oriented away from the south direction, where they receive lower direct radiation than south-oriented surfaces. Accordingly, the vertical E, W and N planes show the highest deviation. Best results are found by the models from Hay and Davies and Reindl, when horizontal pyranometer measurements and a constant albedo value of 0.2 are used. The relative root mean squared difference (rRMSD) of the anisotropic models does not exceed 11% for south orientation and low inclination angles (
β
= 10–60°), but reaches up to 28.9% at vertical planes. For sunny locations such as Golden, the Perez model provides the best estimates of global tilted irradiance for south-facing surfaces. The relative mean absolute difference (rMAD) of the Perez model at NREL ranges from 4.2% for 40° tilt to 8.7% for 90° tilt angle, when horizontal pyranometer measurements and a measured albedo value are used; the use of measured albedo values instead of a constant value of 0.2 leads to a reduction of the deviation to 3.9% and 6.0%, respectively. The use of higher albedo values leads to a significant increase of rMAD. We also investigated the uncertainty resulting from using horizontal pyranometer measurements, in combination with constant albedo values, to estimate the incident irradiance on tilted photovoltaic (PV) modules. We found that these uncertainties are small or negligible.
View Full-Text
►

▼

Figures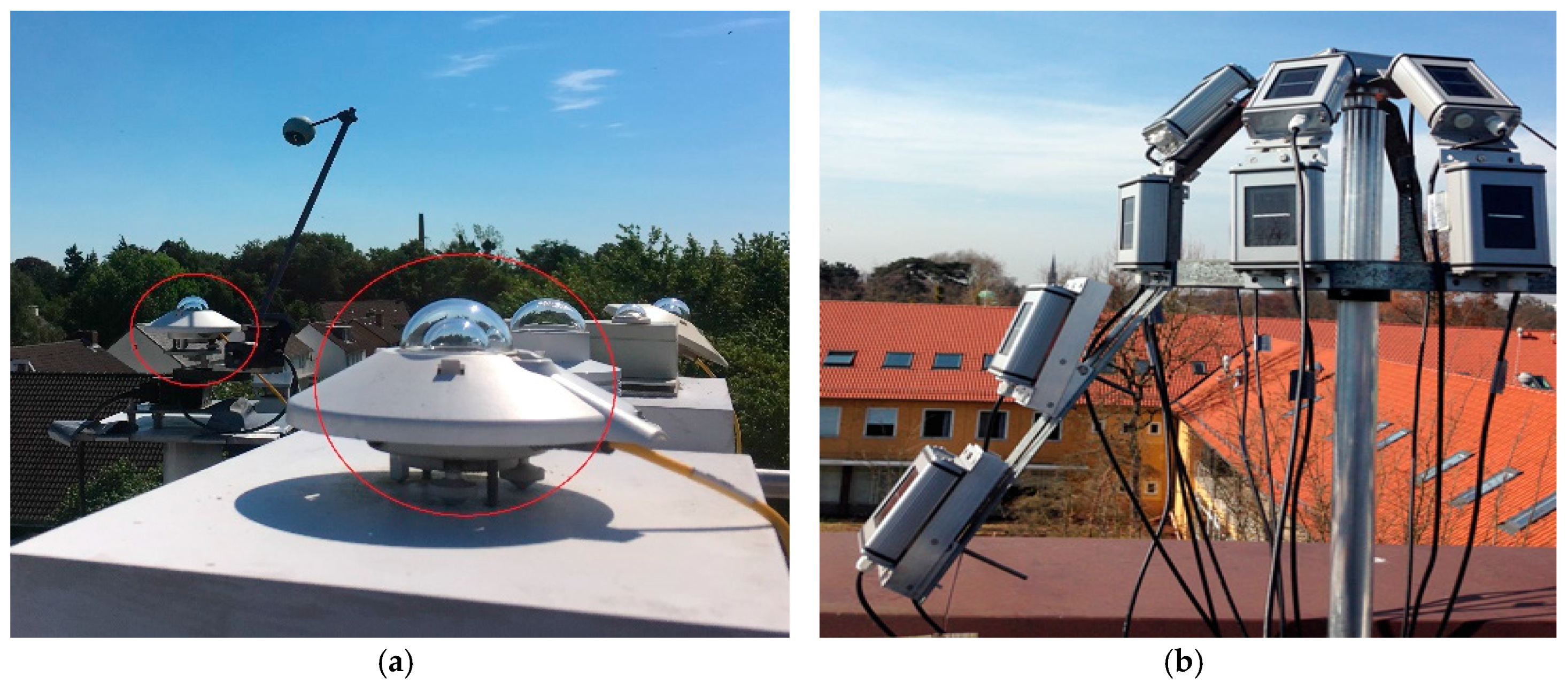 Figure 1
This is an open access article distributed under the
Creative Commons Attribution License
which permits unrestricted use, distribution, and reproduction in any medium, provided the original work is properly cited. (CC BY 4.0).
Share & Cite This Article
MDPI and ACS Style
Mubarak, R.; Hofmann, M.; Riechelmann, S.; Seckmeyer, G. Comparison of Modelled and Measured Tilted Solar Irradiance for Photovoltaic Applications. Energies 2017, 10, 1688.
Note that from the first issue of 2016, MDPI journals use article numbers instead of page numbers. See further details here.
Related Articles
Comments
[Return to top]