Urinary Concentrations of Dialkylphosphate Metabolites of Organophosphorus Pesticides: National Health and Nutrition Examination Survey 1999–2004
1
Emory University, Rollins School of Public Health, 1518 Clifton Rd., Atlanta, GA 30322, USA
2
Centers for Disease Control and Prevention, National Center for Environmental Health, 1600 Clifton Rd., Atlanta, GA 30333, USA
*
Author to whom correspondence should be addressed.
Received: 25 May 2011 / Revised: 29 June 2011 / Accepted: 8 July 2011 / Published: 25 July 2011
Abstract
Organophosphorus (OP) insecticides were among the first pesticides that EPA reevaluated as part of the Food Quality Protection Act of 1996. Our goal was to assess exposure to OP insecticides in the U.S. general population over a six-year period.
We analyzed 7,456 urine samples collected as part of three two-year cycles of the National Health and Nutrition Examination Survey (NHANES) from 1999–2004. We measured six dialkylphosphate metabolites of OP pesticides to assess OP pesticide exposure. In NHANES 2003–2004, dimethylthiophosphate was detected most frequently with median and 95th percentile concentrations of 2.03 and 35.3 µg/L, respectively. Adolescents were two to three times more likely to have diethylphosphate concentrations above the 95th percentile estimate of 15.5 µg/L than adults and senior adults. Conversely, for dimethyldithiophosphate, senior adults were 3.8 times and 1.8 times more likely to be above the 95th percentile than adults and adolescents, respectively, while adults were 2.1 times more likely to be above the 95th percentile than the adolescents. Our data indicate that the most vulnerable segments of our population—children and older adults—have higher exposures to OP pesticides than other population segments. However, according to DAP urinary metabolite data, exposures to OP pesticides have declined during the last six years at both the median and 95th percentile levels.
View Full-Text
►

▼

Figures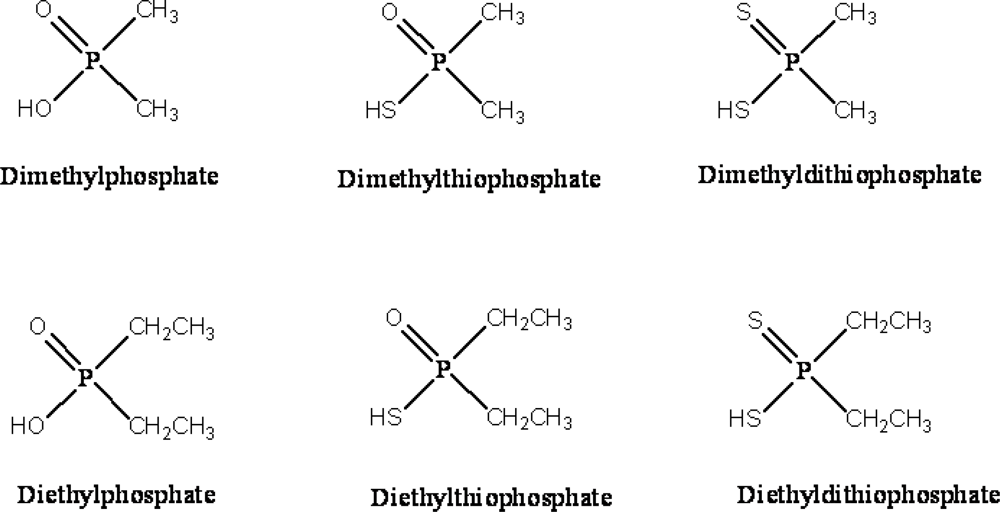 Share & Cite This Article
MDPI and ACS Style
Barr, D.B.; Wong, L.-Y.; Bravo, R.; Weerasekera, G.; Odetokun, M.; Restrepo, P.; Kim, D.-G.; Fernandez, C.; Jr., R.D.W.; Perez, J.; Gallegos, M.; Williams, B.L.; Needham, L.L. Urinary Concentrations of Dialkylphosphate Metabolites of Organophosphorus Pesticides: National Health and Nutrition Examination Survey 1999–2004. Int. J. Environ. Res. Public Health 2011, 8, 3063-3098.
Related Articles
Comments
[Return to top]