Pulsed Ultraviolet Light Reduces Immunoglobulin E Binding to Atlantic White Shrimp (Litopenaeus setiferus) Extract
1
Department of Food Science & Human Nutrition, University of Florida, P.O. Box 110370, 359 FSHN Bldg. Newell Drive, Gainesville, FL 32611, USA
2
Southern Regional Research Center, Agricultural Research Service, U.S. Department of Agriculture, 1100 Robert E. Lee Blvd., Bldg 001 SRRC, New Orleans, LA 70124, USA
*
Author to whom correspondence should be addressed.
Received: 18 May 2011 / Accepted: 19 June 2011 / Published: 24 June 2011
Abstract
Pulsed ultraviolet light (PUV), a novel food processing and preservation technology, has been shown to reduce allergen levels in peanut and soybean samples. In this study, the efficacy of using PUV to reduce the reactivity of the major shrimp allergen, tropomyosin (36-kDa), and to attenuate immunoglobulin E (IgE) binding to shrimp extract was examined. Atlantic white shrimp (
Litopenaeus setiferus
) extract was treated with PUV (3 pulses/s, 10 cm from light source) for 4 min. Tropomyosin was compared in the untreated, boiled, PUV-treated and [boiled+PUV]-treated samples, and changes in the tropomyosin levels were determined by sodium dodecyl sulfate-polyacrylamide gel electrophoresis (SDS-PAGE). IgE binding of the treated extract was analyzed via immunoblot and enzyme-linked immunosorbent assay (ELISA) using pooled human plasma containing IgE antibodies against shrimp allergens. Results showed that levels of tropomyosin and IgE binding were reduced following PUV treatment. However, boiling increased IgE binding, while PUV treatment could offset the increased allergen reactivity caused by boiling. In conclusion, PUV treatment reduced the reactivity of the major shrimp allergen, tropomyosin, and decreased the IgE binding capacity of the shrimp extract.
View Full-Text
►

▼

Figures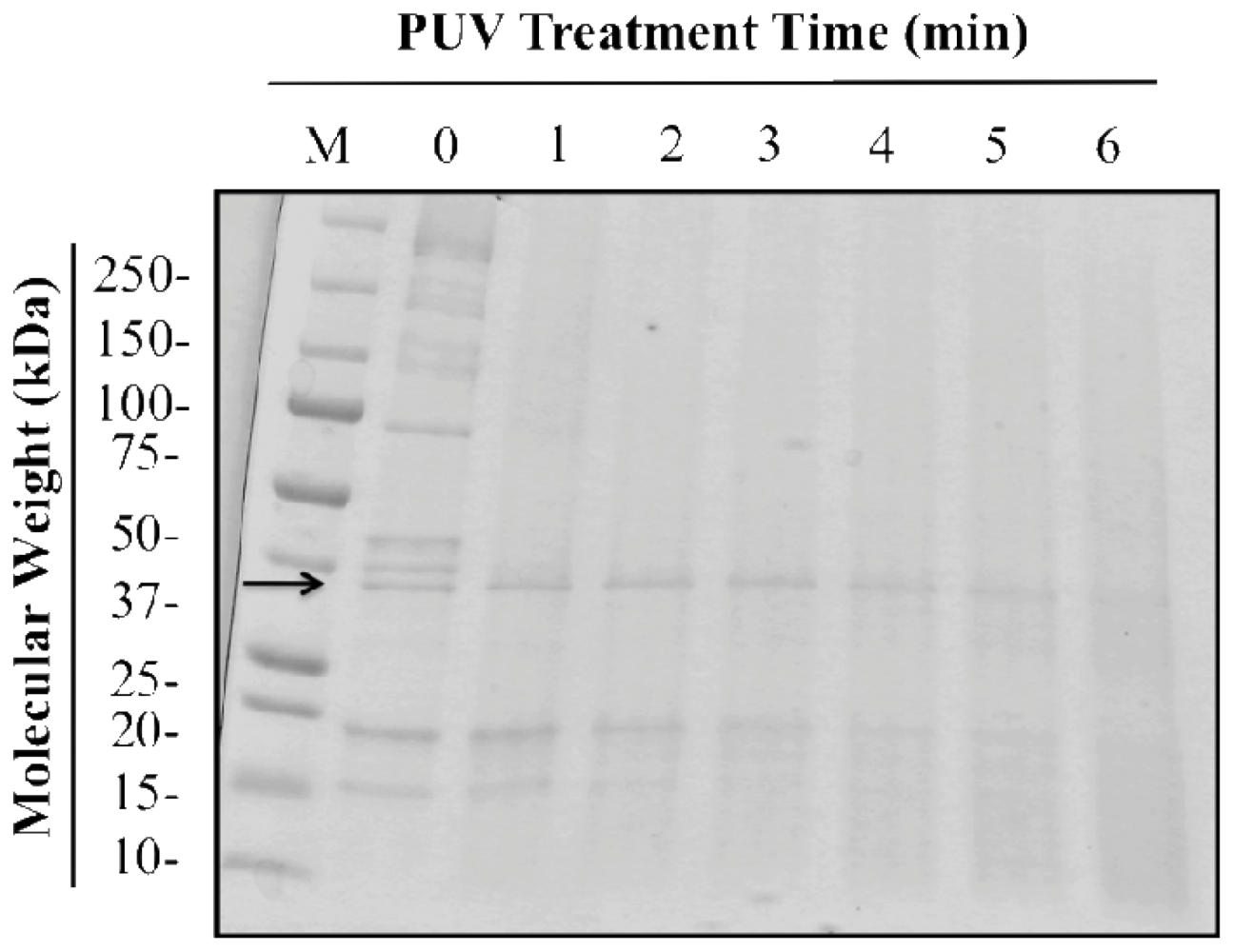 Share & Cite This Article
MDPI and ACS Style
Shriver, S.; Yang, W.; Chung, S.-Y.; Percival, S. Pulsed Ultraviolet Light Reduces Immunoglobulin E Binding to Atlantic White Shrimp (Litopenaeus setiferus) Extract. Int. J. Environ. Res. Public Health 2011, 8, 2569-2583.
Related Articles
Comments
[Return to top]