Open Access This article is
freely available
re-usable
Article
The Global Challenge of Antimicrobial Resistance: Insights from Economic Analysis
1
Shorenstein Asia-Pacific Research Center, Stanford University, 616 Serra Road, Encina Hall, Stanford, CA 94305, USA
2
Global Investment Research, Goldman Sachs International, Peterborough Court, 133 Fleet Street, London EC4A 2BB, UK
3
John F. Kennedy School of Government, Harvard University, 79 John F. Kennedy Street, Cambridge, MA 02138, USA
*
Author to whom correspondence should be addressed; Tel.: +1-650-723-9072; Fax: +1-650-723-6530.
Received: 24 June 2010; in revised form: 27 July 2010 / Accepted: 30 July 2010 / Published: 9 August 2010
Abstract
:
The prevalence of antimicrobial resistance (AR) limits the therapeutic options for treatment of infections, and increases the social benefit from disease prevention. Like an environmental resource, antimicrobials require stewardship. The effectiveness of an antimicrobial agent is a global public good. We argue for greater use of economic analysis as an input to policy discussion about AR, including for understanding the incentives underlying health behaviors that spawn AR, and to supplement other methods of tracing the evolution of AR internationally. We also discuss integrating antimicrobial stewardship into global health governance.
Keywords:
antimicrobial resistance; economic analysis; drug resistance; behavioral economics
1. Introduction
The prevalence of drug resistance limits the therapeutic options for treatment of infections, and contributes to the global specter of a "post-antimicrobial era" in which some of the most effective tools in the physician's armamentarium—including antibiotics, anti-tuberculosis and anti-malarial drugs—lose their effectiveness [
1
–
8
].
The objective of this paper is to illustrate how economic analysis can be a useful input to policy discussion about AR in at least three areas: understanding the incentives for health behaviors that contribute to resistance; analyzing the evolution of international resistance patterns; and contributing toward effective international governance of AR. We first discuss economic incentives surrounding health behaviors that lead to development of drug resistance. Next, to illustrate the potential for economic analysis to contribute to understanding the global evolution of resistance, we report a preliminary study of the correlation between resistance patterns across three selected countries. We conclude with a short discussion of proposals for confronting the antimicrobial resistance challenge and a summary of our arguments.
2. Behavior and the Economics of Antimicrobial Resistance
Under-use often co-exists with overuse of low-price, first-line drugs. Both breed resistance. Analyzing the underlying incentives driving under- and over-use can be important for understanding how policies will impact AR. Consider, for example, the likely effects of recent insurance expansions towards universal coverage in the U.S. and China. Increased access to care, including medications, can exacerbate AR when overuse is already a problem because of high levels of use (in the U.S.) or strong incentives for over-prescribing (in China). By contrast, among the poorest in China and in low-income countries, expanded access to care could potentially slow the pace of AR by enabling patients to access a full course of treatment or use a most costly but more effective and less resistance-prone medication.
Economic evaluations of global health initiatives should also take account of AR. Development of resistance, an unavoidable side effect of even prudent antibiotic use, accelerates when antimicrobials are used inappropriately. Because of this negative externality from antimicrobial treatment, the social benefit from disease prevention is higher than it otherwise would be. Unfortunately this extra benefit from prevention is not routinely incorporated into the evidence base used to inform global population health policies.
3. The Global Evolution of Antimicrobial Resistance
Numerous scholars have chronicled the seemingly inexorable increase in antimicrobial resistance and its costs, including increased treatment spending, greater morbidity, and higher mortality. In a recent review of antimicrobial resistance in developing countries, Okeke
et al.
[
12
, p.481] find that "the general picture is one of accelerating rates of resistance spurred by antimicrobial misuse and shortfalls in infection control and public health. Reservoirs for resistance may be present in healthy human and animal populations." In particular, the accumulating evidence base suggests that "the prevalence of resistance in seminal developing country pathogens is high and rising" [
13
, p.568]. For example,
Figure 1
illustrates the high resistance rates to anti-Tuberculosis drugs in areas with low per capita resources. (By contrast, high-income countries like the US have among the world's highest rates of resistance to second- and third-line drugs, such as vancomycin among antibiotics [
21
].)
Of course, the problem of AR is exceedingly complex; we are not suggesting that merely examining correlations between GDP and resistance will by itself contribute to an effective policy response. Many environmental, behavioral, financial and institutional factors shape the problem. Our point is simply that further research should seek to uncover how economic analysis can complement other disciplines in contributing to a better understanding of the complicated forces driving AR.
For example, the literature to date provides little evidence on whether the pace of integration of global commodity markets and flows of people affect countries' patterns of antimicrobial resistance. Yet with globalization trends accelerating, economic analysis of international resistance patterns could be a useful input to policy discussion.
Clearly countries' burdens of disease and healthcare practices shape the constellation of antimicrobial use and selection pressure. Correlation of resistance patterns across countries could arise for a number of reasons. Ease of international travel might lead to convergence of resistance patterns among countries that deal more with each other. However, some drugs—such as first-generation and cheaper antimicrobials—are more likely to see widespread use across countries of widely varying resources regardless of global openness, and some "bug-drug" pairs are simply more prone to develop resistance.
To begin to examine these issues, we constructed coefficients of resistance correlation among three countries for which we had some comparable data: China, the U.S. and Kuwait. China and the U.S. are both large, diverse countries that are major consumers of antibiotics. Kuwait is included to examine patterns for a far smaller economy that is geographically distant from the U.S. and China [
21
]. We ranked resistance rates for 24 "bug-drug" pairs and defined perfect correlation as each bug-drug pair displaying the same resistance rank. Perfect negative correlation would exist if the ranks in two countries go in precisely the opposite order.
More specifically, we compute a Spearman's correlation coefficient statistic as follows:
where i = pair i of the 24 pairs and
rka
and
rkb
represent ranks of bug-drug pair i in countries a and b, respectively. The statistic by definition is bounded between −1 and 1, where −1 means perfect disagreement while 1 means perfect agreement. Thus the bigger the statistic, the more correlated the two countries' resistance patterns are.
We find that resistance rates in China are much more strongly correlated with those in Kuwait than those in the U.S. Specifically, the Spearman's correlation coefficient as defined above is low (0.18) and not statistically significant (t = 0.85) for the U.S. and China; of moderate magnitude and significance (0.46, t = 2.43) for the U.S. and Kuwait; and strong and highly significant (0.60, t = 3.52) for China and Kuwait [
21
]. These findings appear to indicate that resistance in a country is determined primarily by country-specific factors associated with economic development, such as strictness of practices for prescribing drugs. It would be interesting to study such patterns of correlation across a broader set of countries, as well as how the patterns evolve over time.
Numerous scientific techniques make tracing patterns of antimicrobial resistance increasingly possible and less costly. Drug susceptibility testing is critical for appropriate clinical treatment, and that data can feed into surveillance efforts. Identification of specific antibiotic resistance genes is becoming increasingly feasible in some settings as well [
23
]. To these methods we suggest adding social science research to examine the correlations between patterns of antimicrobial resistance and socioeconomic factors such as social determinants of health-seeking behavior, healthcare provider incentives, and measures of economic integration across regions. Metrics of drug resistance correlation await further refinement. We hope that others will build upon these methods for examining the global evolution of antimicrobial resistance.
4. Integrating Antimicrobial Stewardship into Global Health Governance
5. Conclusions
It was not so long ago that prominent reports on environmental challenges failed to identify global climate change as a key threat, yet few other issues have greater prominence on the environmental agenda for the twenty-first century [
28
,
29
]. Drawing a parallel to antimicrobial resistance is natural. The challenge of antimicrobial resistance should move to the forefront of the global public health agenda in the decades to come.
We argue that in at least three important arenas, economic analysis can be a useful input for policy about AR: analyzing and shaping the incentives that drive health behaviors such as over-use and under-use that contribute to resistance; quantifying the evolution of international resistance patterns; and helping to understand how public-private partnerships can contribute to effective international governance of antimicrobial effectiveness as a global public good.
This paper has several limitations. We confine ourselves to a short discussion of some salient issues; a more detailed exploration awaits further research. Our illustration of a potential method for tracing evolution of resistance patterns includes only three countries and a limited number of "bug-drug" pairs for each country. No claim can be made of global representativeness or generalizability. Moreover, some of the economic concepts we apply may be less familiar to medical or environmental science experts. We hope the limitations of our analysis will prompt others to pursue further research to uncover how economic analysis can complement other disciplines in contributing to a better understanding of the complicated forces driving resistance.
In sum, many institutional, environmental, behavioral, and financial factors shape the global AR problem. Health economists and other social scientists studying health policy should play an important role in understanding the behaviors that underlie AR and how to design incentives to coordinate a global response.
Acknowledgments
The authors gratefully acknowledge financial support from the Kuwait Foundation for the Advancement of Sciences through the John F. Kennedy School of Government at Harvard University and thank Qiong Zhang for research assistance.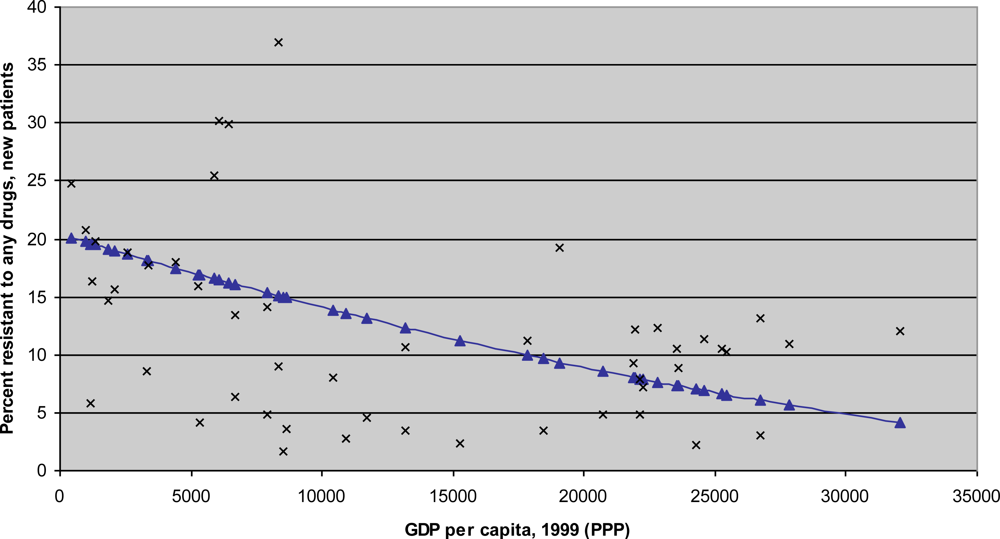 Figure 1.
The relationship between GDP per capita and resistance to any anti-Tuberculosis drug.Source: Authors' calculations based on resistance data from [
22
]. The resistance data is for 1999 or latest available year at the time of that publication. The curve in blue results from weighting each country's TB resistance rate by that country's TB population. The TB population in each country is calculated by multiplying its TB prevalence rate by its total population. For two large countries with different reported resistance rates across provinces, China and Russia, the national resistance rates are calculated as a weighted average of the reported provincial resistance rates, where the weights represent the TB population of the relevant province(s). Data on Gross Domestic Product (GDP) per capita for 1999 comes from the World Bank's World Development Indicators database, available through
http://www.worldbank.org/data/
. GDP per capita is expressed in internationally comparable dollars using purchasing power parity (PPP).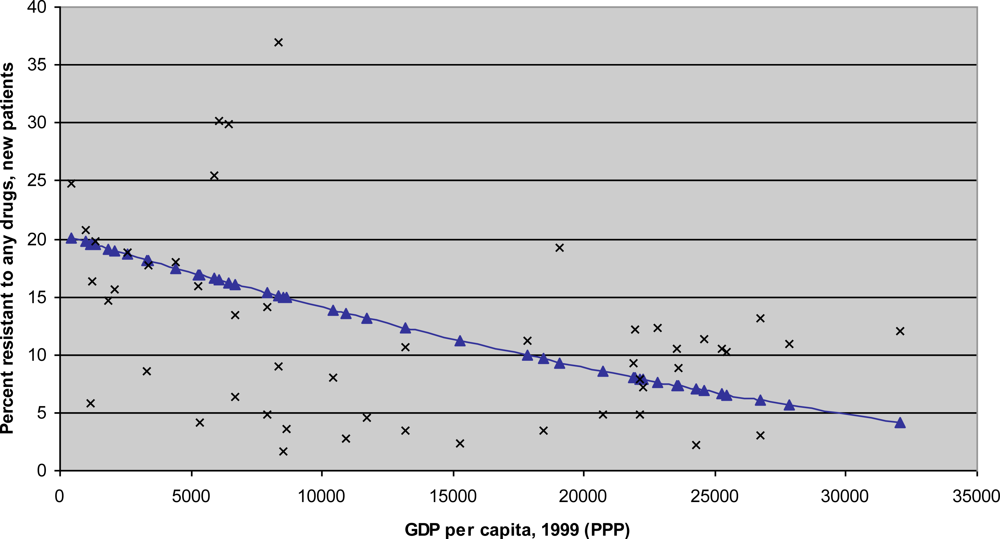 © 2010 by the authors; licensee Molecular Diversity Preservation International, Basel, Switzerland. This article is an open-access article distributed under the terms and conditions of the Creative Commons Attribution license (http://creativecommons.org/licenses/by/3.0/).