Basic Apoptotic Mechanisms of Lead Toxicity in Human Leukemia (Hl-60) Cells
Cellomics and Toxicogenomics Research Laboratory, NIH-Center for Environmental Health, College of Science, Engineering and Technology, Jackson State University, 1400 Lynch Street, P.O. Box 18540, Jackson, MS 39217, USA
*
Author to whom correspondence should be addressed.
Received: 13 January 2010 / Revised: 26 March 2010 / Accepted: 3 April 2010 / Published: 28 April 2010
Abstract
Lead exposure represents a medical and public health emergency, especially in children consuming high amounts of lead-contaminated flake paints. It may also cause hematological effects to people of all ages. Recent studies in our laboratory have indicated that apoptosis may be associated with the lead-induced oxidative stress and DNA damage. However, the mechanisms underlying its effect on lymphocytes are still largely unknown. Therefore, the aim of the present study was to investigate the apoptotic mechanisms of lead nitrate [Pb(NO
3
)
2
] using HL-60 cells as a test model. HL-60 cells were treated with different concentrations of Pb(NO
3
)
2
for 24 h prior to cell viability assay and flow cytometry assessment. The results obtained from the trypan blue exclusion test indicated that at very low concentration, Pb(NO
3
)
2
has no effect on the viability of HL-60 cells. A significant (
p
<
0.05
) decrease in cell viability was observed when exposed to high level of Pb(NO
3
)
2
. Data generated from the flow cytometric assessment indicated that Pb(NO
3
)
2
exposure significantly (
p
<
0.05
) increased the proportion of annexin V positive cells (apoptotic cells) compared to the control. Pb(NO
3
)
2
induced apoptosis of HL-60 cells was associated with the activation of caspase-3. In summary, these studies demonstrated that Pb(NO
3
)
2
represents an apoptosis-inducing agent in HL-60 promyelocytic leukemia cells and its apoptotic mechanism functions, at least in part via, induction of phosphatidylserine externalization and caspase-3 activation.
View Full-Text
►

▼

Figures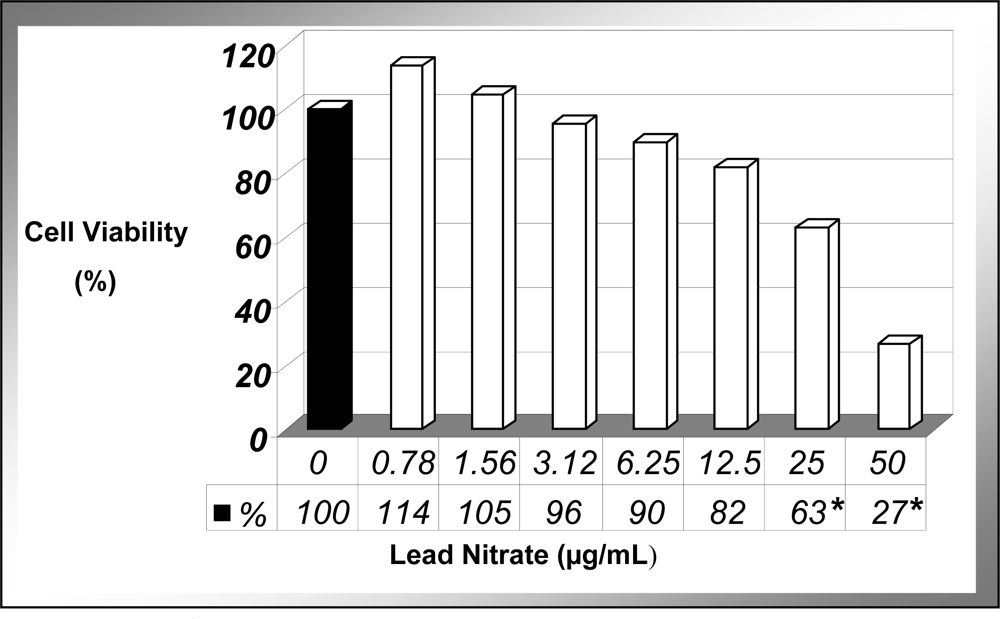 Share & Cite This Article
MDPI and ACS Style
Yedjou, C.G.; Milner, J.N.; Howard, C.B.; Tchounwou, P.B. Basic Apoptotic Mechanisms of Lead Toxicity in Human Leukemia (Hl-60) Cells. Int. J. Environ. Res. Public Health 2010, 7, 2008-2017.
Related Articles
Comments
[Return to top]