Open Access This article is
freely available
re-usable
Article
Effects of Youth Tobacco Access and Possession Policy Interventions on Heavy Adolescent Smokers
2
University of Florida, Department of Health Education & Behavior, P.O. Box 118210 / FLG - 5 Gainesville, FL 32611-8210, USA; E-mail:
spokorny@hhp.ufl.edu
(S. B. P.)
3
National Cancer Institute, 6116 Executive Boulevard, Room 3036A, Bethesda, MD 20892-8322, USA; E-mail:
yvonnehunt@gmail.com
(Y. H.)
* Author to whom correspondence should be addressed; E-mail: ljason@depaul.edu; Tel.: +1-773-325-2018
Received: 29 October 2008 / Accepted: 17 December 2008 / Published: 23 December 2008
Abstract
: This study evaluated the effects of tobacco PUP (Purchase, Use and Possession) laws on tobacco use patterns among students in twenty-four towns, which were randomly assigned into an experimental and a control group. The experimental group involved both PUP law enforcement and reducing minors' access to commercial sources of tobacco, and the condition for the control group involved only efforts to reduce minors' access to commercial sources of tobacco. The present study found that adolescents in the control group had a significantly greater increase in the percentage of youth who smoked 20 or more cigarettes per day when compared to the experimental group.
Keywords:
PUP laws; minors' access to tobacco
The authors appreciate the funding provided by the National Cancer Institute (grant number CA80288). We also appreciate the help provided by Michael Schoeny in setting up the data set and data cleaning, as well as Jonathan Cook in statistical consultation during data analysis.
References and Notes
Gottlieb, NH; Loukas, A; Corrao, M; McAlister, A; Snell, C; Huang, PP. Minors' tobacco possession law violations and intentions to smoke: Implications for tobacco control.

Tob. Control

2004,

13

, 237–243, doi:10.1136/tc.2003.003988.

15333878

Jason, LA; Pokorny, SB; Adams, M; Hunt, Y; Gadiraju, P; Morello, T; Schoeny, M; Dinwiddie, C. Youth caught in violation of tobacco purchase, use and possession laws: Education versus fines.

Behav. Modif

2007,

31

, 713–731, doi:10.1177/0145445506298720.

17932232

Langer, L; Warheit, G. Teen tobacco court: A determination of the short term outcomes of judicial processes with teens engaging in tobacco possession.

Adolescent Fam. Health

2000,

1

, 5–10.
Lazovich, D; Ford, J; Forster, J; Riley, B. A pilot study to evaluate a tobacco diversion program.

Am. J. Public Health

2001,

91

, 1790–1975, doi:10.2105/AJPH.91.11.1790.

11684602

Livingood, WC; Woodhouse, CD; Sayre, JJ; Wludyka, P. Impact study of tobacco possession law enforcement in Florida.

Health Educ. Behav

2001,

28

, 733–748, doi:10.1177/109019810102800606.

11720275

Jason, LA; Pokorny, SB; Schoeny, M. Evaluating the effects of enforcements and fines on youth smoking.

Crit. Pub. Health

2003,

13

, 33–45, doi:10.1080/0958159031000100189.
Wakefield, M; Giovino, G. Teen penalties for tobacco possession, use and purchase: Evidence and issues.

Tob. Control

2003,

12

, i6–i13, doi:10.1136/tc.12.suppl_1.i6.

12773781

Jason, LA; Pokorny, SB; Adams, M; Hunt, Y. A randomized trial evaluating tobacco possession-use-purchase laws in the USA.

Soc. Sci. Med

2008,

67

, 1700–1707, doi:10.1016/j.socscimed.2008.09.028.

18947913

Jason, LA; Hunt, YM; Adams, M; Pokorny, SB; Gadiraju, PB. Strengthening communities' youth access policies may facilitate clean indoor air action.

Prev. Chronic. Dis

2007,

4

, A113.

17875257

Pokorny, SB; Jason, LA; Schoeny, ME. Effects of retail tobacco availability on initiation and continued cigarette smoking.

J. Clin. Child Adolesc. Psychol

2003,

32

, 193–204, doi:10.1207/S15374424JCCP3202_4.

12679277

Cornelius, JR; Lynch, K; Martin, CS; Cornelius, MD; Clark, DB. Clinical correlates of heavy tobacco use among adolescents.

Addict. Behav

2001,

26

, 273–277, doi:10.1016/S0306-4603(00)00088-5.

11316382

Sussman, S. Effects of sixty six adolescent tobacco use cessation trials and seventeen prospective studies of self-initiated quitting.

Tob. Induce. Dis

2002,

1

, 35–81.
Henningfield, JE; Michaelides, T; Sussman, S. Developing treatment for tobacco addicted youth-issues and challenges.

J. Child Adolesc. Subst. Abuse

2000,

9

, 5–26, doi:10.1300/J029v09n04_02.
Altman, DG; Wheelis, AY; McFarlane, M; Lee, HR; Fortmann, SP. The relationship between tobacco access and use among adolescents: A four community study.

Soc. Sci. Med

1999,

48

, 759–775, doi:10.1016/S0277-9536(98)00332-3.

10190639

Rigotti, NA; DiFranza, JR; Chang, Y; Tisdale, T; Kemp, B; Singer, DE. The effect of enforcing tobacco sales laws on adolescents' access to tobacco and smoking behavior.

N. Engl. J. Med

1997,

337

, 1044–1051, doi:10.1056/NEJM199710093371505.

9321533

Raudenbush, SW; Bryk, AS; Congdon, RT.

HLM Version 6.03

; Scientific Software International: Chicago, USA, 2006.
Kahneman, D; Tversky, A. Judgement under uncertainty: Heuristics and biases.

Science

1974,

185

, 1124–1131, doi:10.1126/science.185.4157.1124.

17835457

Perkins, HW; Wechsler, H. Variation in perceived college drinking norms and its impact on alcohol abuse: A nationwide study.

J. Drug Issues

1996,

26

, 961–975.
Leventhal, H; Fleming, R; Glynn, K.

A cognitive-developmental approach to smoking intervention.

In

Topics in Health Psychology

; Maes, S, Spielberger, CD, Defares, PB, Sarason, IG, Eds.; Oxford University Press: New York, USA, 1988; pp. 79–105.
Alesci, N; Forster, J; Blaine, T. Smoking visibility, perceived acceptability and frequency in various locations among youth and adults.

Prev. Med

2003,

36

, 272–281, doi:10.1016/S0091-7435(02)00029-4.

12634018

Milton, MH; Maule, CO; Backinger, CL; Gregory, DM. Recommendations and guidance for practice in youth tobacco cessation.

Am. J. Health Behav

2003,

27

, 159–169.
Hawkins, JD; Catalano, RF; Arthur, MW. Promoting science-based prevention in communities.

Addict. Behav

2002,

27

, 951–976, doi:10.1016/S0306-4603(02)00298-8.

12369478

Cummings, KM. Programs and policies to discourage the use of tobacco products.

Oncogene

2002,

21

, 7349–7364, doi:10.1038/sj.onc.1205810.

12379878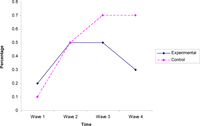 Figure 1. Participants Smoking 20 or More Cigarettes per Day.