Genotoxicity in child populations exposed to Polycyclic Aromatic Hydrocarbons (PAHs) in the air from Tabasco, Mexico
1
División Académica de Ciencias Básicas, Universidad Juárez Autónoma de Tabasco. Km 0.5 carretera Cunduacán-Jalpa de Méndez, Tabasco, México
2
División Académica de Ciencias Biológicas, Universidad Juárez Autónoma de Tabasco. Km 0.5 carretera Villahermosa- Cárdenas, Tabasco, México
3
Centro de Ciencias de la Atmósfera, Universidad Nacional Autónoma de México, Circuito Exterior, Ciudad Universitaria, México, D.F.
4
Laboratorio de Genómica, Instituto de Investigaciones Biomédicas, Universidad Nacional Autónoma de México, Circuito Exterior, Ciudad Universitaria, México, D.F.
*
Author to whom correspondence should be addressed.
Received: 18 September 2008 / Accepted: 5 December 2008 / Published: 31 December 2008
Abstract
The economy of the state of Tabasco is based on oil extraction. However, this imposes major effects to the environment and communities. Examples are the Polycyclic Aromatic Hydrocarbons (PAHs) that may be found in the soil, water and sediment of the region. Their volatility makes them available to living beings and results in genotoxic activity. The purpose of this study was to quantify the levels of PAHs in the air at several points in the state, and to analyze their relationship with possible damage to DNA on local inhabitants. Single Cell Gel Electrophoresis Assay (Comet Assay) was applied to peripheral blood lymphocytes of five groups of children between six and 15 years of age. PAH samples were analyzed following US/EPA TO-13-A method. Results indicated the presence in the air of most of the 16 PAHs considered as high priority by EPA, some of which have been reported with carcinogenic activity. Differences (p<0.05) were found between PAHs concentration in the gaseous component and in the particulate component of air samples, with the greatest values for the gaseous component. Greatest PAH concentrations were detected in areas with high oil extraction activities. Children groups from high oil activity areas presented genotoxic damage labeled from moderate to high according to DNA migration from nuclei (Tail Length: 14.2 - 42.14 μm and Tail/Head: 0.97 - 2.83 μm) compared with control group (12.25 and 0.63 μm, respectively). The group with greatest cell damage was located in the area with the greatest oil activity. We conclude that the presence of PAHs in the air may represent a health risk to populations that are chronically exposed to them at high oil activity regions.
View Full-Text
►

▼

Figures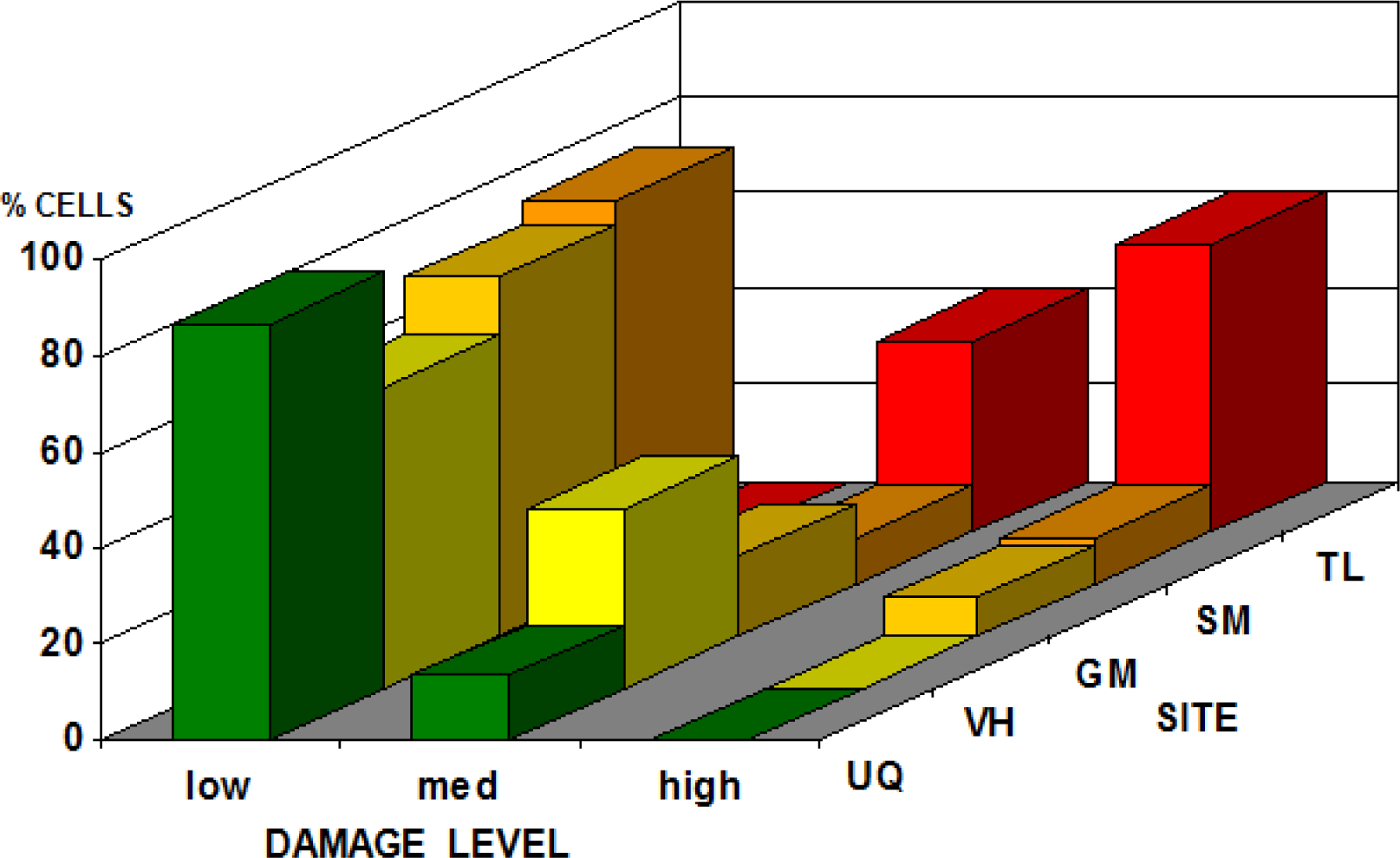 Share & Cite This Article
MDPI and ACS Style
Gamboa, R.T.; Gamboa, A.R.; Bravo, A.H.; Ostrosky, W.P. Genotoxicity in child populations exposed to Polycyclic Aromatic Hydrocarbons (PAHs) in the air from Tabasco, Mexico. Int. J. Environ. Res. Public Health 2008, 5, 349-355.
Related Articles
Comments
[Return to top]