Photoirradiation of Retinyl Palmitate in Ethanol with Ultraviolet Light - Formation of Photodecomposition Products, Reactive Oxygen Species, and Lipid Peroxides
1
National Center for Toxicological Research, U.S. Food and Drug Administration, Jefferson, AR 72079, USA
2
Center for Food Safety and Applied Nutrition, U.S. Food and Drug Administration, College Park, MD 20740, USA
3
Department of Chemistry, Jackson State University, Jackson, MS 39217, USA
*
Author to whom correspondence should be addressed.
Received: 16 February 2006 / Accepted: 5 June 2006 / Published: 30 June 2006
Abstract
We have previously reported that photoirradiation of retinyl palmitate (RP), a storage and ester form of vitamin A (retinol), with UVA light resulted in the formation of photodecomposition products, generation of reactive oxygen species, and induction of lipid peroxidation. In this paper, we report our results following the photoirradiation of RP in ethanol by an UV lamp with approximately equal UVA and UVB light. The photodecomposition products were separated by reversed-phase HPLC and characterized spectroscopically by comparison with authentic standards. The identified products include: 4-keto-RP, 11-ethoxy-12-hydroxy-RP, 13-ethoxy-14-hydroxy-RP, anhydroretinol (AR), and
trans
- and
cis
-15-ethoxy-AR. Photoirradiation of RP in the presence of a lipid, methyl linoleate, resulted in induction of lipid peroxidation. Lipid peroxidation was inhibited when sodium azide was present during photoirradiation which suggests free radicals were formed. Our results demonstrate that, similar to irradiation with UVA light, RP can act as a photosensitizer leading to free radical formation and induction of lipid peroxidation following irradiation with UVB light.
View Full-Text
►

▼

Figures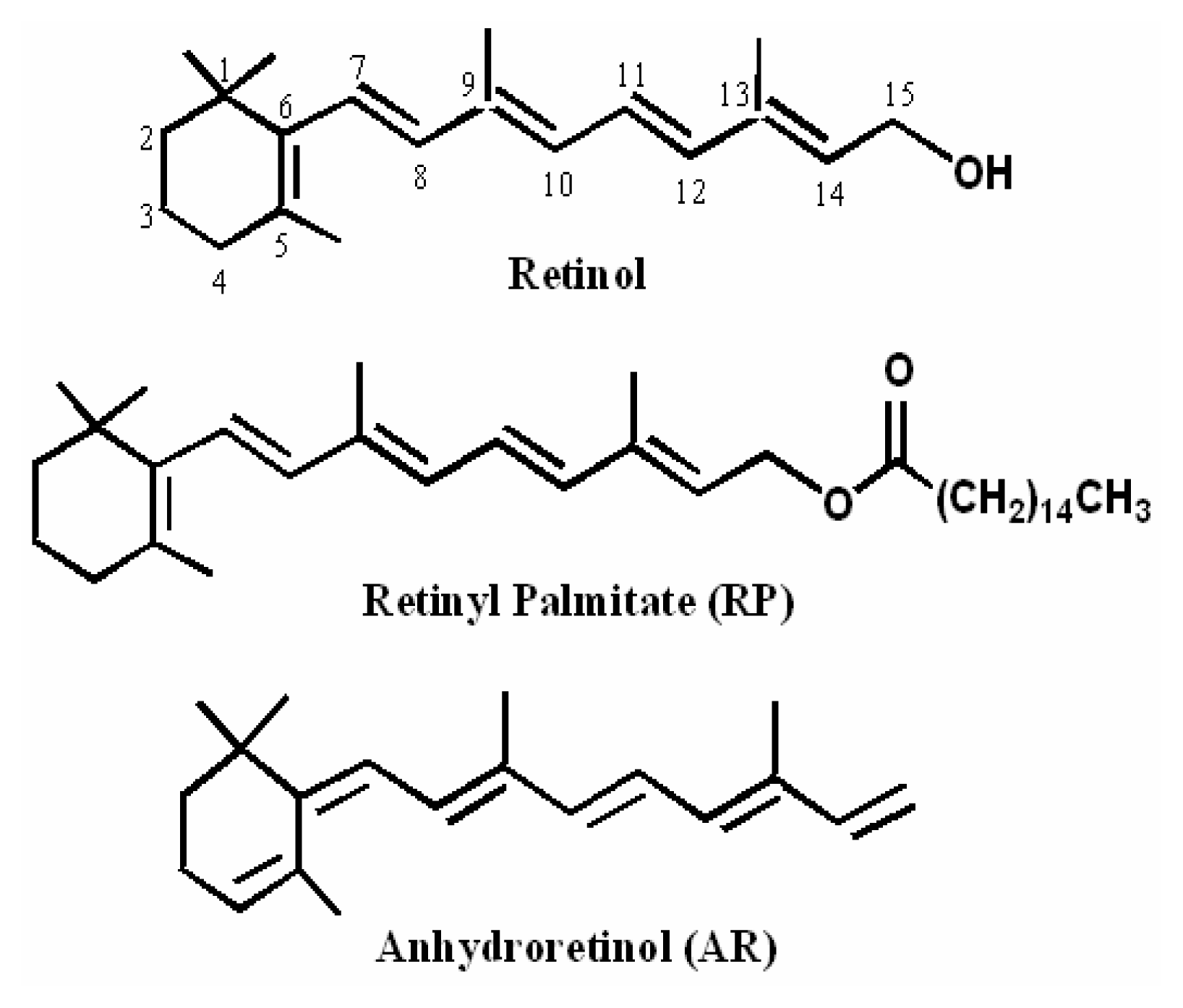 Share & Cite This Article
MDPI and ACS Style
Xia, Q.; Yin, J.J.; Wamer, W.G.; Cherng, S.-H.; Boudreau, M.D.; Howard, P.C.; Yu, H.; Fu, P.P. Photoirradiation of Retinyl Palmitate in Ethanol with Ultraviolet Light - Formation of Photodecomposition Products, Reactive Oxygen Species, and Lipid Peroxides. Int. J. Environ. Res. Public Health 2006, 3, 185-190.
Related Articles
Comments
[Return to top]