Neuregulin 1-Βeta Cytoprotective Role in AML 12 Mouse Hepatocytes Exposed to Pentachlorophenol
1
Molecular Toxicology Research Laboratory, Grambling State University, Grambling, LA, USA
2
Molecular Toxicology Research Laboratory, NIH-Center for Environmental Health, College of Science, Engineering, and Technology, Jackson State University, Jackson, MS, USA
3
Department of Anatomy and Neurobiology, Morehouse School of Medicine, Atlanta, GA, USA
*
Author to whom correspondence should be addressed.
Received: 17 September 2005 / Accepted: 1 March 2006 / Published: 31 March 2006
Abstract
Neuregulins are a family of growth factor domain proteins that are structurally related to the epidermal growth factor. Accumulating evidence has shown that neuregulins have cyto- and neuroprotective properties in various cell types. In particular, the neuregulin-1 βeta (NRG1-β) isoform is well documented for its antiinflammatory properties in rat brain after acute stroke episodes. Pentachlorophenol (PCP) is an organochlorine compound that has been widely used as a biocide in several industrial, agricultural, and domestic applications. Previous investigations from our laboratory have demonstrated that PCP exerts both cytotoxic and mitogenic effects in human liver carcinoma (HepG
2
) cells, primary catfish hepatocytes and AML 12 mouse hepatocytes. We have also shown that in HepG2 cells, PCP has the ability to induce stress genes that may play a role in the molecular events leading to toxicity and tumorigenesis. In the present study, we hypothesize that NRG1-β will exert its cytoprotective effects in PCP-treated AML 12 mouse hepatocytes by its ability to suppress the toxic effects of PCP. To test this hypothesis, we performed the MTT-cell respiration assay to assess cell viability, and Western-blot analysis to assess stress-related proteins as a consequence of PCP exposure. Data obtained from 48 h-viability studies demonstrated a biphasic response; showing a dose-dependent increase in cell viability within the range of 0 to 3.87 μg/mL, and a gradual decrease within the concentration range of 7.75 to 31.0 μg/mL in concomitant treatments of NRG1-β+PCP and PCP. Cell viability percentages indicated that NRG1-β+PCPtreated cells were not significantly impaired, while PCP-treated cells were appreciably affected; suggesting that NRG1-β has the ability to suppress the toxic effects of PCP. Western Blot analysis demonstrated the potential of PCP to induce oxidative stress and inflammatory response (
c-fos
), growth arrest and DNA damage (GADD153), proteotoxic effects (HSP70), cell cycle arrest as consequence of DNA damage (p53), mitogenic response (cyclin-D1), and apoptosis (caspase-3). NRG1-β exposure attenuated stress-related protein expression in PCP-treated AML 12 mouse hepatocytes. Here we provide clear evidence that NRG1-β exerts cytoprotective effects in AML 12 mouse hepatocytes exposed to PCP.
View Full-Text
►

▼

Figures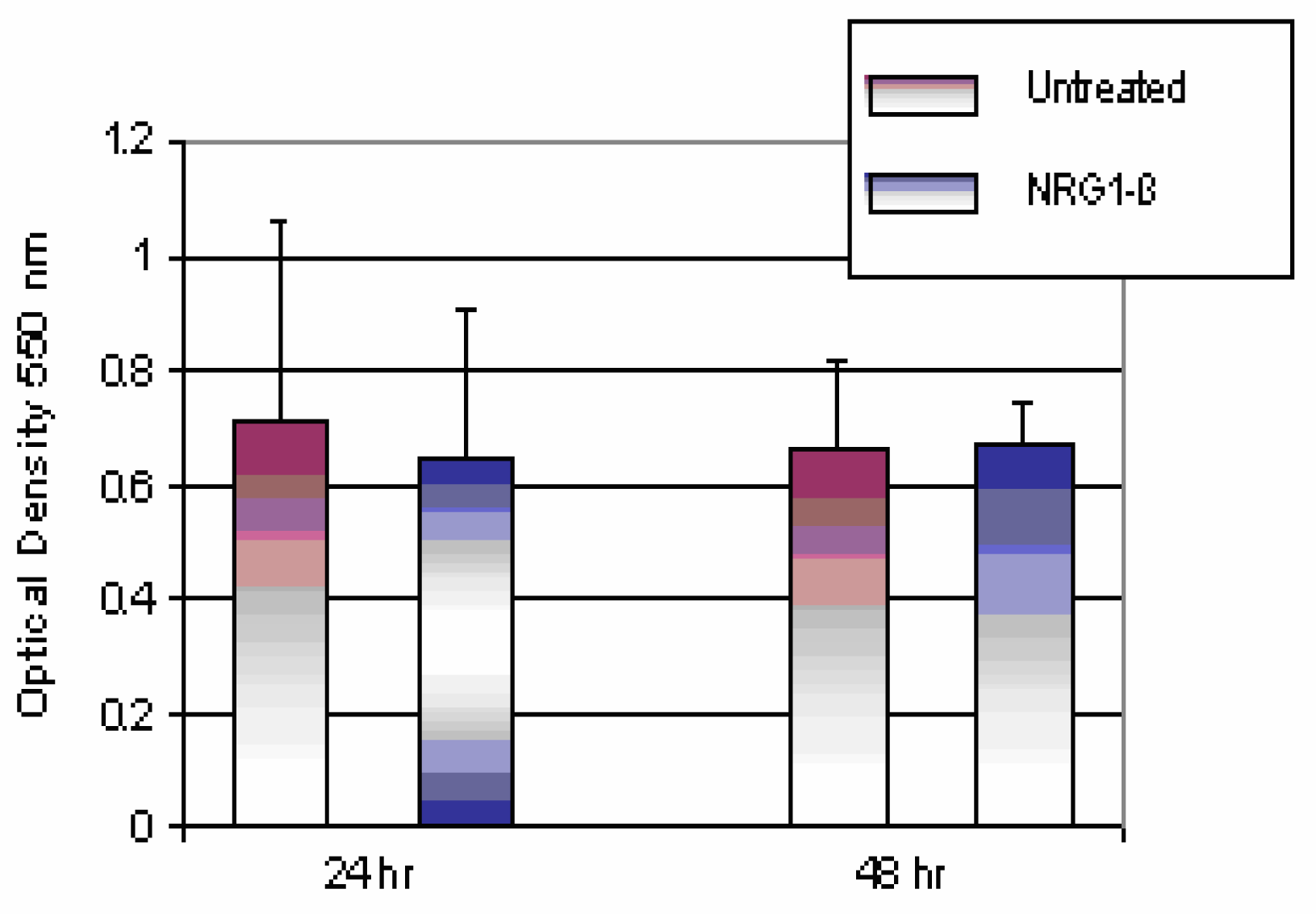 Share & Cite This Article
MDPI and ACS Style
Dorsey, W.C.; Tchounwou, P.B.; Ford, B.D. Neuregulin 1-Βeta Cytoprotective Role in AML 12 Mouse Hepatocytes Exposed to Pentachlorophenol. Int. J. Environ. Res. Public Health 2006, 3, 11-22.
Related Articles
Comments
[Return to top]