Lead Accumulation by Tall Fescue (Festuca arundinacea Schreb.) Grown on a Lead-Contaminated Soil
Department of Biology, Jackson State University, 1400 Lynch St., P.O. Box 18540, Jackson, MS 39217, USA
*
Author to whom correspondence should be addressed.
Received: 10 January 2005 / Accepted: 10 April 2005 / Published: 14 August 2005
Abstract
Phytoextraction is gaining acceptance as a cost-effective and environmentally friendly phytoremediation strategy for reducing toxic metal levels from contaminated soils. Cognizant of the potential of this phytoremediation technique as an alternative to expensive engineering-based remediation technologies, experiments were conducted to evaluate the suitability of some plants as phytoextraction species. From one of our preliminary studies, we found that tall fescue (
Festuca arundinacea
Schreb. cv. Spirit) can tolerate and accumulate significant amounts of lead (Pb) in its shoots when grown in Pb-amended sand. To further evaluate the suitability of tall fescue as one of the potential crop rotation species for phytoextraction, a study was conducted to determine whether the addition of ethylenediaminetetraacetic acid (EDTA) alone or in combination with acetic acid can further enhance the shoot uptake of Pb. Seeds were planted in 3.8 L plastic pots containing top soil, peat, and sand (4:2:1, v:v:v) spiked with various levels (0,1000, 2000 mg Pb/kg dry soil) of lead. At six weeks after planting, aqueous solutions (0, 5 mmol/kg dry soil) of EDTA and acetic acid (5 mmol/kg dry soil) were applied to the root zone, and all plants were harvested a week later. Results revealed that tall fescue was relatively tolerant to moderate levels of Pb as shown by non-significant differences in root and shoot biomass among treatments. An exception to this trend however, was the slight reduction in root and shoot biomass of plants exposed to the highest Pb level in combination with the two chelates. Root Pb concentration increased with increasing level of soil-applied Pb. Further increases in root Pb concentrations were attributed to chelate amendments. Translocation index, which is a measure of the partitioning of the metal to the shoots, was significantly enhanced with chelate addition especially when both EDTA and acetic acid were used. Chelate-induced increases in translocation indices correspondingly led to higher shoot Pb concentrations.
View Full-Text
►

▼

Figures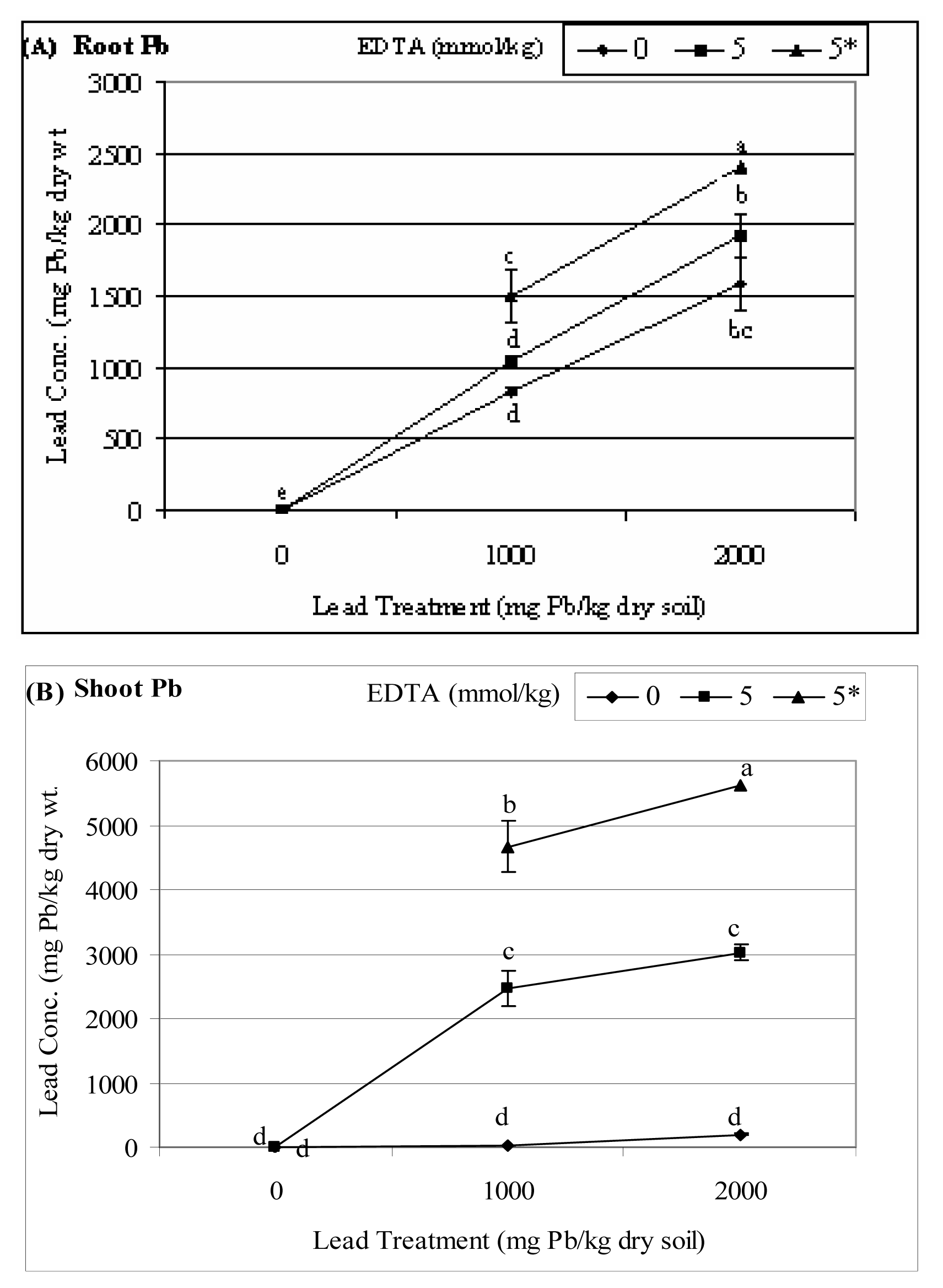 Share & Cite This Article
MDPI and ACS Style
Begonia, M.T.; Begonia, G.B.; Ighoavodha, M.; Gilliard, D. Lead Accumulation by Tall Fescue (Festuca arundinacea Schreb.) Grown on a Lead-Contaminated Soil. Int. J. Environ. Res. Public Health 2005, 2, 228-233.
Related Articles
Comments
[Return to top]