Predictors of a Change and Correlation in Activities of Daily Living after Hip Fracture in Elderly Patients in a Community Hospital in Poland: A Six-Month Prospective Cohort Study
1
Department of Epidemiology and Management, Faculty of Medical Sciences, Pomeranian Medical University, Zolnierska 48, 71-210 Szczecin, Poland
2
Orthopedic Surgery and Traumatology Ward, Multidisciplinary District Hospital, Dekerta 1, 66-400 Gorzów Wlkp, Poland
3
Department of Methods of Artificial Intelligence and Applied Mathematics, Faculty of Computer Science and Information Technology, West Pomeranian University of Technology Szczecin, Zolnierska 46, 71-210 Szczecin, Poland
*
Author to whom correspondence should be addressed.
Received: 11 October 2017 / Revised: 27 December 2017 / Accepted: 7 January 2018 / Published: 8 January 2018
Abstract
Objectives: The consequences of hip fractures (HFs) in elderly persons include a deterioration in functional capacity to perform activities that enable independent living. Since prior research into this issue in Central Europe is rather scant, this study sought to assess the change in activities and instrumental activities of daily living (ADL/IADL) after HF surgery among Polish patients, to study predictors of regaining pre-fracture functional status three and six months later, and to evaluate the correlation between ADL and IADL limitations over time. Methods: A prospective study was conducted between 2011 and 2013 in a tertiary hospital in Western Poland. ADL/IADL were evaluated using the Katz index and Lawton scale, respectively. Results: About half (50.8%) of 120 patients (mean age 80.1 ± SD 7.59) had cognitive impairment (CI). Patients with CI were older (
p
= 0.002) and had lower scores for pre-fracture ADL/IADL (
p
= 0.001 and
p
< 0.001, respectively). Six months after HF, 33.3% of patients failed to return to their pre-fracture ADL and 62.5% failed to return to pre-fracture IADL; 20% of those who could walk before HF were unable to walk after six months. The pre-fracture Spearman correlation coefficient between ADL and IADL summary scores was 0.46; it increased to 0.70 at three months after HF surgery and 0.77 at six months (
p
< 0.0001). Regaining ADL after six months was more likely in patients with pre-fracture intact intellectual function and independence in pre-fracture ADL; regaining IADL, in younger patients and those with higher pre-fracture IADL scores. Conclusions: Impairment in functional performance is common after HF surgery. ADL and IADL were strongly correlated in these patients, with this increasing over time. Functional outcomes after HF were more dependent on patient characteristics than treatment-related factors. Therefore, more emphasis should be directed towards the pre-fracture period and, in particular, maintaining cognitive function and preserving functional capacity in older persons at high risk of HF.
View Full-Text
►

▼

Figures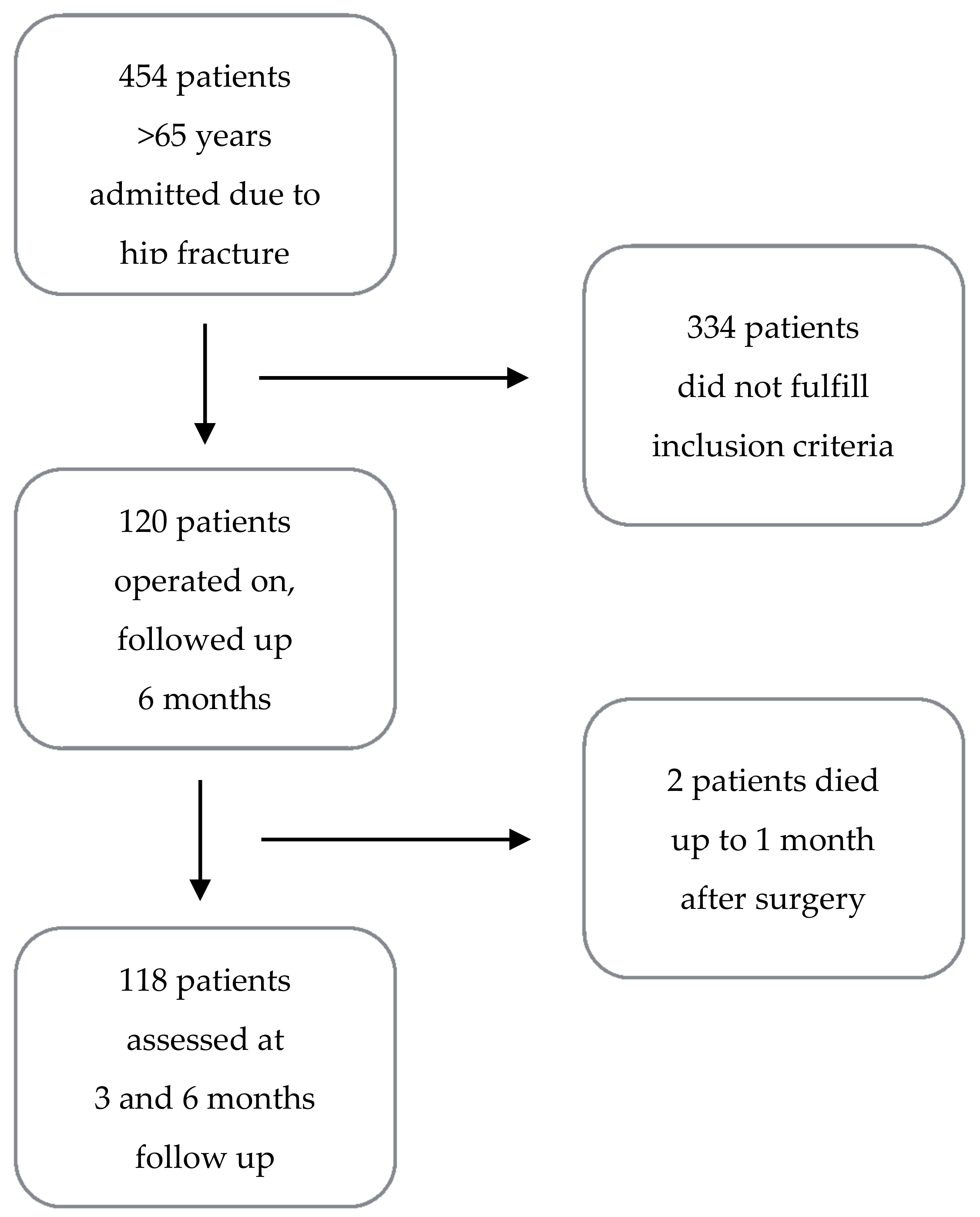 Figure 1
This is an open access article distributed under the
Creative Commons Attribution License
which permits unrestricted use, distribution, and reproduction in any medium, provided the original work is properly cited. (CC BY 4.0).
Share & Cite This Article
MDPI and ACS Style
Ganczak, M.; Chrobrowski, K.; Korzeń, M. Predictors of a Change and Correlation in Activities of Daily Living after Hip Fracture in Elderly Patients in a Community Hospital in Poland: A Six-Month Prospective Cohort Study. Int. J. Environ. Res. Public Health 2018, 15, 95.
Note that from the first issue of 2016, MDPI journals use article numbers instead of page numbers. See further details here.
Related Articles
Comments
[Return to top]