Effect of Water Supplementation on Cognitive Performances and Mood among Male College Students in Cangzhou, China: Study Protocol of a Randomized Controlled Trial
1
Department of Nutrition and Food Hygiene, School of Public Health, Peking University; 38 Xue Yuan Road, Hai Dian District, Beijing 100191, China
2
Laboratory of Toxicological Research and Risk Assessment for Food Safety, Peking University; 38 Xue Yuan Road, Hai Dian District, Beijing 100191, China
3
Chinese Nutrition Society; 6 Guang An Men Nei Street, Xi Cheng District, Beijing 100053, China
4
Institute of Food and Nutrition Development, Ministry of Agriculture; 12 Zhong Guan Cun Nan Street, Hai Dian District, Beijing 100081, China
5
National Institute for Nutrition and Health, Chinese Center for Disease Control and Prevention; 29 Nan Wei Road, Xi Chen District, Beijing 100050, China
*
Author to whom correspondence should be addressed.
Received: 14 July 2017 / Revised: 24 August 2017 / Accepted: 25 August 2017 / Published: 27 August 2017
Abstract
Introduction
: Water accounts for about 75% of brain mass. Cognitive performances and mood may be impaired by hypohydration and improved by water supplementation. Two surveys conducted in China demonstrated that a large proportion of adults and children drank less fluid than the amounts recommended by the Chinese Nutrition Society. The association between hypohydration and cognitive performance has not been reported in China. The purpose of this study is to explore the effect of water supplementation on cognitive performances and mood among male college students in Cangzhou, China.
Methods and Analysis
: A randomized controlled trial is designed to test the hypothesis. A total of 68 male college students aged 18–25 years will be recruited and randomly assigned into water-supplementation group (WS group,
n
= 34) and no water-supplementation group (NW group,
n
= 34) after an overnight fasting, i.e., without eating foods and drinking fluid for 12 h. The first morning urine will be collected to determine urine osmolality on the water supplementation day. Cognitive performances and mood will be performed before water supplementation by researchers with questionnaire. Subjects in the WS group will drink 400 mL purified water within 5 min, while those in NW group will not drink any fluid. One hour later, urine will be collected and urine osmolality, cognitive performances and mood will be measured again. Mixed model of repeated measures ANOVA will be used to investigate the effect of water supplementation on cognitive performances. The study would provide information about the benefit of water supplementation on cognitive performances.
Ethics and Dissemination
: The study protocol is reviewed and approved by the Ethical Review Committee of the Chinese Nutrition Society. Ethical approval project identification code is CNS-2015-001. Results will be published according to the CONSORT statement and will be reported in peer-reviewed journals.
Trial registration
: Chinese clinical trial registry. Identifier: ChiCTR-IOR-15007020. Registry name "The effect of hydration on cognitive performance".
View Full-Text
►

▼

Figures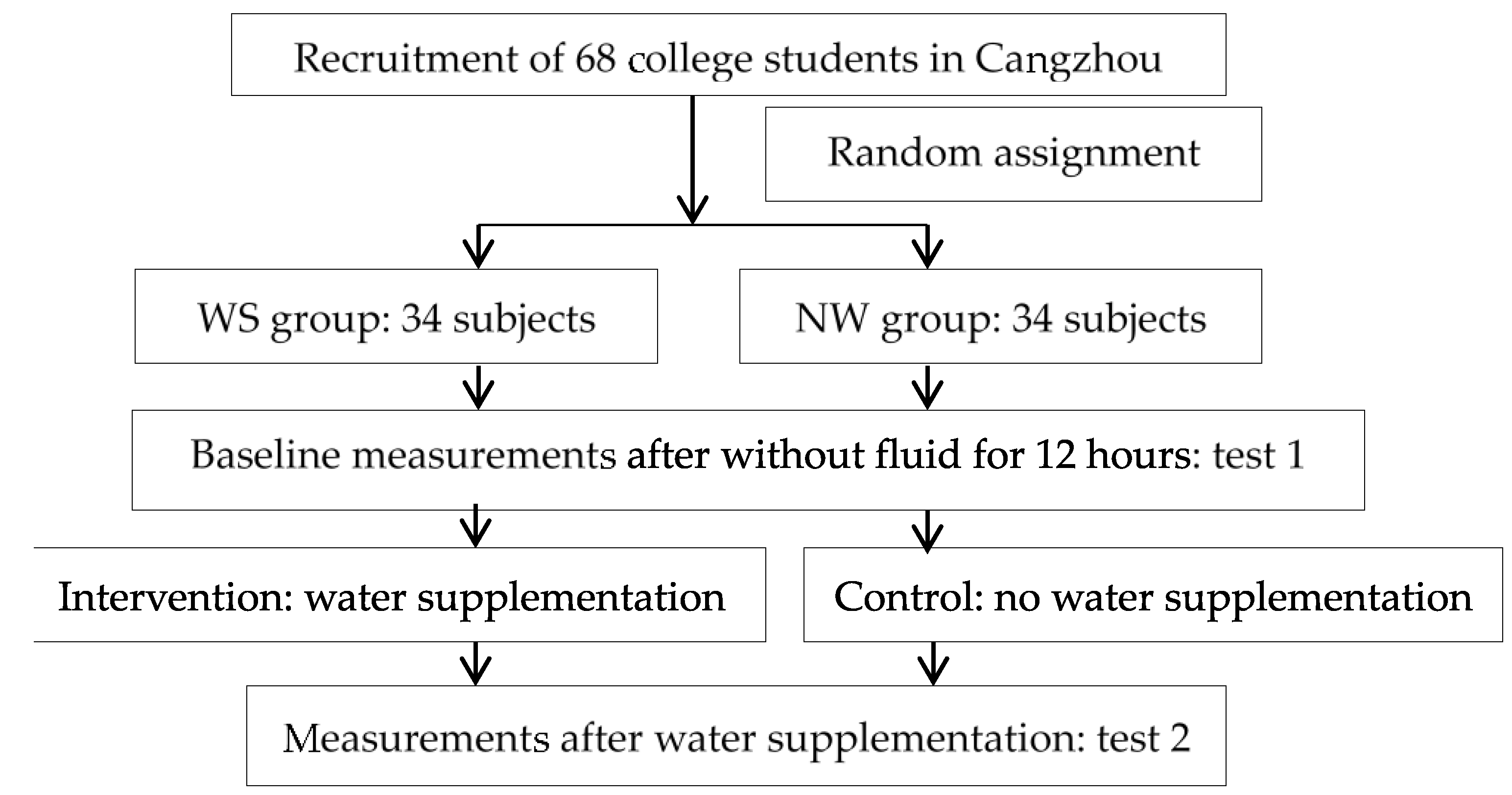 Figure 1
This is an open access article distributed under the
Creative Commons Attribution License
which permits unrestricted use, distribution, and reproduction in any medium, provided the original work is properly cited. (CC BY 4.0).
Share & Cite This Article
MDPI and ACS Style
Zhang, N.; Du, S.; Tang, Z.; Zheng, M.; Ma, G. Effect of Water Supplementation on Cognitive Performances and Mood among Male College Students in Cangzhou, China: Study Protocol of a Randomized Controlled Trial. Int. J. Environ. Res. Public Health 2017, 14, 966.
Note that from the first issue of 2016, MDPI journals use article numbers instead of page numbers. See further details here.
Related Articles
Comments
[Return to top]