Mini-Review: The Contribution of Intermediate Phenotypes to GxE Effects on Disorders of Body Composition in the New OMICS Era
1
Facultad de Salud Pública y Nutrición (FASPyN), Universidad Autónoma de Nuevo León, Monterrey 64290, Mexico
2
Facultad de Enfermería, Universidad Autónoma de Nuevo León, Monterrey 64290, Mexico
3
Facultad de Medicina y Ciencias Biomédicas, Universidad Autónoma de Chihuahua, México 31110, Mexico
4
Department of Genetics and Southwest National Primate Center, Texas Biomedical Research Institute, San Antonio, TX 78227, USA
*
Author to whom correspondence should be addressed.
Received: 31 July 2017 / Revised: 8 September 2017 / Accepted: 13 September 2017 / Published: 17 September 2017
Abstract
Studies of gene-environment (GxE) interactions describe how genetic and environmental factors influence the risk of developing disease. Intermediate (molecular or clinical) phenotypes (IPs) are traits or metabolic biomarkers that mediate the effects of gene-environment influences on risk behaviors. Functional systems genomics discovery offers mechanistic insights into how DNA variations affect IPs in order to detect genetic causality for a given disease. Disorders of body composition include obesity (OB), Type 2 diabetes (T2D), and osteoporosis (OSTP). These pathologies are examples of how a GxE interaction contributes to their development. IPs as surrogates for inherited genotypes play a key role in models of genetic and environmental interactions in health outcomes. Such predictive models may unravel relevant genomic and molecular pathways for preventive and therapeutic interventions for OB, T2D, and OSTP. Annotation strategies for genomes, in contrast to phenomes, are well advanced. They generally do not measure specific aspects of the environment. Therefore, the concepts of deep phenotyping and the exposome generate new avenues to exploit with high-resolution technologies for analyzing this sophisticated phenome. With the successful characterization of phenomes, exposomes, and genomes, environmental and genetic determinants of chronic diseases can be united with multi-OMICS studies that better examine GxE interactions.
View Full-Text
►

▼

Figures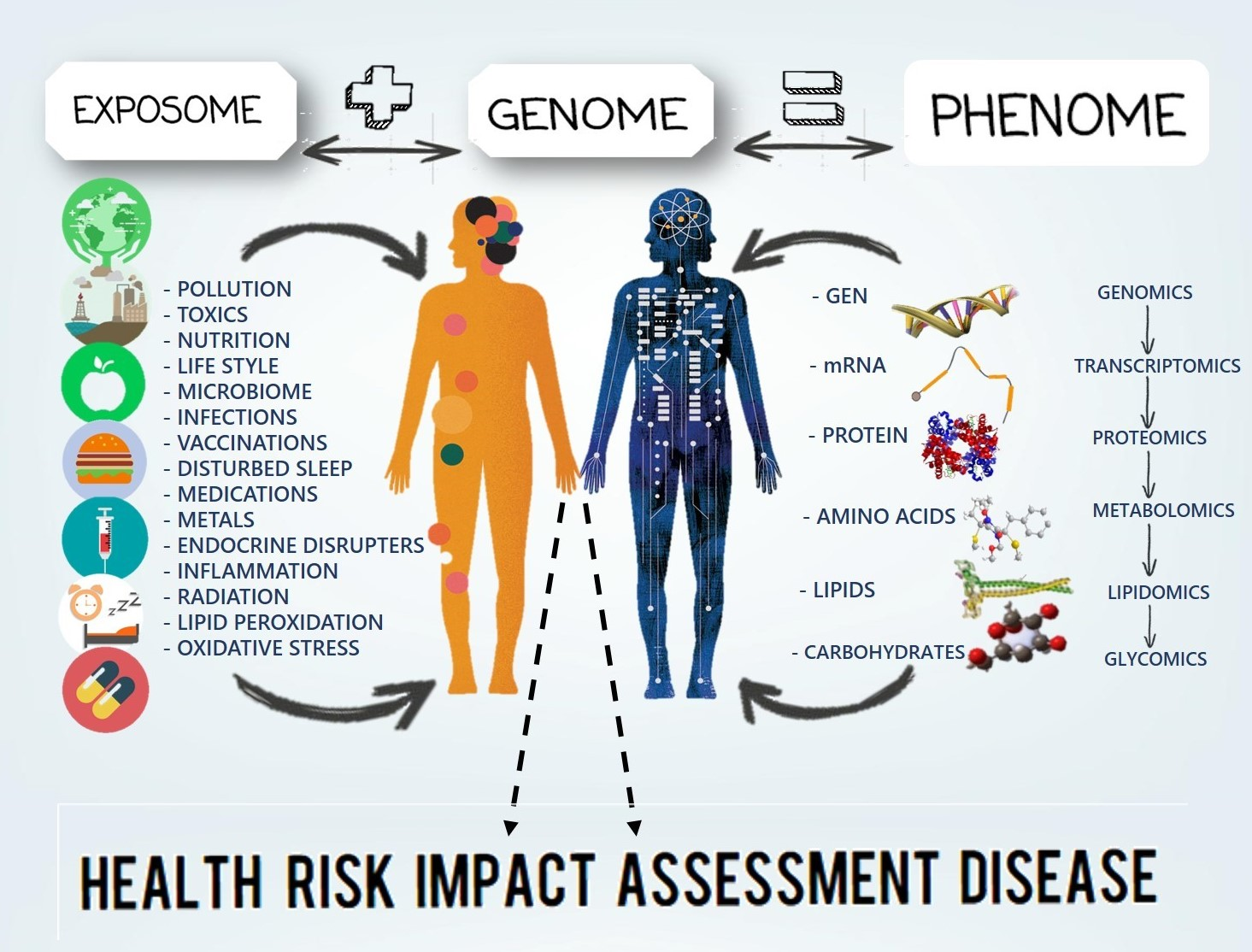 This is an open access article distributed under the
Creative Commons Attribution License
which permits unrestricted use, distribution, and reproduction in any medium, provided the original work is properly cited. (CC BY 4.0).
Share & Cite This Article
MDPI and ACS Style
Nava-Gonzalez, E.J.; Gallegos-Cabriales, E.C.; Leal-Berumen, I.; Bastarrachea, R.A. Mini-Review: The Contribution of Intermediate Phenotypes to GxE Effects on Disorders of Body Composition in the New OMICS Era. Int. J. Environ. Res. Public Health 2017, 14, 1079.
Note that from the first issue of 2016, MDPI journals use article numbers instead of page numbers. See further details here.
Related Articles
Comments
[Return to top]