A qPCR-Based Tool to Diagnose the Presence of Harmful Cyanobacteria and Cyanotoxins in Drinking Water Sources
1
Department of Environmental Engineering, National Cheng Kung University, Tainan 70101, Taiwan
2
Department of Biological Science and Technology, Meiho University, Pingtung 91202, Taiwan
*
Author to whom correspondence should be addressed.
Academic Editor: Sayed M. Hassan
Received: 23 March 2017 / Revised: 14 May 2017 / Accepted: 17 May 2017 / Published: 20 May 2017
Abstract
Harmful cyanobacteria have been an important concern for drinking water quality for quite some time, as they may produce cyanotoxins and odorants.
Microcystis
and
Cylindrospermopsis
are two common harmful cyanobacterial genera detected in freshwater lakes and reservoirs, with microcystins (MCs) and cylindrospermopsin (CYN) as their important metabolites, respectively. In this study, two sets of duplex qPCR systems were developed, one for quantifying potentially-toxigenic
Microcystis
and
Microcystis
, and the other one for cylindrospermopsin-producing cyanobacteria and
Cylindrospermopsis
. The duplex qPCR systems were developed and validated in the laboratory by using 338 samples collected from 29 reservoirs in Taiwan and her offshore islands. Results show that cell numbers of
Microcystis
and
Cylindorspermopsis
enumerated with microscopy, and MCs and CYN concentrations measured with the enzyme-linked immuno-sorbent assay method, correlated well with their corresponding gene copies determined with the qPCR systems (range of coefficients of determination R
2
= 0.392−0.740). The developed qPCR approach may serve as a useful tool for the water industry to diagnose the presence of harmful cyanobacteria and the potential presence of cyanotoxins in source waters.
View Full-Text
►

▼

Figures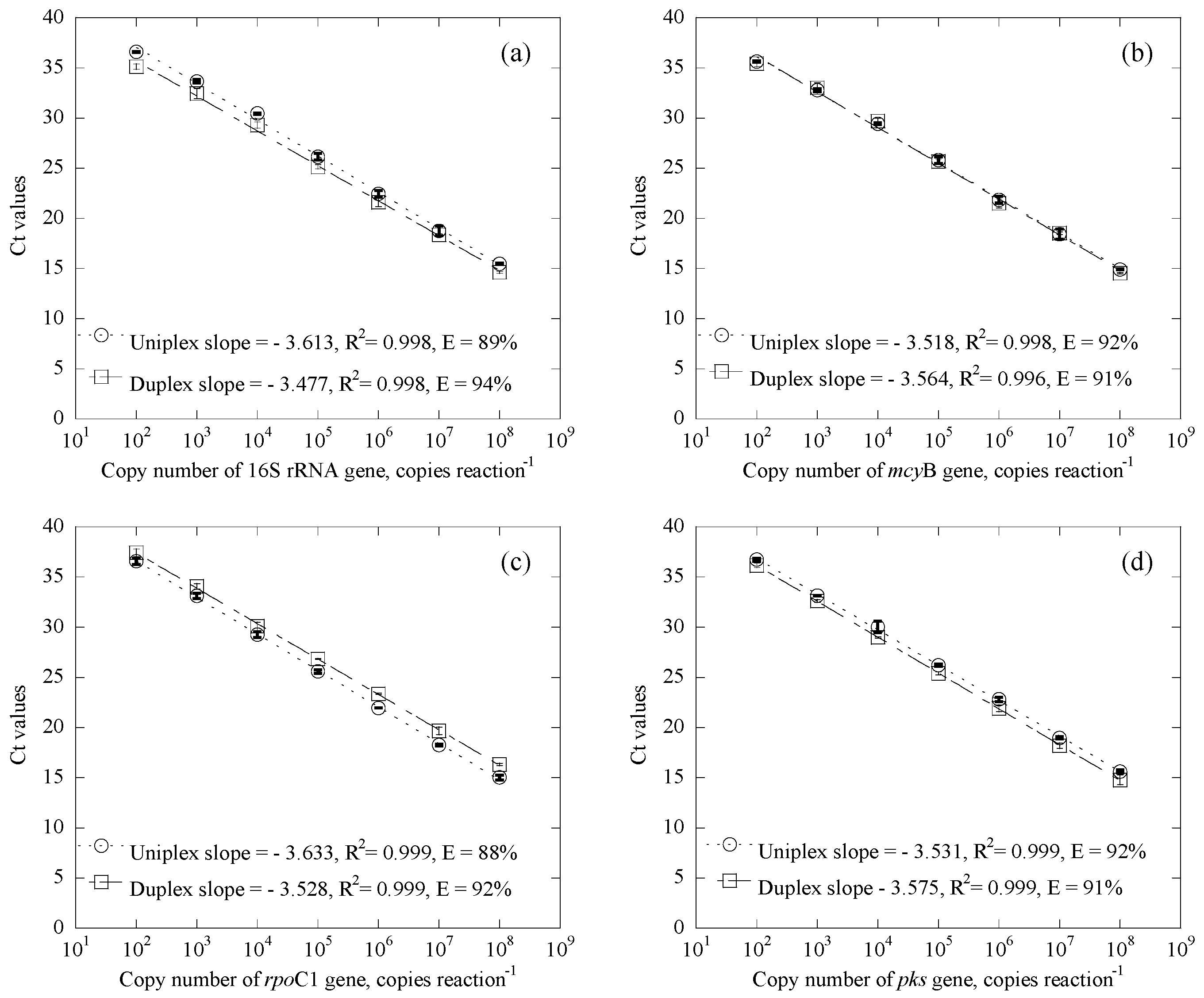 Figure 1
This is an open access article distributed under the
Creative Commons Attribution License
which permits unrestricted use, distribution, and reproduction in any medium, provided the original work is properly cited. (CC BY 4.0).
Supplementary materials
Supplementary File 1:

PDF-Document (PDF, 386 KB)

Externally hosted supplementary file 1
Link: http://no
Description: Figure S1 – Locations of the studied reservoirs: (a) 10 studied reservoirs in Taiwan, (b) 9 studied reservoirs in Matsu, and (c) 10 studied reservoirs in Kinmen. The Hsin-Shan Reservoir (HSR), Shih-Men Reservoir (SMR), Bao-Shan Reservoir (BSR), Bao-Shan Second Reservoir (BSSR), Liyutan Reservoir (LYTR), Lan-Tan Reservoir (LTR), Nan-Hua Reservoir (NHR), Agongdian Reservoir (AGDR), and Fong-Shan Reservoir (FSR) in Taiwan; the Hou-Wo Reservoir (HWR), Chu-Shui-Wo Lower Dam (CSWLD), Chu-Shui-Wo Upper Dam (CSWUD), Jin-Sha Reservoir (JSR-M), First Jin-Sha Reservoir (FJSR), Sheng-Li Reservoir (SLR), Tsair-Pu-Wo Reservoir (TPWR), Le-Dao-Wo Reservoir (LDWR), and Jhu-Luo Reservoir (JLR) in Matsu; the Rong-Hu Reservoir (RHR), Jin-Sha Reservoir (JSR-K), Tian-Pu Reservoir (TPR), Lan-Hu Reservoir (LHR), Lian-Hu Reservoir (LianHR), Ling-Hu Reservoir (LingHR), Yang-Ming-Hu Reservoir (YMHR), Xi-Hu Reservoir (XHR), Jin-Hu Reservoir (JHR), and Tai-Hu Reservoir (THR) in Kinmen. Figure S2 – Tests of inhibition on gene detection caused by different amounts of standard DNA using gel electrophoresis, where M represents the DNA marker, N represents the negative control, P5R5, P3R5 and P6R3 represent the concentration of pks gene and rpoC1 gene with 2 replicates, respectively (P5R5 = 105 and 105; P3R5 = 103 and 105; P6R3 = 106 and 103). (a) is for the duplex qPCR system with primer and probe sets of pks gene and rpoC1 gene; (b) is for the duplex qPCR system with primer sets of pks gene and rpoC1 gene (without probes). Figure S3 – The relationship between cell enumeration measured with microscopy and gene copy number with qPCR, where (a) is for 16S rRNA gene, (b) is for mcyB gene, and (c) is for rpoC1 gene. Error bars represent standard deviation of 2 replicates. Table S1 – Detailed information of oligonucleotides. Table S2 – Monitoring results of Microcystis and microcystins for the samples collected from Tai-Hu Reservoir (THR). Table S3 – Monitoring results of Cylindrospermopsis and cylindrospermopsin for the samples collected from Tai-Hu Reservoir (THR). Table S4 –The influence of primer concentration on the inhibition of gene detection. Table S5 – Correlation between MCs/CYN concentrations and cell equivalents.
Scifeed alert for new publications
Never miss any articles
matching your research
from any publisher
Get alerts for new papers matching your research
Find out the new papers from selected authors
Updated daily for 49'000+ journals and 6000+ publishers
Share & Cite This Article
MDPI and ACS Style
Chiu, Y.-T.; Chen, Y.-H.; Wang, T.-S.; Yen, H.-K.; Lin, T.-F. A qPCR-Based Tool to Diagnose the Presence of Harmful Cyanobacteria and Cyanotoxins in Drinking Water Sources. Int. J. Environ. Res. Public Health 2017, 14, 547.
Note that from the first issue of 2016, MDPI journals use article numbers instead of page numbers. See further details here.
Related Articles
Comments
[Return to top]