Hospitalizations in Pediatric and Adult Patients for All Cancer Type in Italy: The EPIKIT Study under the E.U. COHEIRS Project on Environment and Health
1
Medicina Futura Research, Southern Italy Hospital Institute (IOS), Centro Direzionale, Isola E3, Palazzo Avalon, 80143 Naples, Italy
2
Department of Economics and Statistics and CSEF, University Federico II, 80131 Naples, Italy
3
Euro Mediterranean Scientific Bio-Medical Institute, ISBEM, 72023 Mesagne (Brindisi), Italy
4
Local Health Authority ASL Napoli 3 South, 80100 Naples, Italy
5
St. Andrea Hospital, La Sapienza University, 00185 Rome, Italy
6
Division of Neonatology, St. Anna & St. Sebastiano Hospital, 81100 Caserta, Italy
7
Local Health Authority USL 8, 52100 Arezzo, Italy
8
Local Health Authority USL Piacenza, 29121 Piacenza, Italy
9
IRCCS G. Pascale Foundation, National Cancer Institute, 80131 Naples, Italy
10
National Research Council, CNR-IFC, 56121 Pisa, Italy
11
Department of Experimental Medicine, Second University of Naples (SUN), 80138 Naples, Italy
12
Department of Biological and Environmental Sciences and Technologies (DISTEBA), University of Salento, 73100 Lecce, Italy
13
Local Health Authority ASL LE, 73100 Lecce, Italy
14
Centre of Primary Care and Public Health, Queen Mary University of London, London E14NS, UK
15
Department of Epidemiology and Biostatistics, University of California San Francisco (UCSF), San Francisco, CA 94158, USA
16
National Cancer Institute IRCCS San Martino, 16121 Genova, Italy
17
Division of Pediatric Surgery, Salerno University Hospital "Ruggi D'Aragona", 84100 Salerno, Italy
18
European Cancer and Environment Research Institute (ECERI), 21004 Bruxelles, Belgium
19
Collegium Ramazzini, Bologna 40010, Italy
20
Department of Clinical Medicine and Surgery, University Federico II, 80131 Naples, Italy
†
In memory of Prof. Massimo Crespi for his outstanding contribution to Epidemiology and Public Health throughout all his life.
‡
On behalf of the EPIKIT (Epidemiology of Cancer in Italy) Study Group under COHEIRS Project on Precautionary Principle (Europe for Citizens Program 2013–2014).
§
Deceased in September 2015.
*
Author to whom correspondence should be addressed.
Academic Editor: William Chi-shing Cho
Received: 15 December 2016 / Revised: 6 April 2017 / Accepted: 15 April 2017 / Published: 9 May 2017
Abstract
Background
: Cancer Registries (CRs) remain the gold standard for providing official epidemiological estimations. However, due to CRs' partial population coverage, hospitalization records might represent a valuable tool to provide additional information on cancer occurrence and expenditures at national/regional level for research purposes. The Epidemiology of Cancer in Italy (EPIKIT) study group has been built up, within the framework of the Civic Observers for Health and Environment: Initiative of Responsibility and Sustainability (COHEIRS) project under the auspices of the Europe for Citizens Program, to assess population health indicators.
Objective
: To assess the burden of all cancers in Italian children and adults.
Methods
: We analyzed National Hospitalization Records from 2001 to 2011. Based on social security numbers (anonymously treated), we have excluded from our analyses all re-hospitalizations of the same patients (
n
= 1,878,109) over the entire 11-year period in order to minimize the overlap between prevalent and incident cancer cases. To be more conservative, only data concerning the last five years (2007–2011) have been taken into account for final analyses. The absolute number of hospitalizations and standardized hospitalization rates (SHR) were computed for each Italian province by sex and age-groups (0–19 and 20–49).
Results
: The EPIKIT database included a total of 4,113,169 first hospital admissions due to main diagnoses of all tumors. The annual average number of hospital admissions due to cancer in Italy has been computed in 2362 and 43,141 hospitalizations in pediatric patients (0–19 years old) and adults (20–49 years old), respectively. Women accounted for the majority of cancer cases in adults aged 20–49. As expected, the big city of Rome presented the highest average annual number of pediatric cancers (
n
= 392, SHR = 9.9), followed by Naples (
n
= 378; SHR = 9.9) and Milan (
n
= 212; SHR = 7.3). However, when we look at SHR, minor cities (i.e., Imperia, Isernia and others) presented values >10 per 100,000, with only 10 or 20 cases per year. Similar figures are shown also for young adults aged 20–49.
Conclusions
: In addition to SHR, the absolute number of incident cancer cases represents a crucial piece of information for planning adequate healthcare services and assessing social alarm phenomena. Our findings call for specific risk assessment programs at local level (involving CRs) to search for causal relations with environmental exposures.
View Full-Text
►

▼

Figures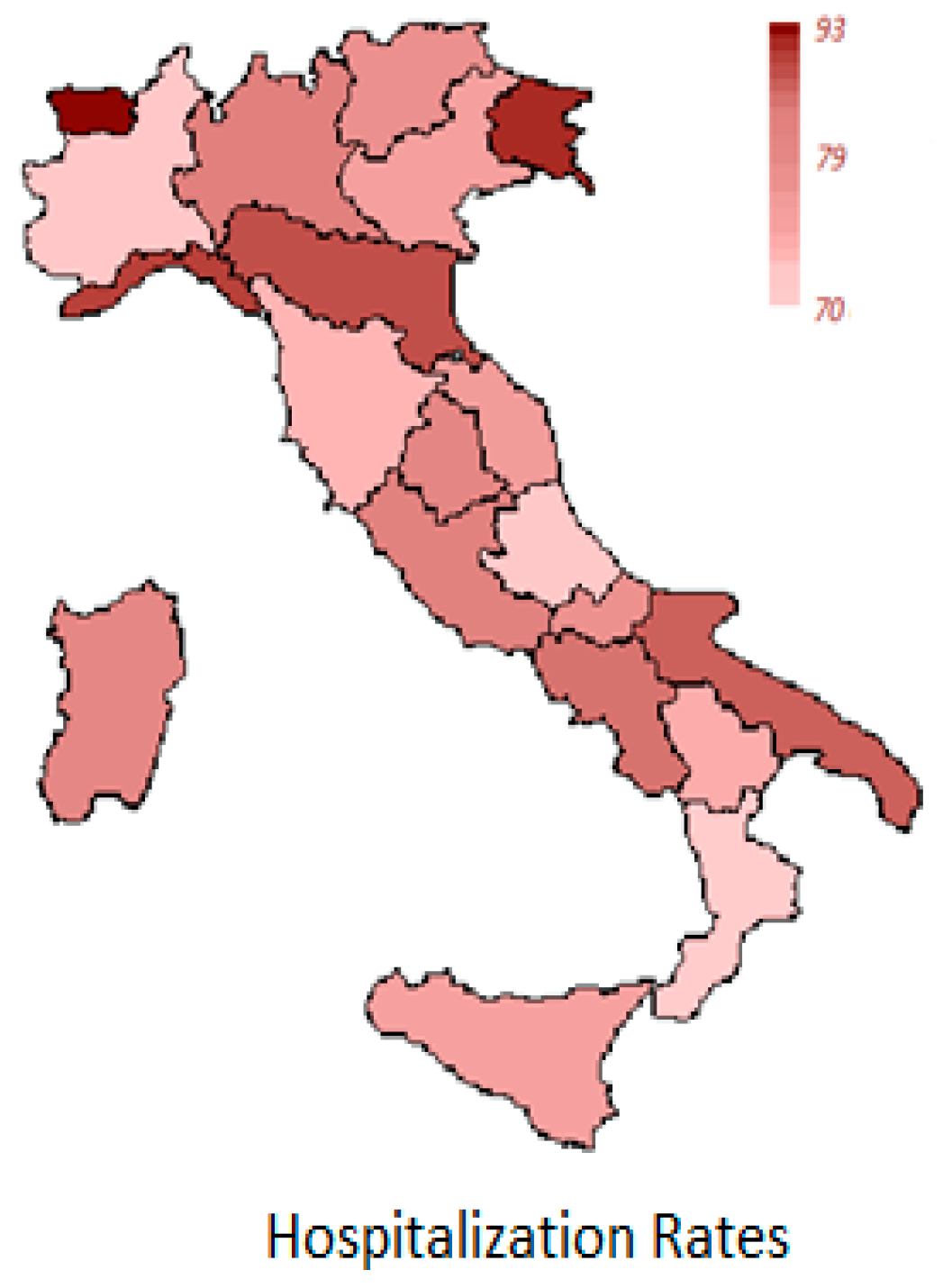 Figure 1
This is an open access article distributed under the
Creative Commons Attribution License
which permits unrestricted use, distribution, and reproduction in any medium, provided the original work is properly cited. (CC BY 4.0).
Scifeed alert for new publications
Never miss any articles
matching your research
from any publisher
Get alerts for new papers matching your research
Find out the new papers from selected authors
Updated daily for 49'000+ journals and 6000+ publishers
Share & Cite This Article
MDPI and ACS Style
Piscitelli, P.; Marino, I.; Falco, A.; Rivezzi, M.; Romano, R.; Mazzella, R.; Neglia, C.; Della Rosa, G.; Pellerano, G.; Militerno, G.; Bonifacino, A.; Rivezzi, G.; Romizi, R.; Miserotti, G.; Montella, M.; Bianchi, F.; Marinelli, A.; De Donno, A.; De Filippis, G.; Serravezza, G.; Di Tanna, G.; Black, D.; Gennaro, V.; Ascolese, M.; Distante, A.; Burgio, E.; Crespi, M.; Colao, A. Hospitalizations in Pediatric and Adult Patients for All Cancer Type in Italy: The EPIKIT Study under the E.U. COHEIRS Project on Environment and Health . Int. J. Environ. Res. Public Health 2017, 14, 495.
Note that from the first issue of 2016, MDPI journals use article numbers instead of page numbers. See further details here.
Related Articles
Comments
[Return to top]