Distributions and Sources of Polycyclic Aromatic Hydrocarbons (PAHs) in Soils around a Chemical Plant in Shanxi, China
1
Department of Biological Sciences and Technology, Changzhi University, Changzhi 046011, China
2
Research Center for Eco-Environmental Sciences, Chinese Academy of Sciences, Beijing 100085, China
3
School of Chemical Engineering, The University of Adelaide, Adelaide, SA 5005, Australia
4
College of Environment & Resources, University of Chinese Academy of Sciences, Beijing 100049, China
*
Author to whom correspondence should be addressed.
Received: 10 August 2017 / Revised: 12 September 2017 / Accepted: 14 September 2017 / Published: 9 October 2017
Abstract
Background
: Yearly the Shanxi coal chemical industry extracts many coal resources, producing at the same time many polycyclic aromatic hydrocarbons (PAHs) that are emitted as by-products of coal incomplete combustion.
Methods
: Sixty-six soil samples collected from 0 to 100 cm vertical sections of three different agricultural (AS), roadside (RS) and park (PS) functional soils around a chemical plant in Shanxi, China were analyzed for the presence of the 16 priority control PAHs.
Results
: The total concentrations (∑16PAHs) varied in a range of 35.4–116 mg/kg, 5.93–66.5 mg/kg and 3.87–76.0 mg/kg for the RS, PS and AS surface soil, respectively, and 5-ring PAHs were found to be dominant (44.4–49.0%), followed by 4-ring PAHs (15.9–24.5%). Moreover, the average value of ∑16PAHs decreased with the depth, 7.87 mg/kg (0–25 cm), 4.29 mg/kg (25–50 cm), 3.00 mg/kg (50–75 cm), 2.64 mg/kg (75–100 cm) respectively, in PS and AS soil vertical sections.
Conclusions
: The PAH levels in the studied soils were the serious contamination level (over 1.00 mg/kg) according to the Soils Quality Guidelines. The carcinogenic PAHs (ΣBPAHsBapeq) were approximately 14.8 times higher than the standard guideline level (0.60 mg/kg) and 90.3% of PAHs were produced by coal/wood/grass combustion processes.
View Full-Text
►

▼

Figures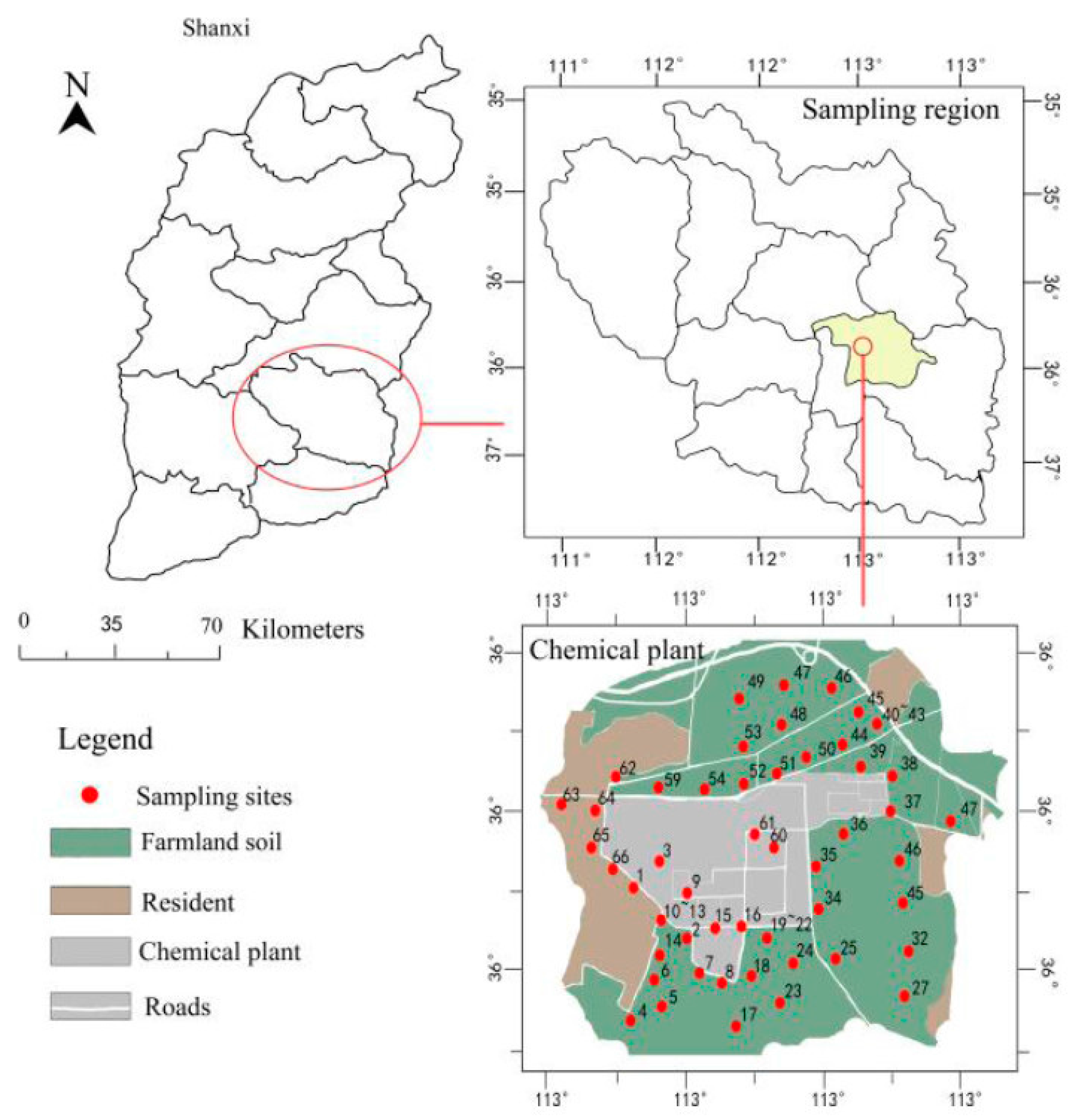 Figure 1
This is an open access article distributed under the
Creative Commons Attribution License
which permits unrestricted use, distribution, and reproduction in any medium, provided the original work is properly cited. (CC BY 4.0).
Share & Cite This Article
MDPI and ACS Style
Jiao, H.; Wang, Q.; Zhao, N.; Jin, B.; Zhuang, X.; Bai, Z. Distributions and Sources of Polycyclic Aromatic Hydrocarbons (PAHs) in Soils around a Chemical Plant in Shanxi, China. Int. J. Environ. Res. Public Health 2017, 14, 1198.
Note that from the first issue of 2016, MDPI journals use article numbers instead of page numbers. See further details here.
Related Articles
Comments
[Return to top]