The Role of Body Adiposity Index in Determining Body Fat Percentage in Colombian Adults with Overweight or Obesity
1
Centro de Estudios para la Medición de la Actividad Física (CEMA), Escuela de Medicina y Ciencias de la Salud, Universidad del Rosario, Bogotá, DC 111221, Colombia
2
Grupo de Ejercicio Físico y Deportes, Vicerrectoría de Investigaciones, Universidad Manuela Beltrán, Bogotá, DC 110231, Colombia
3
Laboratorio de Ciencias de la Actividad Física, el Deporte y la Salud, Facultad de Ciencias Médicas, Universidad de Santiago de Chile, USACH, Región Metropolitana, Santiago 7500618, Chile
4
Departamento de Enfermería, Facultad de Ciencias de la Salud Avda, De la Ilustración, s/n, (18016), Universidad de Granada, 18071 Granada, Spain
5
Grupo CTS-436, Adscrito al Centro de Investigación Mente, Cerebro y Comportamiento (CIMCYC), Universidad de Granada, 18071 Granada, Spain
*
Author to whom correspondence should be addressed.
Received: 26 July 2017 / Revised: 27 August 2017 / Accepted: 16 September 2017 / Published: 21 September 2017
Abstract
The aim of this study is to investigate the accuracy of body adiposity index (BAI) as a convenient tool for assessing body fat percentage (BF%) in a sample of adults with overweight/obesity using bioelectrical impedance analysis (BIA). The study population was composed of 96 volunteers (60% female, mean age 40.6 ± 7.5 years old). Anthropometric characteristics (body mass index, height, waist-to-height ratio, hip and waist circumference), socioeconomic status, and diet were assessed, and BF% was measured by BIA-BF% and by BAI-BF%. Pearson's correlation coefficient was used to evaluate the correlation between BAI-BF% and BF% assessed by BIA-BF%, while controlling for potential confounders. The concordance between the BF% measured by both methods was obtained with a paired sample
t
-test, Lin's concordance correlation coefficient, and Bland-Altman plot analysis. Overall, the correlation between BF% obtained by BIA-BF% and estimated by BAI-BF% was
r
= 0.885,
p
< 0.001, after adjusting for potential confounders (age, socioeconomic status, and diet). Lin's concordance correlation coefficient was moderate in both sexes. In the men, the paired t-test showed a significant mean difference in BF% between the methods (−5.6 (95%CI −6.4 to −4.8);
p
< 0.001). In the women, these differences were (−3.6 (95%CI −4.7 to −2.5);
p
< 0.001). Overall, the bias of the BAI-BF% was −4.8 ± 3.2 BF%;
p
< 0.001), indicating that the BAI-BF% method significantly underestimated the BF% in comparison with the reference method. In adults with overweight/obesity, the BAI presents low agreement with BF% measured by BIA-BF%; therefore, we conclude that BIA-BF% is not accurate in either sex when body fat percentage levels are low or high. Further studies are necessary to confirm our findings in different ethnic groups.
View Full-Text
►

▼

Figures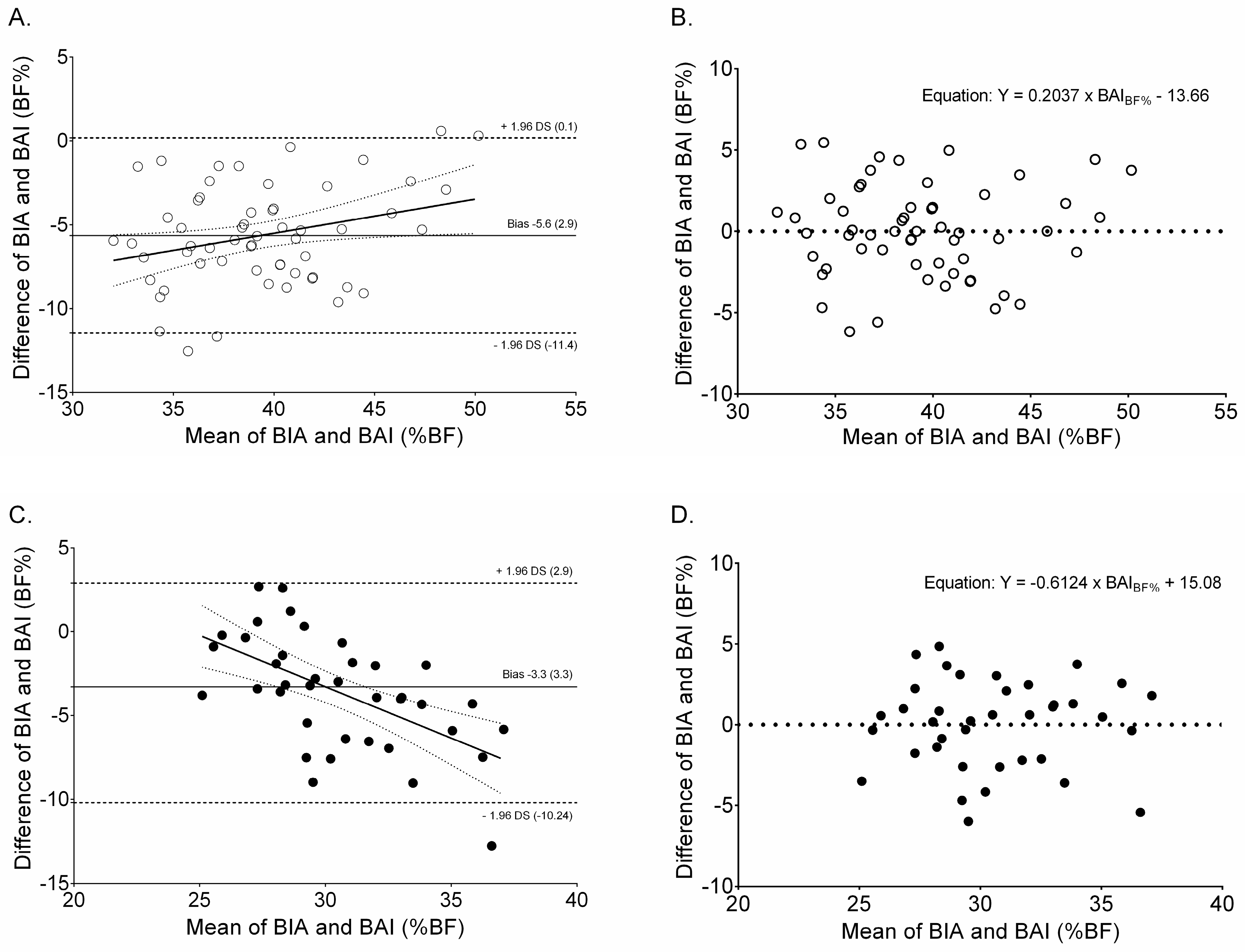 Figure 1
This is an open access article distributed under the
Creative Commons Attribution License
which permits unrestricted use, distribution, and reproduction in any medium, provided the original work is properly cited. (CC BY 4.0).
Share & Cite This Article
MDPI and ACS Style
Ramírez-Vélez, R.; Correa-Bautista, J.E.; González-Ruíz, K.; Tordecilla-Sanders, A.; García-Hermoso, A.; Schmidt-RioValle, J.; González-Jiménez, E. The Role of Body Adiposity Index in Determining Body Fat Percentage in Colombian Adults with Overweight or Obesity. Int. J. Environ. Res. Public Health 2017, 14, 1093.
Note that from the first issue of 2016, MDPI journals use article numbers instead of page numbers. See further details here.
Related Articles
Comments
[Return to top]