The Impact of Low-Level Lead Toxicity on School Performance among Hispanic Subgroups in the Chicago Public Schools
1
Division of Epidemiology and Biostatistics, University of Illinois at Chicago School of Public Health, Chicago, IL 60612, USA
2
Center for Global Health, University of Illinois College of Medicine, Chicago, IL 60612, USA
3
Division of Environmental and Occupational Health Sciences, University of Illinois at Chicago School of Public Health, Chicago, IL 60612, USA
4
School of Education and Social Policy, Northwestern University, Evanston, IL 60208, USA
5
Child & Family Research Institute, BC Children's Hospital and Faculty of Health Sciences, Simon Fraser University, Vancouver, BC V5Z 4H4, Canada
*
Authors to whom correspondence should be addressed.
Academic Editors: Helena Solo-Gabriele and Alesia Ferguson
Received: 10 February 2016 / Revised: 20 June 2016 / Accepted: 26 July 2016 / Published: 1 August 2016
Abstract
Background
: Environmental lead exposure detrimentally affects children's educational performance, even at very low blood lead levels (BLLs). Among children in Chicago Public Schools (CPS), the severity of the effects of BLL on reading and math vary by racial subgroup (White vs. Hispanic vs. non-Hispanic Black). We investigated the impact of BLL on standardized test performance by Hispanic subgroup (Mexican, Puerto Rican, and Other Hispanic).
Methods
: We examined 12,319 Hispanic children born in Chicago between 1994 and 1998 who were tested for BLL between birth and 2006 and enrolled in the 3rd grade at a CPS school between 2003 and 2006. We linked the Chicago birth registry, the Chicago Blood Lead Registry, and 3rd grade Illinois Standard Achievement Test (ISAT) scores to examine associations between BLL and school performance. Primary analyses were restricted to children with BLL below 10 µg/dL (0.483 µmol/L).
Results
: BLLs below 10 µg/dL (0.483 µmol/L) were inversely associated with reading and math scores in all Hispanic subgroups. Adjusted Relative Risks (RR
adj
) and 95% confidence intervals (CI) for reading and math failure were 1.34 (95% CI = 1.25, 1.63) and 1.53 (95% CI = 1.32, 1.78), respectively, per each additional 5 µg/dL of lead exposure for Hispanic children; RR
adj
did not differ across subgroups. We estimate that 7.0% (95% CI = 1.8, 11.9) of reading and 13.6% (95% CI = 7.7, 19.2) of math failure among Hispanic children can be attributed to exposure to BLLs of 5–9 µg/dL (0.242 to 0.435 µmol/L) vs. 0–4 µg/dL (0–0.193 µmol/L). The RR
adj
of math failure for each 5 µg/dL (0.242 µmol/L) increase in BLL was notably (
p
= 0.074) stronger among black Puerto Rican children (RR
adj
= 5.14; 95% CI = 1.65–15.94) compared to white Puerto Rican children (RR
adj
= 1.50; 95% CI = 1.12–2.02).
Conclusions
: Early childhood lead exposure is associated with poorer achievement on standardized reading and math tests in the 3rd grade for Mexican, Puerto Rican, and Other Hispanic children enrolled in Chicago Public Schools. While we did not see interactions between BLL and ISAT performance by Hispanic subgroup, the stronger association between BLL and math failure for Black Puerto Rican children is intriguing and warrants further study.
View Full-Text
►

▼

Figures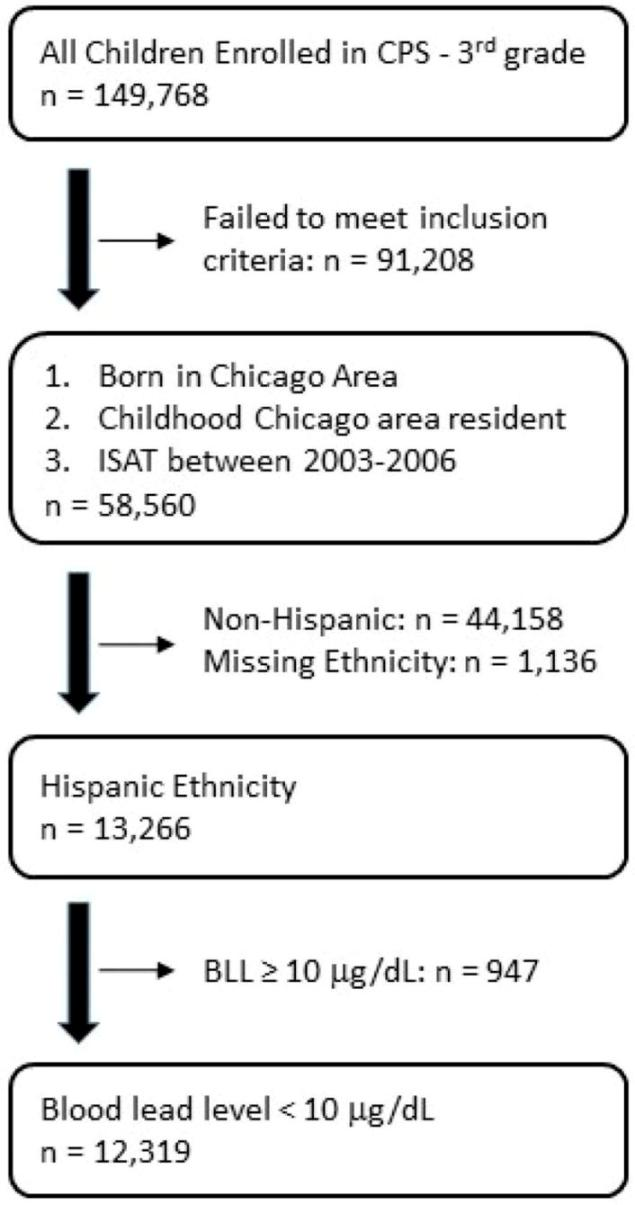 This is an open access article distributed under the
Creative Commons Attribution License
which permits unrestricted use, distribution, and reproduction in any medium, provided the original work is properly cited. (CC BY 4.0).
Share & Cite This Article
MDPI and ACS Style
Blackowicz, M.J.; Hryhorczuk, D.O.; Rankin, K.M.; Lewis, D.A.; Haider, D.; Lanphear, B.P.; Evens, A. The Impact of Low-Level Lead Toxicity on School Performance among Hispanic Subgroups in the Chicago Public Schools. Int. J. Environ. Res. Public Health 2016, 13, 774.
Note that from the first issue of 2016, MDPI journals use article numbers instead of page numbers. See further details here.
Related Articles
Comments
[Return to top]