Physical Growth, Biological Age, and Nutritional Transitions of Adolescents Living at Moderate Altitudes in Peru
1
Department of Physical Activity Sciences, Catholic University of Maule, Av. San Miguel 3605, Talca, Chile
2
Faculty of Physical Education, State University of Campinas, Avenida Érico Veríssimo, 701, Cidade Universitária Zeferino Vaz, Barão Geraldo, CEP 13.083-851, Campinas, Brazil
3
Instituto de Actividad Física y Salud, Universidad Autonoma de Chile, 5 Poniente 1670, Talca, Chile
4
Department of Research, Universidad Científica del Sur, Panamerica Sur Km 19 Villa, Lima, Perú
5
Group of Interdisciplinary Studies in Health Sciences and Sport, Universidad Autonoma de Chile, Talca 5 Poniente 1670, Chile
6
Research Network on Human Biological Development, Urb. Amauta C-6, Jose Luis Bustamante y Rivero, Arequipa, Peru
7
Education Center Antonio José de Sucre, Leon Velarde Street s/n, Yanahuara, Arequipa, Perú
8
Faculty of Physical Activity, San Sebastian University, General Cruz n 1577, Concepción, Chile
*
Author to whom correspondence should be addressed.
Academic Editor: Paul B. Tchounwou
Received: 27 June 2015 / Revised: 19 August 2015 / Accepted: 14 September 2015 / Published: 25 September 2015
Abstract
Background
: Peru is experiencing a stage of nutritional transition where the principal characteristics are typical of countries undergoing development.
Objectives
: The objectives of this study were the following: (a) compare physical growth patterns with an international standard; (b) determine biological age; and (c) analyze the double nutritional burden of adolescents living at a moderate altitude in Peru.
Design
: Weight, standing height, and sitting height were measured in 551 adolescents of both sexes (12.0 to 17.9 years old) from an urban area of Arequipa, Peru (2328 m). Physical growth was compared with the international standard of the CDC-2000. Biological age was determined by using a non-invasive transversal technique based on years from age at peak height velocity (APHV). Nutritional state was determined by means of weight for age and height for age. Z scores were calculated using international standards from the CDC-2000.
Results
: Body weight for both sexes was similar to the CDC-2000 international standards. At all ages, the girls' height (
p
< 0.05) was below the standards. However, the boys' height (
p
< 0.05) was less at ages, 15, 16, and 17. Biological age showed up in girls at age 12.7 years and for boys at 15.2 years. Stunted growth (8.7% boys and 18.0% girls) and over weight (11.3% boys and 8.8% girls) occurred in both groups. A relationship existed in both sexes between the categories of weight for the age and stunted growth by sex.
Conclusions
: Adolescents living at a moderate altitude exhibited stunted linear growth and biological maturation. Furthermore, adolescents of both sexes showed the presence of the double nutritional burden (stunted growth and excessive weight).
View Full-Text
►

▼

Figures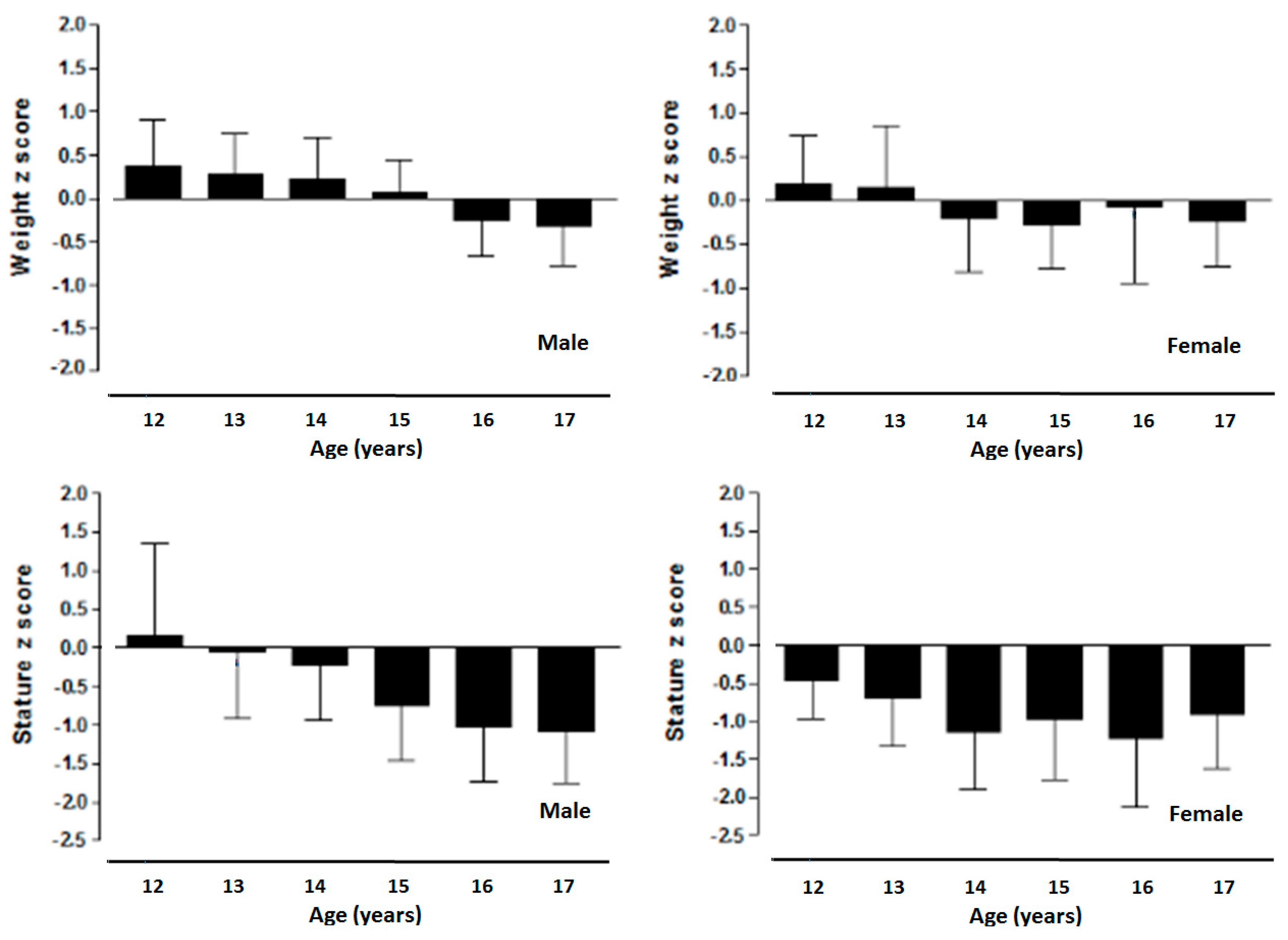 Figure 1
This is an open access article distributed under the
Creative Commons Attribution License
which permits unrestricted use, distribution, and reproduction in any medium, provided the original work is properly cited. (CC BY 4.0).
Share & Cite This Article
MDPI and ACS Style
Cossio-Bolaños, M.; Campos, R.G.; Andruske, C.L.; Flores, A.V.; Luarte-Rocha, C.; Olivares, P.R.; Garcia-Rubio, J.; de Arruda, M. Physical Growth, Biological Age, and Nutritional Transitions of Adolescents Living at Moderate Altitudes in Peru. Int. J. Environ. Res. Public Health 2015, 12, 12082-12094.
Related Articles
Comments
[Return to top]