Antioxidant and Antiproliferative Activities of Heterofucans from the Seaweed Sargassum filipendula
1
Laboratório de Biotecnologia de Polímeros Naturais (BIOPOL), Departamento de Bioquímica, Centro de Biociências, Universidade Federal do Rio Grande do Norte (UFRN), Natal, Rio Grande do Norte, Brazil
2
Federal Institute of Education, Science and Technology of Rio Grande do Norte (IFRN), Santa Cruz, Rio Grande do Norte, Brazil
*
Author to whom correspondence should be addressed.
Received: 9 April 2011 / Revised: 26 May 2011 / Accepted: 3 June 2011 / Published: 7 June 2011
Abstract
Fucan is a term used to denominate a type of polysaccharide which contains substantial percentages of L-fucose and sulfate ester groups. We obtained five heterofucans from
Sargassum filipendula
by proteolytic digestion followed by sequential acetone precipitation. These heterofucans are composed mainly of fucose, glucose, glucuronic acid, galactose and sulfate. These fucans did not show anticoagulant activity in PT and aPTT tests. Their antioxidant activity was evaluated using the follow tests; total antioxidant capacity, scavenging hydroxyl and superoxide radicals, reducing power and ferrous ion [Fe(II)] chelating. All heterofucans displayed considerable activity, especially SF-1.0v which showed the most significant antioxidant potential with 90.7 ascorbic acid equivalents in a total antioxidant capacity test and similar activity when compared with vitamin C in a reducing power assay. The fucan antiproliferative activity was performed with HeLa, PC3 and HepG2 cells using MTT test. In all tested conditions the heterofucans exhibited a dose-dependent effect. The strongest inhibition was observed in HeLa cells, where SF-1.0 and SF-1.5 exhibited considerable activity with an IC50 value of 15.69 and 13.83 µM, respectively. These results clearly indicate the beneficial effect of
S. filipendula
polysaccharides as antiproliferative and antioxidant. Further purification steps and additional studies on structural features as well as
in vivo
experiments are needed to test the viability of their use as therapeutic agents.
View Full-Text
►

▼

Figures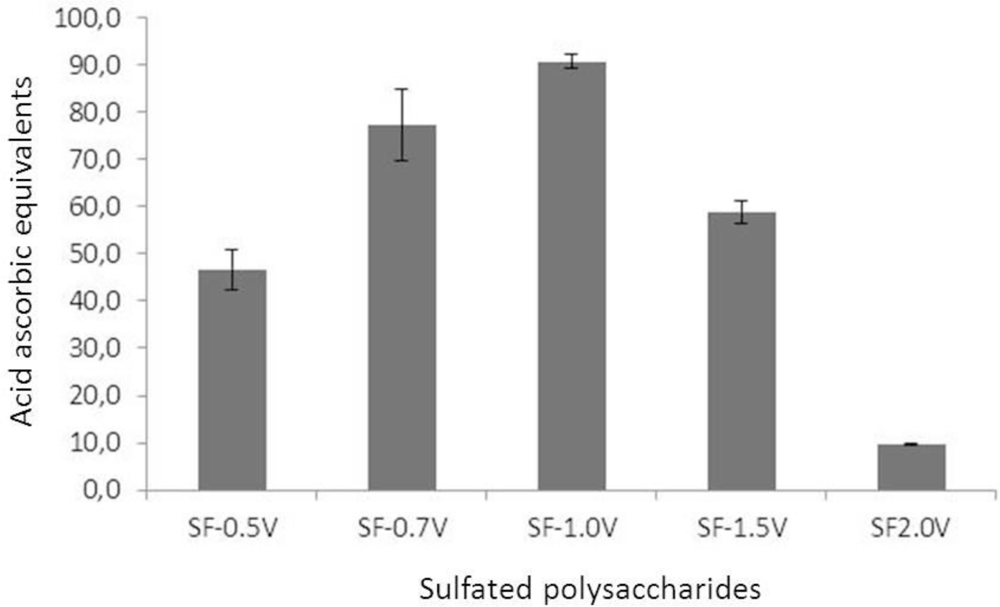 Share & Cite This Article
MDPI and ACS Style
Costa, L.S.; Fidelis, G.P.; Telles, C.B.S.; Dantas-Santos, N.; Camara, R.B.G.; Cordeiro, S.L.; Costa, M.S.S.P.; Almeida-Lima, J.; Melo-Silveira, R.F.; Oliveira, R.M.; Albuquerque, I.R.L.; Andrade, G.P.V.; Rocha, H.A.O. Antioxidant and Antiproliferative Activities of Heterofucans from the Seaweed Sargassum filipendula. Mar. Drugs 2011, 9, 952-966.
Related Articles
Comments
[Return to top]